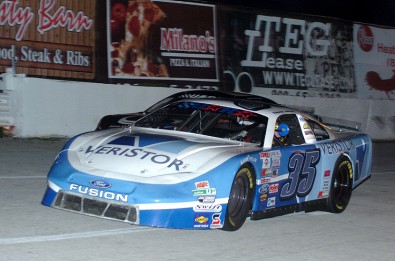 Hendersonville, NC (12/3/12) – Devin Jones joined the United Auto Racing Association (UARA) during the 2012 racing season, making it his first experience to the touring late model industry. This young teenager moved from San Luis Obispo, California to Mooresville, NC to feed his hunger for racing and to challenge himself with new opportunities.
"I come from super late models, which are light weight and a little faster," says Jones. "These late models are a lot different, much heavier and they react different. I've learned a lot this season."
Jones had no problem making a smooth transition to the late model world. Within the first five races of the season, Jones had three top-ten finishes. His best finish of the season came from one of those races at Anderson Motor Speedway in which he led some laps and came home with a good solid second place finish. Not only did he win Racing Electronics second place award, he also earned the Circle Wheel and Xtreme Trophy's Rookie of the Race Award. It was a great day for Jones who excited his sponsor Veristor's 65 employees that were there to cheer him on. Veristor had brought their group up from Atlanta to show their support to Jones and the UARA series.
"Our expectations of the year were to run up front and be competitive," the Veristor driver said. "The ultimate goal is to win a pole, win a race, and finish in the top five for the season." (more…)