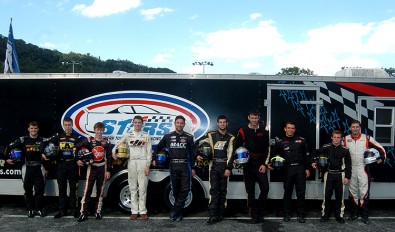 Hendersonville, NC (10/29/12) –While many season regulars are hoping for a solid points day, Darrell Wallace Jr. and Mike Skinner are joining the STARS during the 2012 Championship Weekend at Rockingham Speedway November 2nd-3rd.
Since his 2011 Rock appearance with UARA, Wallace Jr. has been turning heads and creating a buzz about his remarkable driving talents in the K&N Pro Series and NASCAR's Nationwide Series. Returning to the STARS is like a homecoming for Wallace Jr. since he battled and grew up with some of the drivers.
Skinner, on the other hand, has been a spectator to the UARA-STARS throughout this season. His connection with the STARS is through Championship contender Travis Swaim. With Skinner's experience and well-known background, he was asked by UARA officials to mentor rookie drivers during the last event at 'The Rock.' Steve Wallace, Jamey Caudill, and Justin Boston have also entered to run the season finale at the Rock.
Caudill holds the honor of being the driver with the most wins in the UARA record books with 13 wins to his credit.  Caudill will be driving the 34 car that has visited victory lane two times at Rockingham in UARA events with Corey LaJoie as the driver.
While these drivers get to enjoy a weekend of racing, pressure haunts Travis Swaim and Dillon Bassett as they battle for the 2012 Championship. After the last event, Bassett has been declared the official 2012 Rookie of the Year. Both drivers have celebrated in victory lane twice this season and have attained many awards. Swaim has lead 522 laps this season and won eight Sunoco Poles. Bassett brought home five Holley Performer awards for gaining the most positions during the race. Only 71 points separate Swaim from Bassett. Considering that a driver can earn up to 120 points in one event, it's very important that both drivers bring their 'A-game.'
The Championship Weekend will kick off with an early practice on Thursday November 1st and again on Friday November 2nd with Qualifying at 3:00pm Friday. The last race of the season is scheduled for noon on Saturday, November 3rd. UARA-STARS will be joined by the K&N Series and Frank Kimmel Street Stocks at Rockingham Speedway.
For more information on the UARA-STARS and the Championship weekend, visit them online at www.uara-stars.com or call (828) 692-3833. Fans are also encouraged to "like" them on Facebook under the United Auto Racing Association and follow them on Twitter @uarastars.