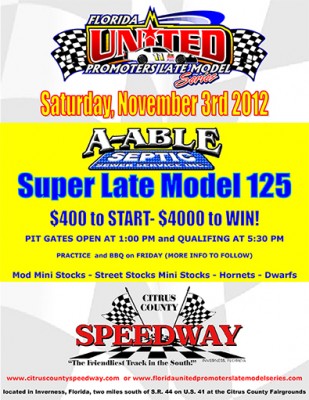 This Saturday night Nov. 3rd the Florida United Promoters Series will visit Citrus Co. Speedway for the A-Able Septic Sewer Service 125. The tight points battle will continue between series leader Steve Dorer in his Racecar Engineering sponsored machine and Jessie Dutilly in the Carbone Motorsports entry who captured his 1st victory at Auburndale two weeks ago. With only 15 points separating the two this race will be pivotal to both with only two races remaining for the title chase.
The extra distance race will test the competitors patience's as they battle on the tight quarter mile track for the winners purse of $4,000.00. Expected to join in the hunt for race #11 of the season are, Jonathan Guy who moved into 3rd place in the point standings with a 3rd place finish at the "Dale" and 5th place finisher Joe Winchell. Young Guns, Jake Perkins, Daniel Webster, Kevin Macy, Anthony Sergi. George Gorham Jr. will be joining track regulars, Herb Newmann Jr., Scott Grossenbacher, Drew Brannon, David King and Eddie King Sr. who had a 4th place showing at Auburndale.
There will be open practice on Friday night from 5-9:00pm. with a BBQ to follow. Pit Gates will open at 1:00pm on Sat. with qualifying at 5:30pm., Mod Mini's, Street Stocks, Mini Stocks, Hornets and Dwarfs will also be on the schedule.
For more info go to www.floridaunitedpromoterslatemodelseries.com