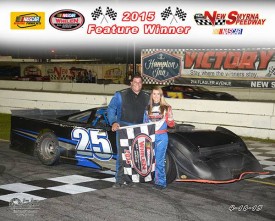 by Dave Westerman
While several other Central Florida-area tracks "cried wolf" and canceled
their racing programs late in the week due to an unfavorable weather forecast,
New Smyrna Speedway used the "wait and see" attitude and it paid off as week
number six of the NASCAR Whelen All American Series went off without a hitch
and produced some awesome action for the nice crowd in attendance.

A brief sprinkle just after the pit gate opened at 3:30 pm was all the race
teams had to put up with and what had started off as a very hot and humid
afternoon turned out to be a very comfortable evening.  Fans who arrived early
were treated to some special food and drink deals plus got to get an up close
look at a number of cars from the Volusia County Corvette Club who also took
part in the parade lap before racing began.
The Sportsman class continued to swell the pit area with cars as 22 showed
this week and were split into a pair of heat races.  The first was an absolute
barn-burner as five cars crossed the finish line under a blanket with Daniel
Conlin, Jr. winning by a fender.  Ron Gustafson took the checker first in heat
number two.
Twenty of the 22 cars would start the 25-lap feature as Scott Bramlett would
miss the show after breaking a clutch during the pace lap of his heat race
while R. J. Glaser hit the wall during the second heat and his car was too
damaged to repair in time for the nightcap.  The field inversion placed heat
winners Conlin and Gustafson on row five for the start while Timmy Todd, Jr.
would start from the pole flanked by Derrick Wood.
Wood snatched the early advantage only to see Conlin, Austin Carr and Mike
Pletka get tangled up in turn four negating the start.  Conlin retired from
the event while Carr and Pletka continued.  The second start was much better
and Wood again set the early pace as the rest of the field went at it tooth
and nail behind him.  The yellow flag was out on lap four when Donny Williams'
car suddenly turned right and into the wall coming off turn four.  The
defending Sportsman champion's racer was badly damaged and he said he was
clueless as to why the car took a quick violent turn to the right at that part
of the track.  "There is also some damage to the left rear of the car that I
must have gotten earlier in the race so maybe something broke there to cause
it… I just really don't know right now," said Williams.  Second heat winner
Gustafson dropped out of the race while the field was under caution with a
broken right front ball joint.
Wood continued to set the pace on the restart but point leader Junior Beckner
was on the charge and took over the point on lap seven.  Patrick Thomas, who
started the race from the seventh spot, moved into third on lap ten.  One lap
later Richard Goodrich had a right front tire go down in turn two and he
brushed the wall while Sandy Lee spun trying to avoid getting involved.  Lee
got his spot back in the restart line-up while Goodrich pitted for a new tire
and returned to action only to fall out of competition a few laps later.
It was now Beckner's turn to lead a few laps but he was unable to hold off a
high-flying Austin Powell who took over the lead on lap 17.  Howell was
looking strong until he went for a wild spin all by himself in turn two on lap
22.  Howell brought his car to the pit area with steam coming from the
overflow hose and retired from the race handing the lead back to Beckner.  On
the restart, cars began getting "loose" all around the track with caution out
again on lap 23 for a spun Austin Carr in turn four and a double spin by
George Gorham, Jr. and D. J. Farr in turn two.
It turned out the problem was that the drain plug in the rear end of Carr's
machine had popped out coating the track with rear-end grease and that may
have been the reason for Howell's spin a lap earlier.  The field was placed
under a red flag as track crews worked to clean up the mess that was
completely circling the entire half-mile.
That set up a fantastic green-white-checker finish with Thomas moving to the
inside of Beckner for the lead on the restart after Beckner said he missed a
shift.  Thomas led the white flag lap but Beckner was not going to be denied
as he battled back on the high side only to see Thomas just nip him at the
line for the win, the second in a row for the Orlando driver.  "To finish in
front of a quality field like this two times straight is unbelievable," said
Thomas.  "It was a hard-fought battle, I'll tell you, and I hope the fans
enjoyed it because I sure did from where I was sitting, " joked Thomas.
Beckner was disappointed but OK with his runner-up finish as he maintained his
slim point lead while Garrison, NH driver Lee picked up his second consecutive
third place finish.  Wood, driving one of the Jim Daley-owned cars out of the
Sheppard Racing Enterprises shop in Deland while his own car is being readied,
held on for a nice fourth place effort while Steve Barnes also had a great run
for fifth.  Rounding out the top ten, and the only other cars still running,
were Todd, Brandon Christian, Jordan McMillon (driving his first-ever race at
New Smyrna), Farr and Mike Dahm.
Rounding out the finishers (all DNF's) were Carr, Gorham, Howell, Goodrich,
Ted Helmes, Pletka, Williams, Gustafson, George Dahm, and Conlin.
Anthony Sergi grabbed the early lead from his outside pole starting spot and
led the opening circuit of the 35-lap Super Late Model feature only to see the
caution out just after the opening lap was completed.  David Rogers and Tyler
Scofield got together in turn two with Scofield going for a spin.  Tim Sozio
became an innocent victim as he lost control trying to miss Scofield's car and
he pounded the wall, severely damaging his machine and he was done for the
night.
Sergi took over the top position on the restart but Brad May was charging hard
and took over the lead on lap three while Michael Lira also got by Sergi for
second.  May began to check out until Cody Spencer spun coming off turn two on
lap eight.  Spencer's car slid down the banking and backed into the inside
wall causing enough damage to eliminate him from competition.
From that point it was all green flag racing as May was the class of the field
in the Bobby Sears Racing special.  Sergi re-passed Lira for second on lap 28
but could not close back in on the high-flying May who won his first career
Super Late Model feature here after scoring several wins in Pro/Limited Late
Model action over the years.  It was a big night for May and his good friend
Sportsman feature winner Patrick Thomas who have been involved in racing since
they ran Quarter Midgets back in 1985.  "We've been racing Stock Cars together
for around 20 years but never actually against each other," said Thomas.  "I
guess that's probably a good thing, he joked, but this is the very first time
we've both won a feature on the same night so it's a pretty cool deal," he
said.
Sergi claimed the runner-up spot trailed by Lira while Scofield took fourth
ahead of Rogers, who was sporting a new black paint scheme on his car, Noah
Cornman, Spencer and Sozio.  Lira picked up the $100 "hard charger" bonus put
up by Jason's Bug Ranch Volkswagen Service.
Alan Bruns of Clermont won one "for the old guys" as he led every lap of the
Modified feature, never being seriously challenged.  The only slow down of the
race came on lap five as Matt Wheeler and Matt Jarrett literally "locked
horns" after they got together on the front stretch.  Once the cars were
separated, both drivers continued.
Bruns ran away and hid in this one to take the checker well ahead of heat
winner James "Tank" Tucker.  Jerry "The Hammer" Symons claimed third spot in
front of Wheeler and Matthew Green.  rounding out the finishers were Jarrett,
Jim Higginbotham, Joe Jacalone, Talon Craft, Mike Dahm and George Dahm.
Jacalone Enterprises Car Sales of St. Augustine put up a $100 "hard charger"
award that was claimed by Symons.
Robert Donaly led every lap of the all-green-flag Bomber feature only to be
disqualified in tech for several infractions.  The win was thus awarded to
second place finisher Shane Sutorus of Orlando giving him his second
consecutive victory in his Saturn station wagon.  Newcomer William Barrington
was second in a Chevy Cavalier followed by the Chevy Monte Carlos of Aaron
Overman and Richard Fiore, Jr. and the Ford T-Bird of Megan Matheny.  Rounding
out the finishers were Tommy Flinn, James Skinner and Jonathan Murphy.