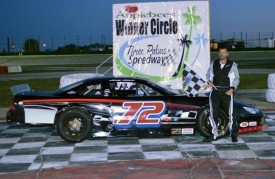 When you mention the "Alabama Gang", you automatically think of the Allison's, Neil Bonnett and Red Farmer. But after
Saturday
night at Three Palms Speedway in Punta Gorda, Florida, you have to add Joey Sims. He grew up in Alabama with Davey and Clifford Allison. He has since relocated to S outhwest Florida and now calls Fort Myers, Florida home.
After not racing in almost 20 years, Sims came out of retirement and set fast time in the Sportsman class at Three Palms Speedway in Punta Gorda, Florida. He then went out and wired the field in the main event. Punta Gorda's own Rick Reed finished second. Randy Sober was third. Mike Kohut in his MDK Pro Flooring Chevrolet was fourth.
In  the first dwarf car feature action, Andy Pryor was running second with one to go. He came out of turn two and spun out. The caution bunched up the field and Larry Hubbard, III held off the charges of his dad Larry Hubbard, Jr., who finished second.
The second dwarf feature saw Larry Hubbard III from Cape Coral Florida hold his dad, Larry Hubbard Jr. off for the win again.
The Outlaw 4's saw the divisions sixth different winner of the year, Chris Milthaler in his Dean's Tree Service car held on for the win. It was the same car his sister used last week for the win.
Thunder Truck action was a lot of beating and banging going on as Lance Sober took the win over Richard Nelson. The win was Lance's fourth win of the year.
Three Palms Speedway on Piper Road in Punta Gorda, Florida will be back in action
this Saturday
night. The track racing card is Street Stocks, TQ Midgets, Outlaw 4's, Go Karts, and Mod Minis. Racing starts at
5pm.