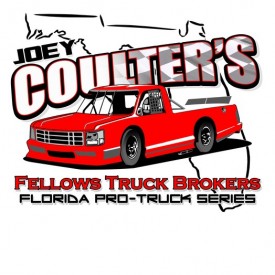 This is a quote from Rick Bristol
"I am heart broken and so sorry that I cannot continue to run the series. I have always put many things before my health and it has gotten the best of me. I have tried to battle through this once again but I have a family and a new grandson that need me and my health has to be my focus now. I am sorry to the drivers, crews, tracks and the fans that have supported us this last year and three races. Please know I care so much about racing and specially the truck series and its people. I ask you to please keep me in your thoughts and prayers as I try to get my health in order. I am thankful for the friendships and relationships built along these many years I have been in racing, they are what matter most to me in all of this. There will be those that will bash after this decision made by myself and Joey Coulter, that comes with the territory but those that know me and know how much it meant to me know this is one of the hardest things I have ever done. Joey got involved with this because I asked him to, and because he loved the trucks and how it helped him get started. As we talked these last days he made clear to me that if I was unable to run it, he choose we end it together. I again am sorry, and wish all the drivers, crews and tracks the best going forward. I hope to come around once in awhile to see everyone.

I am also announcing today that this year's 10th Anniversary Joey Coulter Charity 200 Race Weekend event will be the last one as well. I announced at last years that it was the last in emotions, but this one will be the last for the foundation. I would ask everyone
as a last favor that you join us to celebrate all that has been done together over these last 10 years to help children and families with their fights against series and terminal illnesses. It would mean so much to me and Joey to have you there. I will be asking my board members and friends to all pitch in like never before to make this thing a great ending together.
I also want to say to that I am so honored to have Joey as a friend and have had him as a partner in the charity events and racing. He is a great person and for me to have had the honor to get to know him, perform he and Jessica's wedding are moments I will
always cherish and look forward as we continue our friendship in the future. I am thankful to my wife, family and great friends for all their support over these many years of racing, charity events and time away. You all have suffered at times due to some of the circumstances, lost time and long hours we have put into it. Thank you very much for allowing me to do it all these years.
Thank you to Donna Fellows and Fellows Trucking and Davenport Fights Back for supporting Joey and I over the last season and the start of this one. We appreciate it and are sorry we cannot fulfill all we had planned this year but we continue to support your Charity events and cause.
" I want to first say thanks to the tracks, drivers, crews and fans that supported this series. I chose to get involved because I believed in Rick Bristol, and I felt like he was the one who cared, had vision and the heart to make this thing work. He has worked so hard in racing and his charity for many years, but for the trucks specially. I hope that people will understand his contribution and even if you did not always agree or like him
you can appreciate it. I want to thank Rick for what he has done and I am thankful to have him as a friend and someone I can talk to about racing but also things in life. I want to end this together because we started it together ,and he was my choice to lead.
I wish Rick the best with his health and I will be praying for him and do what I can to help. I look forward to ending also together the Charity 200 Race Weekend in December again something that has so much effort and history because of Rick and his
family and volunteers. I wish all the drivers, crews, tracks the best in the future" stated Joey Coulter.
Each series members, membership fee will be refunded to them over the next 5-7 days as Rick can get it taken care of. We again apologize and wish you the best in your future racing.
The final race run this past Saturday night showed how great drivers can race together and put on a show. One caution at the Dale and great racing. ! Many young drivers showed so well the other night, keep racing hard. The sad thing is that it will end with
what happened on the tech area when it was over, and the rumors and hearsay that has gone on since. It will not do any good for the series to try to explain or defend it now because people will go with what they want. The final results are official as per tech according to the series rules in our book. We will have no further comments on it as it will not have an effect with the closing of the series now. Again thank you to all and we wish you all the best !
Thanks to Butch Pierce, Barbara Pierce, Eric Reynolds, Kim Scheffler and Carl Green for your help and efforts as well.
The series facebook pages and website will be shut down in a few days, once we feel the info has gotten out. We ask you for the time being to please refrain from calling Rick so he can work on his health. He will work to be at the Charity Golf Tournament April 18th.
Thank you and God Bless!