Thursday February 23rd the pit gate will open at 9 A M for parking which has 100% been assigned. You will not be let in earlier, but can camp or park in the fan parking lot on the East side of the speedway or on the side of the road leading to the pits. You will individually Parked as you arrive.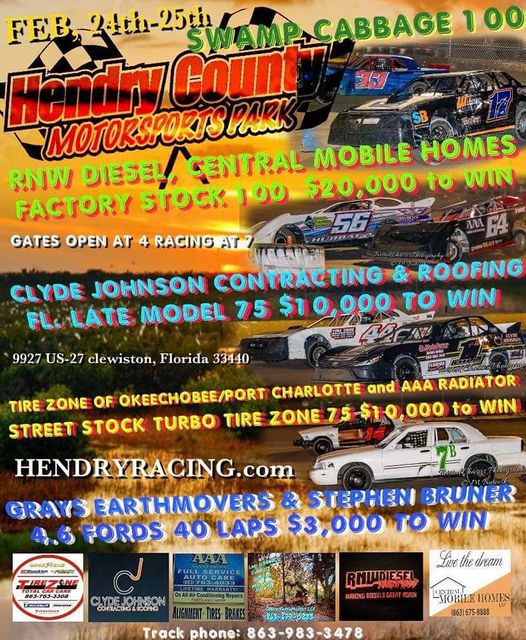 On Friday February 24th get to the speedway as early as possible. Drivers please do not wait til the last minute. The drivers meetings will begin at 4 o clock by class and will be approximately 15 minutes each in this order. Late models at 4 o clock, factory stocks at 4 20, streetstocks at 4 40 and 4.6 ford's at 5. Practice will start at 5 45 and qualifying at 7 o clock. All classes will qualify and the order will be late models, factory stocks, streetstocks and 4.6 ford's. This is how the show will go on and it's your responsibility to be on time. We will not wait for anyone nor will we change our format or order. We will open the pit gate at 10 a.m. and all will be asked to leave the pits for re entry beginning at 9 30.
On Saturday february 25th there will be no practice. The drivers meeting will be at 5 o clock and the B mains will start at 6 p.m. as needed per class. Hendry county motorsports park is beyond excited to put on this awesome event. Please get to the track early as we will start all racing on time.
Can all be seen on Doneright TV: