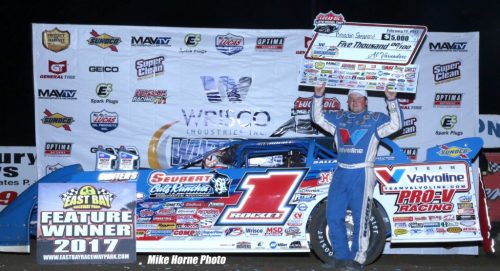 TAMPA, FL (February 13, 2017) Defending Dirt Track World Champion, Brandon Sheppard picked up his first career East Bay Raceway Park victory on Monday night during the Lucas Oil Late Model Dirt Series-sanctioned Wrisco Industries Winternationals – Presented by E3 Spark Plugs. Sheppard – who started fourth on the grid – drove the Mark Richards Racing, Valvoline, Rocket Chassis' House Car to the win after taking the lead on the fifth lap.
Trailing Sheppard across the finish line were Earl Pearson Jr., Devin Moran, Kyle Bronson, and Brian Shirley.
Shirley led the first four circuits of the 25-lap main event until Sheppard came from the outside of the second row to take over the top spot. Sheppard then held off Pearson, who had started seventh, for the victory. It was Sheppard's fifth career LOLMDS win.
"It's good to finally get a win at East Bay. We have been coming here for several years and to do it on opening night this year feels great. In a short race like this you must get to the front as soon as you can. The car was good all night long. We could pass cars low and high and then we finally cleared Shirley. It was a good race up front. This Rocket XR-1 Chassis is just fabulous and the Durham Race Engine was flawless."
Once Sheppard had the lead, he had to wait through two caution flags inside the final five laps of the race. Pearson slipped under Moran on a lap 20 restart and held that spot to the finish in the Carlton and Kemp Lamm-owned, Dunn-Benson Ford, Longhorn Chassis.
"These young guys are wearing me out," said Pearson, a 3-time East Bay winner who was among only seven drivers in the starting field who had ever won at the track. "It was a total turnaround from Golden Isles. The crew has worked hard on this car and the Larry Wallace Racing Engine was super-strong tonight as well. To come from where we did in just 25 laps we should be set-up well for the rest of the week."
Moran realized that his slipping out of the groove with five laps to go cost him a shot at the win. "It was driver error. But I had fun tonight running up front like I did. Hopefully this bodes well for the rest of the season," said the driver of the Tye Twarog Racing entry.
Completing the top ten were Austin Hubbard, Josh Richards, Tyler Erb, Hudson O'Neal, and Gregg Satterlee.
Lucas Oil Late Model Dirt Series
Race Summary
Monday, February 13th, 2017
Wrisco Industries Winternationals – presented by E3 Spark Plugs
East Bay Raceway Park – Tampa, FL
Miller Welders Fast Time Group A: Brian Shirley / 15.111 seconds
Miller Welders Fast Time Group B: Austin Hubbard / 14.794 seconds
Eibach Springs Heat Race #1 Finish (10 Laps, Top 4 Transfer): Brian Shirley, Devin Moran, Tyler Erb, Ricky Weiss, Steve Francis, Tim McCreadie, Hudson O'Neal, Stephen Breeding, Kenny PettyJohn, Todd Frank, Bob Gardner
FK Rod Ends Heat Race #2 Finish (10 Laps, Top 4 Transfer): Kyle Bronson, Earl Pearson, Jr., Austin Rettig, Dennis Erb, Jr., Tim Dohm , Frank Heckenast, Jr., Boom Briggs, Brent Larson, Gordy Gundaker, Mason Zeigler, Brian Ligon
Simpson Performance Products Heat Race #3 Finish (10 Laps, Top 4 Transfer): Doug Drown, Austin Hubbard, Gregg Satterlee, Jared Miley, Davey Johnson, Corey Conley , David Breazeale, GR Smith, Tyler Carpenter, Craig Wolford, Chad Hollenbeck
QA1 Heat Race #4 Finish (10 Laps, Top 4 Transfer): Brandon Sheppard, Billy Moyer, Jr., Michael Lake, Josh Richards, Nick Davis, Greg Oakes, Pancho Lawler, Timothy Culp, Jimmy Owens, John Gardner, Dustin Linville
Penske Racing Shocks B-Main #1 Finish (12 Laps, Top 3 Transfer): Tim Dohm , Hudson O'Neal, Tim McCreadie, Steve Francis, Frank Heckenast, Jr., Kenny PettyJohn, Boom Briggs, Gordy Gundaker, Brent Larson, Mason Zeigler, Stephen Breeding, Bob Gardner, Todd Frank, Brian Ligon
Fast Shafts B-Main #2 Finish (12 Laps, Top 3 Transfer): Nick Davis, Tyler Carpenter, Corey Conley , Greg Oakes, Timothy Culp, Pancho Lawler, Chad Hollenbeck, Craig Wolford, David Breazeale, GR Smith, Davey Johnson, Jimmy Owens-DNS, John Gardner-DNS, Dustin Linville-DNS
Feature Finish (25 Laps):
FINISH START CAR # DRIVER NAME HOMETOWN EARNINGS
1 4 1S Brandon Sheppard New Berlin, IL $5,000
2 7 1 Earl Pearson, Jr. Jacksonville, FL $3,000
3 5 9 Devin Moran Dresden, OH $2,000
4 3 40B Kyle Bronson Brandon, FL $1,500
5 1 3s Brian Shirley Chatham, IL $1,000
6 6 11 Austin Hubbard Bridgeville, DE $800
7 16 1R Josh Richards Shinnston, WV $750
8 9 91 Tyler Erb New Waverly, TX $700
9 19 71 Hudson O'Neal Martinsville, IN $650
10 10 22 Gregg Satterlee Rochester Mills, PA $600
11 21 39 Tim McCreadie Watertown, NY $550
12 12 27 Michael Lake Uniontown, PA $500
13 8 21JR Billy Moyer, Jr. Batesville, AR $500
14 15 28E Dennis Erb, Jr. Carpentersville, IL $500
15 17 6T Tim Dohm Cross Lanes, WV $500
16 23 22G Greg Oakes Franklinville, NY $500
17 26 15 Steve Francis Bowling Green, KY $500
18 18 92 Nick Davis Millsboro, DE $500
19 2 240 Doug Drown Wooster, OH $500
20 22 14c Corey Conley Wellsburg, WV $500
21 13 7w Ricky Weiss Headingley, MB $500
22 14 H1 Jared Miley South Park, PA $500
23 24 B1 Brent Larson Lake Elmo, MN $500
24 25 20 Jimmy Owens Newport, TN $500
25 11 94 Austin Rettig Sikeston, MO $500
26 20 k0 Tyler Carpenter Parkersburg, WV $500
Race Statistics
Entrants: 44
Lap Leaders: Brian Shirley (Laps 1 – 4); Brandon Sheppard (Laps 5 – 25)
Cautions: Tyler Carpenter (Lap 7); Jared Miley (Lap 19); Steve Francis (Lap 20)
Lucas Oil Late Model Dirt Series Provisionals: Jimmy Owens, Steve Francis
Lucas Oil Late Model Dirt Series Emergency Provisionals: n/a
Wrisco Winternationals Provisional: Greg Oakes
Strawberry Dash Provisional: Brent Larson
Wrisco Feature Winner: Brandon Sheppard
Optima Batteries Hard Charger of the Race: Hudson O'Neal (Started: 19th; Finished: 9th; Advanced 10 Positions)
Midwest Sheet Metal Spoiler Challenge Point Leader: n/a
Allstar Performance Power Move of the Race: Tim McCreadie
Sunoco Race for Gas Highest Finisher: Brandon Sheppard
Hot Rod Processing Rookie of the Race: n/a
COMP Cams Engine Builder of the Race: Durham Racing Engines
Ohlins Shocks Chassis Builder of the Race: Rocket Chassis
Outerwears Crew Chief of the Race: Taylon Center (Earl Pearson Jr.)
Fastest Lap of the Race: Brandon Sheppard (Lap #22 – 15.7457 seconds)
Safecraft Most Laps Led: Brandon Sheppard (26 Laps)
PFC Brakes Pole Award: Brian Shirley
Time of Race: 15 minutes 8 seconds
Lucas Oil Championship Point Standings:
POS CAR # DRIVER NAME HOMETOWN POINTS EARNINGS
1 116 Brandon Overton Evans, GA 480 $13,700
2 1R Josh Richards Shinnston, WV 450 $15,250
3 49 Jonathan Davenport Williamson, SC 410 $5,300
3 39 Tim McCreadie Watertown, NY 410 $7,850
5 1S Brandon Sheppard New Berlin, IL 375 $9,475
6 20 Jimmy Owens Newport, TN 370 $5,800
7 0 Scott Bloomquist Mooresburg, TN 355 $7,300
8 7m Donald McIntosh Dawsonville, GA 345 $2,075
9 91 Tyler Erb New Waverly, TX 335 $2,825
9 7 Rick Eckert York, PA 335 $2,075
9 14 Darrell Lanigan Union, KY 335 $3,200
12 240 Doug Drown Wooster, OH 320 $2,400
12 38 Kenny PettyJohn Millsboro, DE 320 $2,400
12 5 Don O'Neal Martinsville, IN 320 $2,925
15 1 Earl Pearson, Jr. Jacksonville, FL 305 $5,950
15 9 Devin Moran Dresden, OH 305 $3,300
17 99B Boom Briggs
Bear Lake, PA 295 $1,500
18 71 Hudson O'Neal Martinsville, IN 275 $1,825
19 3s Brian Shirley Chatham, IL 270 $3,850
19 28E Dennis Erb, Jr. Carpentersville, IL 270 $3,000
19 15 Steve Francis Bowling Green, KY 270 $1,500
22 B1 Brent Larson Lake Elmo, MN 265 $1,975
23 21JR Billy Moyer, Jr. Batesville, AR 260 $2,400
23 7F Jason Fitzgerald Middleburg, FL 260 $1,200
25 22* GR Smith Statesville, NC 255 $1,150
26 99JR Frank Heckenast, Jr. Frankfort, IL 245 $1,050
27 30K Ryan King Seymour, TN 235 $1,100
28 75 Colton Flinner Allison Park, PA 230 $700
29 c81 Timothy Culp Prattsville, AR 225 $300
30 18J Chase Junghans Manhattan, KS 220 $200
30 87 Ross Bailes Clover, SC 220 $900
*Points are unofficial until Close of Business on the Tuesday following Race Day*