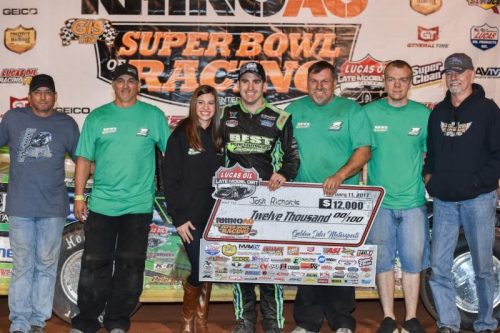 WAYNESVILLE, GA (February 11, 2017) – In his first career-season competing full-time on the Lucas Oil Late Model Dirt Series, Josh Richards won Saturday Night's Rhino Ag Super Bowl of Racing presented by General Tire finale at Golden Isles Speedway. Richards took the lead on lap three and never looked back. The victory marks his 13th career LOLMDS victory, and his first win after having joined the Best Performance Motorsports Team last November.
Richards led defending series champion Scott Bloomquist's Reece Monument Company, Crop Production Services, Sweet-Bloomquist Chassis and Brandon Overton's Chip Stone, Longhorn to the finish line by several car lengths. Bloomquist and Overton had a spirited race for most of the 60-lap main event as Overton tried several times to get by Bloomquist. Brian Shirley finished in fourth, followed by the 2015 LOLMDS National Champion, Jonathan Davenport.
"I don't know what to say right now. Thanks to all of fans for their support. It [switching race teams] was one of the toughest decisions I have ever made. I have always wanted to work with Randall [Edwards]. I can't thank these guys enough for this opportunity. It's great to win the second night out in this car. Everything is new on this ride and we are just trying to get acclimated to it," said the 28-year-old in Lucas Oil Victory Lane.
Rebounding from the previous night – where Richards had started on the front row, but faded to sixth at the finishn- he was elated for a better outcome. "I made an adjustment that I didn't realize I had made last night and it definitely cost us. I was kicking myself afterward because I had done it by accident. We've really had a good car all weekend, I'm glad that I didn't make the same mistake tonight. I can't thank these guys enough for having faith in me!"
The Eric and Kelly Brock owned team is sponsored by Peoples National Bank, Corey Frazier-State Farm Insurance, Valvoline, Keyser, Riggs Motorsports, Integra, and Sunoco Race Fuels. The Rocket XR1 Chassis is powered by a Dargie Racing Engine.
Bloomquist held off Overton at end after making some contact during the race. "We weren't too bad tonight. We needed a little more time for practice. We should have been here Thursday for practice. We just need to get here sooner. We got close tonight, but there's a few things I would have loved to have changed."
Overton was pleased with his weekend at Golden Isles Speedway – notching a third-place finish after his victory on Friday night. "To run how we did against these guys says a lot about our team. We would have liked to have won tonight as well. To race with Bloomquist for most of the race was fun and we tried plenty of times to get around him but he did what he needed to do out there."
Completing the top ten were Doug Drown, Kenny Pettyjohn, Don O'Neal, Tyler Erb, and Tim McCreadie.
In preliminary action, Brandon Overton set the overall Miller Welders Fast Time (Group A) amongst the 52 entrants, with a lap of 15.768 seconds. Brian Shirley set the fastest time in Group B with a time of 15.806 seconds. Brandon Overton, Scott Bloomquist, Josh Richards, Billy Moyer Jr, and Doug Drown won their respective heat races. Austin Hubbard and Brent Larson won their respective B-Mains.
Lucas Oil Late Model Dirt Series
Race Summary
Saturday, February 11th, 2017
Rhino Ag Super Bowl of Racing – presented by General Tire
Golden Isles Speedway – Waynesville, GA
Miller Welders Fast Time Group A: Brandon Overton / 15.768 seconds
Miller Welders Fast Time Group B: Brian Shirley / 15.806 seconds
Eibach Springs Heat Race #1 Finish (10 Laps, Top 3 Transfer): Brandon Overton, Jonathan Davenport, Tyler Erb, Gregg Satterlee, Ross Bailes, Kyle Bronson, Pancho Lawler, Ryan King, Zeke McKenzie-DNS
FK Rod Ends Heat Race #2 Finish (10 Laps, Top 3 Transfer): Scott Bloomquist, Hudson O'Neal, Rick Eckert, Austin Hubbard, Joey Coulter, Frank Heckenast, Jr., Steven Roberts, John Gardner, Colton Flinner-DNS
Simpson Performance Products Heat Race #3 Finish (10 Laps, Top 3 Transfer): Josh Richards, Tim McCreadie, Brett Hamm, Donald Bradsher, Steve Francis, Blake Spencer, Timothy Culp, Cecil Eunice
QA1 Heat Race #4 Finish (10 Laps, Top 3 Transfer): Brian Shirley, Kenny PettyJohn, Donald McIntosh, Brent Larson, Austin Rettig, Chase Junghans, GR Smith, Bob Gardner, Dennis Erb, Jr.
Rhino AG Heat Race #5 Finish (10 Laps, Top 3 Transfer): Billy Moyer, Jr., Earl Pearson, Jr., Jimmy Owens, Shane Tankersley, Boom Briggs, Brian Ligon, Mike Nasworthy, Ricky Weiss
General Tire Heat Race #6 Finish (10 Laps, Top 3 Transfer): Doug Drown, Don O'Neal, Brandon Sheppard, Corey Conley, Devin Moran, Darrell Lanigan, Jason Fitzgerald, Brian Connor
Penske Racing Shocks B-Main #1 Finish (12 Laps, Top 2 Transfer): Austin Hubbard, Joey Coulter, Timothy Culp, Steven Roberts, Frank Heckenast, Jr., Pancho Lawler, Zeke McKenzie, Ross Bailes, John Gardner, Blake Spencer, Donald Bradsher, Gregg Satterlee, Steve Francis, Kyle Bronson, Ryan King, Cecil Eunice-DNS, Colton Flinner-DNS
Fast Shafts B-Main #2 Finish (12 Laps, Top 2 Transfer): Brent Larson, Shane Tankersley, Darrell Lanigan, Devin Moran, Corey Conley , Chase Junghans, Boom Briggs, GR Smith, Bob Gardner, Austin Rettig, Brian Ligon, Dennis Erb, Jr., Jason Fitzgerald, Mike Nasworthy-DNS, Ricky Weiss-DNS, Brian Connor-DNS, Casey Roberts-DNS
Feature Finish (60 Laps):
| | | | | | |
| --- | --- | --- | --- | --- | --- |
| FINISH | START | CAR # | DRIVER NAME | HOMETOWN | EARNINGS |
| 1 | 5 | 1R | Josh Richards | Shinnston, WV | $12,000 |
| 2 | 3 | 0 | Scott Bloomquist | Mooresburg, TN | $6,500 |
| 3 | 1 | 116 | Brandon Overton | Evans, GA | $3,700 |
| 4 | 2 | 3s | Brian Shirley | Chatham, IL | $2,750 |
| 5 | 7 | 49 | Jonathan Davenport | Williamson, SC | $3,050 |
| 6 | 6 | 240 | Doug Drown | Wooster, OH | $1,800 |
| 7 | 8 | 38 | Kenny PettyJohn | Millsboro, DE | $1,500 |
| 8 | 12 | 5 | Don O'Neal | Martinsville, IN | $2,100 |
| 9 | 13 | 91 | Tyler Erb | New Waverly, TX | $1,200 |
| 10 | 11 | 39 | Tim McCreadie | Watertown, NY | $1,800 |
| 11 | 9 | 71 | Hudson O'Neal | Martinsville, IN | $1,075 |
| 12 | 15 | 7 | Rick Eckert | York, PA | $1,050 |
| 13 | 18 | 1S | Brandon Sheppard | New Berlin, IL | $1,725 |
| 14 | 14 | 7m | Donald McIntosh | Dawsonville, GA | $1,000 |
| 15 | 17 | 18 | Brett Hamm | Newberry, SC | $1,000 |
| 16 | 16 | 20 | Jimmy Owens | Newport, TN | $1,800 |
| 17 | 23 | 28E | Dennis Erb, Jr. | Carpentersville, IL | $1,700 |
| 18 | 24 | 14 | Darrell Lanigan | Union, KY | $1,700 |
| 19 | 10 | 1 | Earl Pearson, Jr. | Jacksonville, FL | $1,800 |
| 20 | 21 | 2 | Joey Coulter | Troutman, NC | $1,000 |
| 21 | 19 | 11 | Austin Hubbard | Bridgeville, DE | $1,000 |
| 22 | 25 | 15 | Steve Francis | Bowling Green, KY | $800 |
| 23 | 20 | B1 | Brent Larson | Lake Elmo, MN | $1,000 |
| 24 | 22 | 21T | Shane Tankersley | Morganton, GA | $1,000 |
| 25 | 4 | 21JR | Billy Moyer, Jr. | Batesville, AR | $1,000 |
| 26 | 26 | 75 | Colton Flinner | Allison Park, PA | $700 |
Race Statistics
Entrants: 52
Lap Leaders: Brandon Overton (Laps 1 – 2); Josh Richards (Laps 3 – 60)
Cautions: n/a
Lucas Oil Late Model Dirt Series Provisionals: Dennis Erb Jr., Darrell Lanigan
Lucas Oil Late Model Dirt Series Emergency Provisionals: Steve Francis, Colton Flinner
Miller Welders Fast Time Provisional: n/a
Wrisco Feature Winner: Josh Richards
Optima Batteries Hard Charger of the Race: Dennis Erb Jr. (Started: 23rd; Finished: 17th; Advanced 6 Positions)
Midwest Sheet Metal Spoiler Challenge Point Leader: Brandon Overton
Allstar Performance Power Move of the Race: Rick Eckert
Sunoco Race for Gas Highest Finisher: Josh Richards
Hot Rod Processing Rookie of the Race: n/a
COMP Cams Engine Builder of the Race: Durham Racing Engines
Ohlins Shocks Chassis Builder of the Race: Rocket Chassis
Outerwears Crew Chief of the Race: Randall Edwards (Josh Richards)
Fastest Lap of the Race: Josh Richards (Lap #5 – 15.203 seconds)
Safecraft Most Laps Led: Josh Richards (58 Laps)
PFC Brakes Pole Award: Brandon Overton
Time of Race: 16 minutes 52 seconds
Lucas Oil Championship Point Standings:
| | | | | | |
| --- | --- | --- | --- | --- | --- |
| POS | CAR # | DRIVER NAME | HOMETOWN | POINTS | EARNINGS |
| 1 | 116 | Brandon Overton | Evans, GA | 480 | $13,700 |
| 2 | 1R | Josh Richards | Shinnston, WV | 450 | $13,800 |
| 3 | 49 | Jonathan Davenport | Williamson, SC | 410 | $5,300 |
| 3 | 39 | Tim McCreadie | Watertown, NY | 410 | $7,300 |
| 5 | 1S | Brandon Sheppard | New Berlin, IL | 375 | $4,475 |
| 6 | 20 | Jimmy Owens | Newport, TN | 370 | $5,300 |
| 7 | 0 | Scott Bloomquist | Mooresburg, TN | 355 | $7,300 |
| 8 | 7m | Donald McIntosh | Dawsonville, GA | 345 | $2,075 |
| 9 | 91 | Tyler Erb | New Waverly, TX | 335 | $2,125 |
| 9 | 7 | Rick Eckert | York, PA | 335 | $2,075 |
| 9 | 14 | Darrell Lanigan | Union, KY | 335 | $3,200 |
| 12 | 240 | Doug Drown | Wooster, OH | 320 | $1,900 |
| 12 | 38 | Kenny PettyJohn | Millsboro, DE | 320 | $2,300 |
| 12 | 5 | Don O'Neal | Martinsville, IN | 320 | $2,925 |
| 15 | 1 | Earl Pearson, Jr. | Jacksonville, FL | 305 | $2,150 |
| 15 | 9 | Devin Moran | Dresden, OH | 305 | $1,300 |
| 17 | 99B | Boom Briggs | Bear Lake, PA | 295 | $1,400 |
| 18 | 71 | Hudson O'Neal | Martinsville, IN | 275 | $1,175 |
| 19 | 3s | Brian Shirley | Chatham, IL | 270 | $2,850 |
| 19 | 28E | Dennis Erb, Jr. | Carpentersville, IL | 270 | $2,500 |
| 19 | 15 | Steve Francis | Bowling Green, KY | 270 | $1,000 |
| 22 | B1 | Brent Larson | Lake Elmo, MN | 265 | $1,875 |
| 23 | 21JR | Billy Moyer, Jr. | Batesville, AR | 260 | $1,900 |
| 23 | 7F | Jason Fitzgerald | Middleburg, FL | 260 | $1,200 |
| 25 | 22* | GR Smith | Statesville, NC | 255 | $1,050 |
| 26 | 99JR | Frank Heckenast, Jr. | Frankfort, IL | 245 | $950 |
| 27 | 30K | Ryan King | Seymour, TN | 235 | $1,100 |
| 28 | 75 | Colton Flinner | Allison Park, PA | 230 | $700 |
| 29 | c81 | Timothy Culp | Prattsville, AR | 225 | $200 |
| 30 | 18J | Chase Junghans | Manhattan, KS | 220 | $200 |
| 30 | 87 | Ross Bailes | Clover, SC | 220 | $900 |
*Points are unofficial until Close of Business on the Tuesday following Race Day*