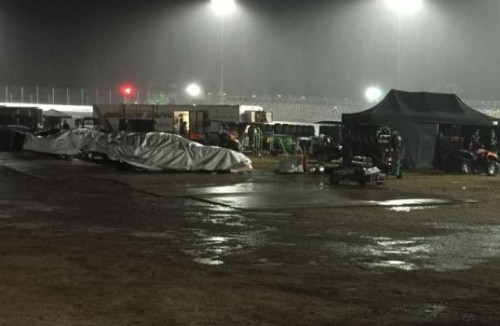 Mother Nature had been quite kind to New Smyrna Speedway so far during the 2016 World Series of Asphalt Stock Car Racing, but apparently Monday evening something rubbed her the wrong way.
Rain showers, which bucked the trend of seasonable temperatures and sunny skies throughout the first three nights of World Series action, washed away Monday's feature racing action. A drenching rain came seven laps into the night's first feature, a 35-lapper for the Florida Modified division, which forced officials to pull the plug on the rest of the events.
Monday's features, including the Florida Modified race, will not be rescheduled. The only change to the schedule resulting from Monday's rain out is that the Tour-Type Modifieds, who were to make their 2016 World Series debut Monday night, will now have a 50-lap feature Tuesday instead of the regularly-scheduled 35. The Tour-Type Modifieds will start as they qualified and on the same tires on which they time trialed earlier in the day Monday.
Earlier in the day, Justin Bonsignore set fast time in qualifying for the Tour-Type Modified division. An invert of eight will put JR Bertuccio on the pole with Tyler Rypkema on the outside when the green flag drops Tuesday on the division's 50-lapper.
In other time trial events, Zane Smith (Tour-Type Modifieds), Cole Anderson (Pro Late Models) were quickest in their respective divisions. The Florida Modified race was led by Tim Moore when the race was called off at lap seven Monday night.
Speed51.com will power the NASCAR Home Tracks Race Central Live coverage of Tuesday's Night 5 action of the World Series of Asphalt Stock Car Racing beginning at 1:30pm ET. FansChoice.tv will air all of Tuesday's feature racing beginning at 7:30pm ET.
For more on Monday's on-track activities before the rain, replay the NASCAR Home Tracks Race Central Live coverage of Monday's Night 4 by clicking here.
– By Matt Kentfield, Speed51.com Executive Director – Twitter: @MattKentfield