Leads Flag-to-Flag for First Career DIRTcar Nationals Victory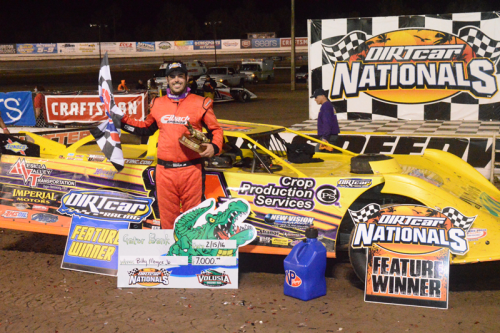 BARBERVILLE, Fla. Feb. 15, 2016 – Billy Moyer Jr. survived a late race challenge from Dennis Erb Jr. and Shane Clanton as he captured the DIRTcar Late Models checkered flag on opening night of Late Model Week at DIRTcar Nationals.
Moyer Jr., a World of Outlaws Craftsman® Late Model Series rookie of the year contender and son of legendary late model driver Billy Moyer Sr., started from the outside of row one in his Crop Production Services/Dyna-Gro Seed 21JR for the 30-lap, $7,000-to-win feature at Volusia Speedway Park. Moyer easily made his way around pole-sitter Erb once the green flag fell.
Erb, driving the Black Diamond Chassis number 28E, had his hands full with fourth place starter Clanton, whom he battled with side-by-side for most of the race. Clanton utilized the outside line to stay even with the bottom-running Erb as the leader pulled away.
As the laps dwindled down, Erb and Clanton pulled within striking distance of the leader who was having trouble navigating lapped traffic. With 10 laps to go, the top three were separated by less than a second.
Clanton faded in the closing laps, but Erb stayed glued to Moyer's rear bumper. Moyer maintained his lead for the remaining laps, leading flag-to-flag and claiming his first career DIRTcar Nationals victory.
?I?ve never ran good in a feature here, the Batesville, Ark.-native said. The car was perfect – my dad did a heck of a job. Just having my dad here means more than anything. Growing up he didn't always get to be there, he had to go out and make a living, so this means a lot.
?I?m really excited, we finally got a Gator and that means a lot to me. The car was phenomenal, I tend to overtighten myself a lot, so it was great having my dad here to help me on the adjustments. We'll go to work tomorrow and hopefully get another one."
Erb finished in the runner-up position after doing everything he could to muscle his way around the leader, but came up just short of capturing a coveted Gator trophy.
"I had a really good car and I was running him down there," Erb said. "[Moyer Jr.] did a really good job of staying on his line and his car was really good. We will take a second place here and build on it for this week."
Clanton faded during the latter parts of the race as 2014 World of Outlaws Rookie of the Year Frank Heckenast Jr. maneuvered around him for the third position.
"I buried myself after qualifying and had to come from fifth in the heat," Heckenast Jr. said. "We did a lot better than last year, it took us until the end of the week to get going. I think we found something, so we will work on it, but I am still kind of mad at myself because I thought I could've finished better."
The DIRTcar late models continue on Tuesday and Wednesday before the World of Outlaws Craftsman Late Model Series takes on DIRTcar Nationals on Thursday, Friday and Saturday.
Great seats remain for DIRTcar Nationals and are available by calling 844-DIRT-TIX (347-8849), or by visiting http://www.DIRTcarNationals.com. Infield parking will be available on a first come, first served basis to all fans with a pit pass. The cost of the pit pass is $10 and will be available at the pit gate off of turn four.
Visit http://www.DIRTcarNationals.com for the latest news and information from the event. Follow DIRTcar Nationals on Twitter at http://www.Twitter.com/DIRTcarNats and on Facebook at http://www.Facebook.com/DIRTcarNationals.
Results from DIRTcar Late Model Series 45th Annual DIRTcar Nationals night #1 at Volusia Speedway Park:
A-Main (30-laps): 1. 21 Billy Moyer Jr ($7,000), 2. 28E Dennis Erb Jr, 3. 99 Frank Heckenast Jr, 4. 25 Shane Clanton, 5. 777 Jared Landers, 6. 25F Jason Feger, 7. 1 Josh Richards, 8. 15s Donny Schatz, 9. 99B Boom Briggs, 10. 20 Rodney Sanders, 11. B5 Brandon Sheppard, 12. 15 Steve Francis, 13. 3s Brian Shirley, 14. 7 Rick Eckert, 15. 39 Tim McCreadie, 16. 38 Kenny Pettyjohn, 17. 14M Morgan Bagley, 18. 22 Gregg Satterlee, 19. 16T Tyler Bruening, 20. 7W Ricky Weiss, 21. 201 Billy Ogle Jr, 22. 1* Chub Frank, 23. 5 Mark Whitener, 24. 40B Kyle Bronson.
Qualifying Group 1: Wilmoth, Briggs, Coffey, Weiss, Erb Jr., Bruening, Schatz, Kurtz, Hammerle, Junghans, Yaggy (DNS)
Qualifying Group 2: Landers, Satterlee, Sanders, Ogle Jr, Casebolt, Feger, Bagley, Frank, Rattliff, Boles, Millard.
Qualifying Group 3: Richards, Sheppard, Moyer Jr., Pettyjohn, Whitener, Bronson, Clem, LaPlant, Wells, Julien, Hollenbeck.
Qualifying Group 4: Shirley, McCreadie, Francis, Clanton, Heckenast Jr, Eckert, Frye, Norris, Lawler, Carpenter, Rettig.
Heat No. 1 (8 laps – Top 4 Transfer): Erb Jr., Briggs, Schatz, Bruening, Weiss, Wilmoth, Coffey, Kurtz, Hammerle, Junghans, Yaggy.
Heat No. 2 (8 laps – Top 4 Transfer): Feger, Landers, Sanders, Satterlee, Ogle Jr., Bagley, Frank, Boles, Casebolt, Millard, Rattliff.
Heat No. 3 (8 laps ? Top 4 Transfer): Moyer Jr., Richards, Sheppard, Pettyjohn, Whitner, Bronson, Hollenbeck, Clem, Wells, LaPlant, Julien.
Heat No. 4 (8 laps – Top 4 Transfer): Clanton, Heckenast Jr., Francis, McCreadie, Shirley, Eckert, Norris, Lawler, Carpenter, Rettig, Frye.
Last-Chance Showdown No. 1 (10 laps – Top 4 Transfer): Bagley, Weiss, Ogle Jr., Frank, Wilmoth, Ratliff, Coffey, Boles, Kurtz, Millard, Hammerle, Casebolt, Junghans, Yaggy.
Last-Chance Showdown No. 2 (10 laps – Top 4 Transfer): Shirley, Eckert, Whitener, Bronson, Norris, Wells, Clem, Hollenbeck, Lawler, Rettig, Carpenter, LaPlant, Julien, Frye.
The 2016 DIRTcar Nationals is supported by Budweiser, Daytona Harley-Davidson, Hampton Inn-Palm Coast, Integrity Painting with Valspar, Ring Power CAT, and Safety-Kleen. The World of Outlaws are brought to fans by official partners: Bad Boy Buggies (Official Side-by-Side Vehicle), The Kenny Wallace Dirt Racing Experience (Official Racing Experience), Hoosier Racing Tires (Official Racing Tires), Morton Buildings (Official Building), and VP Racing Fuel (Official Racing Fuel). Additional support is provided by Arizona Sport Shirts (Official Apparel Company of WoO Late Model), DirtonDirt.com (WoO Late Model Hard Charger Award), and Chevrolet Performance. Contingency sponsors include: ASI, Beyea Headers, Bicknell Racing Products, Bilstein Shocks, Cometic Gasket, Comp Cams, Edelbrock, Fox Shocks, JE Pistons, JRI Shocks, KSE Racing Products, Mobil 1, MSD Performance, Penske Racing Shocks, Ohlins Shocks, QA1, QuarterMaster, Sweet Manufacturing, Superflow Dynos and Wrisco Aluminum Manufacturer sponsors include: Capital Race Cars, Impact Racing Products, Intercomp, Motorsports Safety Systems, Racing Electronics, Rocket Chassis, S&S Volvo, and TNT Rescue.
(Contact: Jordan Morris, World of Outlaws Craftsman Late Model Series PR)