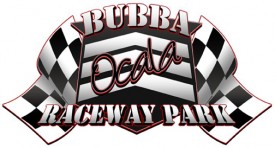 Jimmy Rouse- Bubba Raceway Park Media
October 15, 2011- The Top Gun Sprints made their 4th trip to the 3/8 mile and they left the wings in the trailer. The National Late Model Series Southern Tour brought a show to Bubba Raceway Park and the Barrett's Race Cars Hobby Stocks and Gladiators also put their vehicles on the clay. Some drivers impressed while others found distress.
The Barrett's Race Cars Hobby Stocks were up first and Brian Morgan found the early lead in his lap. Morgan was impressive but on lap 5 the 9 expired which left Kevin Durden with a lead he didn't mind holding. On lap 8 it was 2nd place runner Tim Gay's turn to take it to the pit lane for the night. Buck Woodhouse brought out the first caution when his 55W nearly hit the wall and stopped in turn 1. The restart allowed Tim Powers to pass Durden for the lead. Lap 13 was Cory Hupp's spin also from 4th. A 2 lap run was halted when Hupp over corrected and came across Mark Maresca's nose and spun into the innocent Jonathan Appleby. On lap 17 Maresca spun by himself setting up a 3 lap run. Powers held on with Durden 2nd, Joe Boyd a very quiet 3rd, Tommy Ausburn an impressive 4th, Robert Sirmons a decent top 5, Buck Woodhouse drove back to 6th, Scott Haas 7th, "Foot" Don Woosley 8th, Maresca 9th, and Sean Babcock went home with a top 10.
Wingless. Fearless. Nearly caution free. The Top Gun Sprints took the wings off and only had 4 cautions during the race, 2 for major flips. The start saw Kurt Taylor leave the course as he went through the 1-800-Ask-Gary sign on the backstretch. Taylor was okay; the fence not so much. Meanwhile, Danny Martin, Jr. was doing his usual business at the front. On lap 7 it was AJ Maddox facing the wall in turn 3 which brought out the 2nd yellow of the race. Maddox wouldn't be as fortunate this time as just 4 laps later he collided with Shawn Murray and they both nearly went through the fence on the frontstretch. The great fencing did break but it did it's job as the cars stayed on the clay and out of the stands. The drivers did exit the cars but both were shaken and more. Gene Lasker brought out the 4th and final caution when he spun and stopped in turn 3. Martin took his 3rd consecutive at Bubba Raceway Park extending his lead in the points both here and in the Top Gun Sprints. Robbie Smith was runner-up, Sport Allen 3rd, the 2010 champion Tim George 4th, and Mark Ruel, Jr. came home in 5th. Ryan Partin finished 6th, Collin Cabre 7th, Jimmy Ballew, Jr. a very quiet 8th, Matt Kurtz 9th, and Travis Bliemeister 10th.
The National Late Model Series Southern Tour put on a fantastic show where 2 series scored points and both were shaken and stirred. Ivedent Lloyd, Jr. passed Mark Whitener for the lead on lap 5, only for it to be taken away after the lap 12 restart for Dillon Wood and his broken rear-end. Lap 16 saw Casey Barrow spin and hit the tire, ending his night. On the next few laps it was shredded tires that took Tyler Ivey and Jeff Mathews to the back. On lap 19 the 21 overtook the 58 for the lead. Again. The restart saw David Clegg on his side and Travis Carter on 2 wheels as they nearly flipped. Both finished their races after climbing the wall. The next 2 cautions, laps 28 and 32, were for Brandon DeWitt slowing and stopping near turn 1. A 1 lap run was ended by debris. On lap 37 the lead chnaged hands for good when Ivedent Lloyd, Jr. blew the engine. On lap 39 Hunter Peacock stopped in turn 1 setting up a GWC. NLMS rules call for a 2 lap dash for the cash so the race was extended to 41 green laps. Whitener took his 4th of 2011 with "IceMan" Austin Kirkpatrick 2nd. Bo Allen and Rich Pratt impressed with 3rd and 4th, respectively, and Tyler Ivey drove back up to the top 5. Brandon DeWitt survived to take 6th, Christian Augspurger 7th, Jack Nosbisch 8th, "Self Professed Worst Late Model Driver" Bubba Clem proved himself wrong with a fantastic run to 9th (and he made a fan very happy with that $400 payday), and Ivedent Lloyd, Jr. received a break with 10th and a DNF.
Steve Johnson took the early lead but Reid Christensen took it away on lap 2. After 5 more laps Tommy Ausburn, Jr. spun setting up a restart with Christensen the leader, Denica Hetznecker 2nd, and the S&S Boyd 3rd and 4th. Another 5 laps passed and Brandon Hunter found his #9 on the hook after a slip up in turn 1. The next lap saw a debris caution thorwn setting up a 2 lap dash between Christensen, Hetznecker, and Cox. Win #5 fell upon Reid Christensen and Art Souther's team with Hetznecker 2nd, Cox 3rd to comfort his injured wife, Steve Johnson crawled home 4th, and Ausburn, Jr. rounded out the top 5. Ray Hunter was 6th, Chase Gustafson 7th, Matt Kramer 8th, Billy Holmes 9th, and Brandon Hunter 10th.
Next week-end it's the Wingless Top Gun Sprints in Round 5 of 6, UMP Open-Wheel Modifieds, Amsoil V-8 Thunderstocks, $500 to win Double Points night for Mini Stocks, and the Gladiators run as well. For more information you can check out www.bubbaracewaypark.com or call the Speedway hotline at 352-622-9400.
Bubba Raceway Park Results (10/15/11)
Top Gun Sprint Car Series (Round 4- Wingless A)
1- 24 Danny Martin, Jr.
2- 6S Robbie Smith
3- 81 Sport Allen
4- 1* Tim George
5- 83 Mark Ruel, Jr.
6- 14 Ryan Partin
7- 12 Collin Cabre
8- 0 Jimmy Ballew, Jr.
9- 92 Matt Kurtz
10- 3 Travis Bliemeister
11- 9 Brandon Grubaugh
12- 02 Gene Lasker
13- 59 Dan Slatter
14- 98 Shawn Murray
15- 3A AJ Maddox
16- 8 Rich Alexander
17- 3K Kurt Taylor
18- 19 Brandon Lineberger
19- 6 Troy Decaire
National Late Model Series Southern Tour's BubbatoberFest 40 (Also a RaceCar Engineering Late Model Points Race)
1- 58 Mark Whitener
2- 11 Austin Kirkpatrick
3- 71 Bo Allen
4- 0 Rich Pratt
5- 47 Tyler Ivey
6- 2 Brandon DeWitt
7- 35 Christian Augspurger
8- 01 Jack Nosbisch
9- 14 Bubba Clem
10- 21 Ivedent Lloyd, Jr.
11- 12 Hunter Peacock
12- 1J Jay Johnson
13- 1W Dillon Wood
14- 41K John Kellum
15- 07 David Clegg
16- 99 Travis Carter
17- 33M Jeff Mathews
18- 18 JO Nobles
19- 98 Casey Barrow
20- 33R Gene Ross
DNS- C2 Cale Simons
Barrett's Race Cars Hobby Stocks
1- 44 Tim Powers
2- 56 Kevin Durden
3- 83 Joe Boyd
4- 69 Tommy Ausburn
5- 94 Robert Sirmons
6- 55W Buck Woodhouse
7- 96J Scott Haas
8- 81 Donald Woosley
9- 77M Mark Maresca
10- 9 Sean Babcock
11- 73S Jeff Sargent
12- 70 Martin Neeikins
13- 60 Jonathan Appleby
14- 2H Cory Hupp
15- 11 Johnny Zackery
16- 90 Tim Gay
17- 9L Brian Morgan
18- 23 Rebecca Paugh
Gladiators
1- 30 Reid Christensen
2- 16 Denica Hetznecker
3- P38 Steve Cox
4- 81 Steve Johnson
5- 69JR Tommy Ausburn, Jr.
6- 79 Ray Hunter
7- 10 Chase Gustafson
8- 77 Matt Kramer
9- 26 Billy Holmes
10- 9 Brandon Hunter
11- 7UK Stephen Frankland
12- 01 Daniel Wolfe
13- 23 Tiffany Shaw
DNS- 126 Robert Graham
BubbatoberFest 40 Starting Order
1- Whitener (Draw) 16.1
2- Allen (Draw) 16.2
3- Lloyd, Jr. (Draw) 16.0
4- Nobles (Draw) 16.2
5- Ivey (Draw) 15.9 [FAST QUALIFIER]
6- Wood (Draw) 16.1
7- Nosbisch (Heat Win) 16.3
8- Mathews (Heat Win) 16.7
9- Clegg (Heat 2nd) 16.7
10- Kirkpatrick (Heat 2nd) 16.4
11- DeWitt (Heat 3rd) 16.6
12- Augspurger (Heat 3rd) 17.0
13- Kellum (Heat 4th) 17.1
14- Barrow (Heat 4th) 16.7
15- Carter (Heat 5th) 16.9
16- Peacock (Heat 5th) 17.4
17- Pratt (Heat 6th) 18.2
18- Clem (Heat 6th) 19.3
19- Johnson (Heat 7th) 17.3
20- Ross (Heat 7th) 17.2
     Simons (Heat DNS) NO TIME