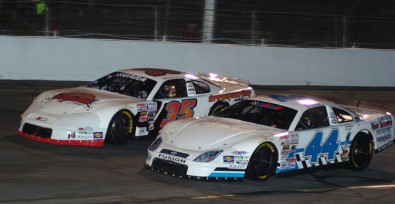 Hendersonville, NC (03/18/13) – UARA-STARS celebrated an another successful season opener March 9th at Southern National Motorsport Park and now head to Hickory Motor Speedway this Saturday March 23rd for their second event of the season. The STARS will take on local favorites Travis Byrd and Dillon Houser who have sent in early entries. Also challenging the STARS will be former UARA champion Lee Tissot along with Richard Childress Nationwide Driver Max Papis. More of the local talent are expected to take on the STARS as well.
Racing along with the STARS will be the Southeast Super Trucks, Allison Legacy and the Vintage Racers for a full night of thrills and excitement for the fans.
The 2013 racing season picked up right where it left off with Reigning Champion Travis Swaim and 2012 Rookie of the Year Dillon Bassett battling out front. During a late-race restart, Ronnie Bassett made a clean pass for the lead and took his team to victory lane. While these well-known STARS lived up to the expectations placed on them, others turned heads and left big impressions for the fans.
Brodie Koestecki started the season opener weekend top on the leader board during Friday's optional practice. On Saturday, he rolled his fast car through both practices landing within the top five. During a strong qualifying run, he started the race on the outside of the front row with Sunoco Pole winner Swaim. This will be Koestecki's first full year with the series, but not his first event with the STARS. Koestecki raced seven events during last season. Along with the UARA events, Koestecki is getting more exposure to tracks by competing at local tracks. This past weekend, he and his team captured the pole at Hickory Motor Speedway and came home with a 9th place finish. Will Gallaher was also at Hickory Motor Speedway last weekend getting some seat time. Gallaher finished 17th.
Ben Rhodes has also stepped up his game for the upcoming season. Rhodes, with his new team Hawk-McCall Motorsports, turned fast laps during practice at Southern National. He qualified fourth and drove a strong race. He found himself battling the Champion for the second position, but ran out of time. His third place finish was hard-earned and well deserved. In between UARA events, Rhodes competed in the K&N Series race at Bristol. He finished with an impressive 9th place finish after qualifying 21st. Fellow competitor Brandon Jones had an impressvie 11th place qualifying run at Bristol but saw his hopes fade as electrical problems ended his run a little pass the 2/3 mark of the event. Jones ended his day with a 31st place finish and some good experience to his credit.
While teams prepare for the upcoming Hickory event on March 23rd, UARA administrators Kerry and Wink Bodenhamer promoted the series by attending the Food City Race night at Knoxville Expo Center on Thursday March 14th and again on Friday March 15th at Bristol Motor Speedway.
Fans can keep up with their favorite STARS by following them on Twitter, @uarastars, and "like" them on Facebook under the United Auto Racing Association. With cooperating technology, the series page on Facebook has all of their raceday updates.