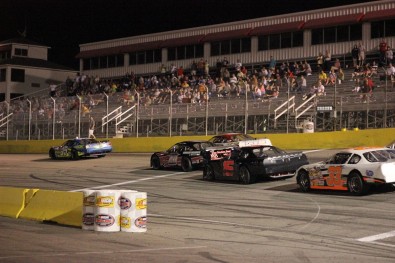 Hendersonville, NC (03/04/13) –United Auto Racing Association (UARA) will kick off their season opener at 2pm this Saturday, March 9th at Southern National Motorsports Park in Kenly, NC. with their customary 150 lap late model special event. Drivers can finally dust off those abandon helmets and suit up for the matinee show. The event will consist of old rivals, brothers, and young rookies battling it out to quench that first victory of the season.
The UARA-STARS will have an action packed season opener with competitor gates opening at 7am and their tech inspection starting at 7:30am. Fans can head to the Motorsports Park around 11am to check out the final practice of the STARS and see which driver turns the quickest lap during qualifying for the Sunoco Pole at 12:30pm. The green flag will drop at 2pm.
Over the past twelve years, Southern National has been on four of the UARA's seasons. The series had their first event July 26th, 2003 with Denny Hamlin taking home the win, along with the pole. Two seasons later, the series returned in September 2005 and crowned Jamey Caudill as their winner with Matt McCall on the pole. The last two visits were in April of 2006 and 2007 when Caudill took home both wins and both poles. During 2007, Caudill set a new record for the series at SNMP with a 15.293 sec. lap at the last UARA visit there on April 14, 2007. Will Caudill be there this weekend to defend his UARA record? We will find out soon.
Sharing the spot light with the STARS are local divisions, such as the Limited Late Models, Street Stocks, Mini Modifieds and Bandos. The Limited Late Models will run 65 laps, Street Stocks 25 laps, Mini Modifieds 30 laps and the Bandos 20 laps.
Be sure to check out all the new faces and new sponsors during the event. Seven rookies have already signed up for the 2013 challenge. Dylan Hall, David Garbo Jr, Josh Morris, Chandler Levan, Garrett Jones, Michael Leavine and Brandon Lynn. Garbo took advantage of the SNMP season opener March 2nd to get some extra seat time at the track. He had a second place finish in the first race and finished thirteenth in the second event.
There will be a few employee changes but with faces that have been with the UARA as temps in the past few years. Chip Summey and Ms Toni James will be joining the scoring team at selected events. Sheila Lee will be assisting at some events as Grandstand ticket seller and or stubber. Also our new Miss UARA Heather Cartland will make her debut at SNMP.
Fans are used to seeing their STARS under the lights, so to keep up with all race day activity and fun updates, follow them on Twitter, @uarastars, and "like" them on Facebook under the United Auto Racing Association.