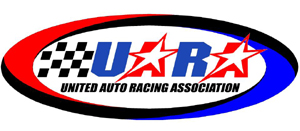 Hendersonville, NC (04/8/13) –United Auto Racing Association will head to Rockingham Speedway this weekend, April 12-14th, for a three day event with the NASCAR Camping World Truck Series(NCWTS) and Frank Kimmel Street Stock Nationals (FKSSN).
The STARS are scheduled to take the track around 11am on Saturday morning for their qualifying laps with the green flag set to drop at 2pm. The drivers and teams will arrive at the track on Thursday late afternoon and will be ready for practice on Friday morning.
Ronnie Bassett, Jr. has been very successful during the first two UARA events. Claiming both victories and a pole at Hickory, Bassett hopes to continue his winning streak as he heads to the Rock. Bassett, along with the regular STARS, will compete against some of NCWTS toughest competitors in Saturday's event at Rockingham.
Clay Rogers will be on hand to defend his win from the 2012 fall UARA Rockingham event.
Rogers qualified on the outside pole with young Dillon Basset setting the fastest lap at 25.198.
Rogers took the lead on lap one and never looked back. Rogers will be doing double duty this weekend. He will man the wheel for RBR in the NCWTS race on Sunday.
2012 Champion Travis Swaim will be aiming for a better day at the Rock. With power steering problems early on in the fall event, Swaim and his team were working diligently to get as many laps as possible to capture the championship. At one point of the race Dillon Bassett who captured the Rookie of the Year title stood a chance at winning the championship as well.
Ty Dillon grandson of famed NASCAR team owner Richard Childress and 2008 UARA Rookie of the Year Darrell Wallace, Jr. have entered in the UARA-STARS event at Rockingham. Dillon ran some events with the STARS in 2010.
Wallace Jr. has become a regular competitor in the UARA events at Rockingham. He claimed a top five finish during the season finale in November and won the Holley Performer of the Race award for gaining the most positions. Wallace Jr, currently sits fifth in NCWTS points driving for Kyle Busch. Wallace will come to Rockingham after having a second place qualifying run and a strong fifth place finish at Martinsville this past weekend in the NCWTS race. Dillon is currently eighth in the truck points.
Last year's Most Improved Driver Cory Joyce will also be joining his fellow drivers at the Rock. Joyce has taken the first few events off to get ready for the big race weekend. He finished out his rookie season with a 8th place finish in Championship Points.
While some drivers prepared for the event in shop, others hit the road and got more seat time. Devin Jones competed in his first NCWTS this weekend at Martinsville. Ben Rhodes traveled to Sportsdome Speedway in Indiana for a legends event. Rookie David Garbo, Jr. captured his first late model win at Hickory Motor Speedway during their weekly Saturday night racing.
To find out more about the UARA-STARS, fans can 'like' them on Facebook, United Auto Racing Association, or follow them on twitter, @uarastarsseries.