The BG Products Southern Sprint Car Series, The Florida Pro Trucks Challenge Series and the Florida Race of Champions for the Crown Vics all invade Citrus County Speedway and well as Legend cars and more.
This weekend also The two DeCaires Troy and TJ will both race at the same track on the same night.  Who will win and keep the family battle lead.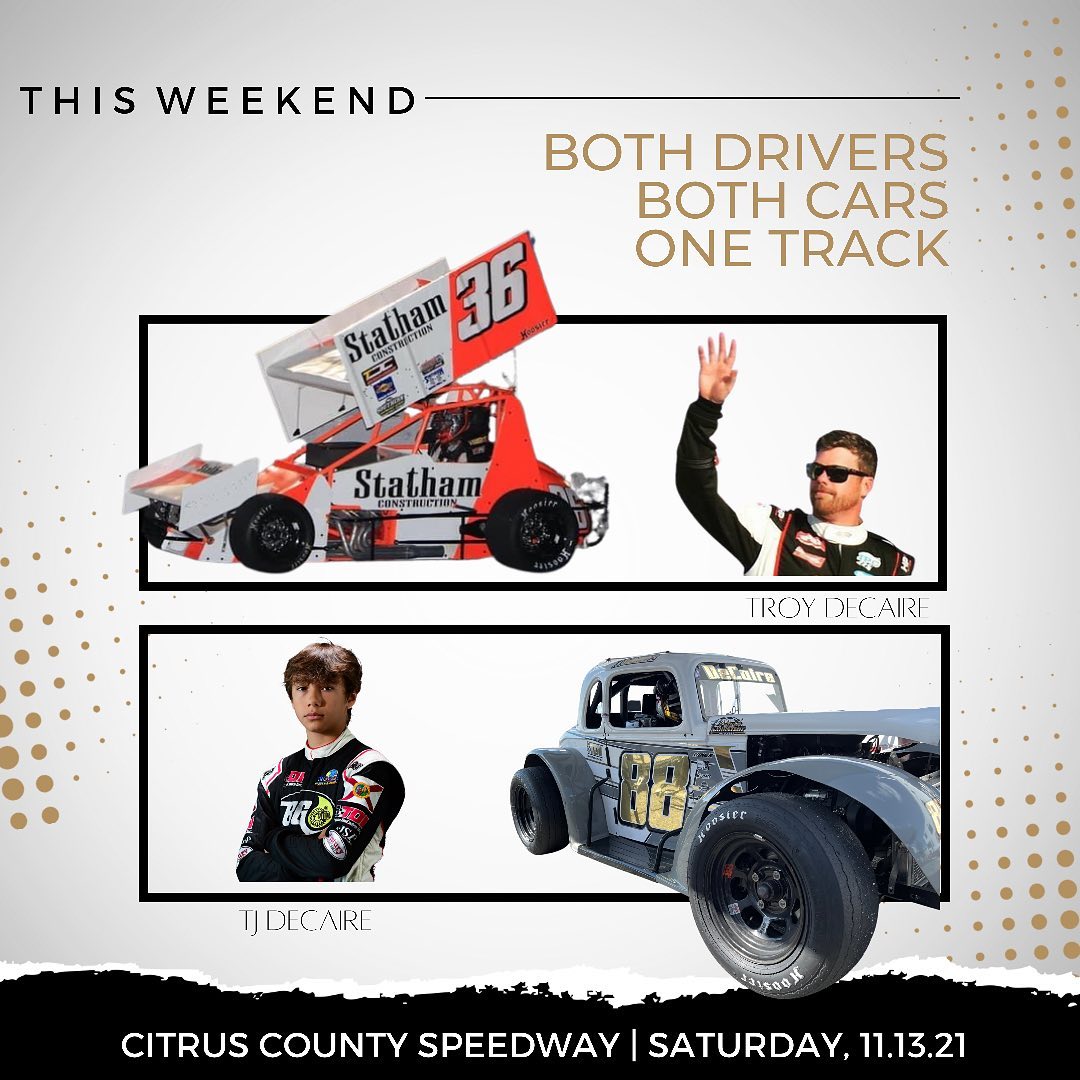 NOVEMBER 13th: The Winged Sprint Cars are ready to battle it out in the Frank Riddle Memorial 40! The mean winged flying machines is definitely an exciting high speed show that you won't want to miss! We also have the Florida Pro Truck Challenge Series in action for 50 laps chasing $1,000 to WIN! In our opinion these trucks have put on the absolute best show with awesome side by side racing and great battles for the WIN! Another special event happening is the Blue Gators Ford Race of Champions! It will be 50 laps… 25 laps on the oval, then 25 laps on the chicane. In the end there will be only one WINNER!
Frank Riddle Memorial Winged Sprint Cars 40 Laps
Florida Pro Truck Challenge Series 50 Laps
Blue Gators Ford Race of Champions 50 Laps
Crockett's Towing Ford Outlaws 25 Laps
Signsfast Pure Stocks 25 Laps
Powder Puff 20 Laps
Little Gator Motorsports Legends 25 Laps
General Admission $15.00
Kids 17 and Under $5.00
Kids 6 and Under are FREE!
Grandstands Open at 5:30
Heat Racing at 6:00
Features at 7:30
6 days and counting till The BG Products
Southern Sprint Car Series
rolls into Citrus County Speedway on November 13th for the Frank Riddle Memorial. Remember this event will pay $400.00 to start the A-Main.
Here is your tentative basic time line for Saturday's events(detailed schedule to follow)
Pit Gates open at 1pm
Practice at 3 pm
Grandstands open at 5:30pm
Drivers Meeting at 6pm
Heat Races at 6:30pm
Features at 7:30pm
We are looking for a good car count for this event as we remember one of the greatest Sprint Car drivers in the State of Florida. If you can make it to compete in this event please reply below or contact the series office.
Thanks again to our great sponsors: BG Products. Dayton Andrews Dodge, Southern Race Fuels, Sunoco and MK Graphics