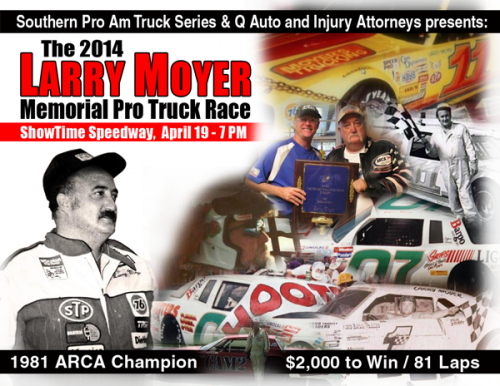 On Saturday, April 19, 2014, the Florida Pro Trucks will compete in the first Larry Moyer Memorial Pro Truck Race at ShowTime Speedway in Pinellas Park, Florida.  Q Auto and Injury Attorneys, JRC Transportation, Jostens and Driver Seat Racing will sponsor the memorial race and the Southern Pro Am Truck Series' first points race of the inaugural season.   With sponsorship contributions, the winner will receive $2,000, a custom made Jostens Lug Nut Winner's Ring, and four VIP pit passes to the May 3rd ARCA 200 race at Talladega Speedway.  Second place will receive $1,000 and bonuses will be awarded based on performance.
ShowTime Speedway, Moyer Motorsports and Series officials agreed to make the race 81 laps to commemorate Larry Moyer's 1981 ARCA Championship.  Moyer's racing career spanned four decades, winning hundreds of late model races across the Midwest and Florida.  Moyer's biggest accomplishment was winning the 1981 ARCA Championship in his rookie year, and Moyer also raced in the Firecracker 400 NASCAR Sprint Cup Series race at Daytona International Speedway in 1988.  Moyer was a popular favorite at Sunshine Speedway (now ShowTime Speedway) in the mid 80s.  In 2002, Moyer won the last race he competed in, a Pro Truck Series event. Moyer finished second in Pro Truck Series points on the strength of eight wins in 2001.  Larry Moyer passed in 2011 due to a lengthy illness, he was 60. 
Many of Moyer's friends and race fans will attend the April 19th memorial race to show their respect and appreciation for Moyer's involvement in the local racing community.   Big Daddy Dave Pletcher, the legendary and talented Late Model driver, will show his support by buckling up to compete in his friend's Memorial Race.  Pletcher will be racing the number 74 Moyer Motorsports JRC Transportation Pro Truck Chevrolet.   "Dave Pletcher raced with my father for years, and it will be great to see him race in another Moyer Motorsports race car," said AJ Moyer, son of late Larry Moyer.   Because it is a memorial race and Pletcher was on of Moyer's best friends, Pletcher has committed to evenly disperse his winnings to the drivers that finish from last place up.  If by chance Pletcher is not able to finish the race, the Series will award $500 to one driver that has the best position advancement in the race; this is called the "Hard Charger Award."
The Pro Truck Series has recently informed their members that one Pro Truck is available for the April 19th 81 lap memorial race.  JRC Transportation and Driver Seat Racing will sponsor half the cost for an experienced stock car driver that is over the age of 18.  To inquire or make a reservation, interested drivers must directly contact Driver Seat Racing or visit driverseatracing.com.
The Southern Pro Am Truck Series is sponsored and managed by Driver Seat Racing, a pro truck racing development service that supports the growth of Pro Truck racing in the Southeast.  The Series is backed by an advisory committee of Pro Truck drivers and owners whose sole purpose is to advise on the organizational structure and proper management of a Pro Truck racing series.  "It's vital to the success of the Series that we include the opinions and suggestions of our members," said Jim Reppi, Series promoter.  Reppi went on to say, "After all, it's the drivers, crew and team owners who are spending their time and hard earned money to compete, and it's our responsibility to educate and to facilitate a level playing field where rules are followed."  With the addition of Tommy King, the Series' tech inspector and Pro Truck Champion in 2003, the Series is confident that all members will be treated equally when it comes to enforcing rules.
Over time, the Series will gradually align with other national Pro Truck series; providing Pro Truck racing teams with alternative and cost efficient maintenance options and the ability to experience various race tracks within the Southeast.  In addition, the Series is working hard to grow its membership base by recruiting new drivers through various networking channels and through its driver development program with Driver Seat Racing.
For Series sponsorship opportunities or questions regarding the Larry Moyer Memorial Pro Truck Race at ShowTime Speedway, please contact Driver Seat Racing at info@driverseatracing.com or call 1.877.883.1082.