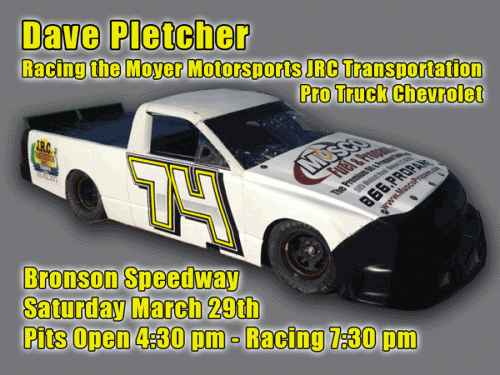 Big Daddy Dave Pletcher, the legendary and talented Late Model driver, will buckle up to race in the Inaugural Southern Pro Am Truck Series Lug Nut 50 at Bronson Speedway on Saturday March 29, 2014.  Pletcher will be racing the number 74 Moyer Motorsports JRC Transportation Pro Truck Chevrolet.   "Pletcher raced with my father for years and it will be great to see him race in another Moyer Motorsports race car," said AJ Moyer, son of late Larry Moyer.
The Southern Pro Am Truck Series and its supporting sponsors, Jostens, JRC Transportation and Driver Seat Racing will award the winner of the March 29th race with $1,000, four VIP pit passes to the May 3rd ARCA 200 race at Talladega Speedway, and a Jostens Winner's Lug Nut Ring which will commemorate the 2014 Inaugural Southern Pro Am Truck Series Lug Nut 50 win.
All pro truck drivers in attendance will receive a free year's membership to the Southern Pro Am Truck Series, a series t shirt, Jostens racing decal and the tech services of Tommy King, an inspector with good ethics and integrity.  Tommy recently provided the series with an excellent assessment of the GM metric stock chassis versus the aftermarket spec chassis.  To receive a copy of the assessment, which covers cost, performance and future benefits to the pro truck series' growth, please email info@driverseatracing.com.
Drivers can pre-register and save $25 off their race entry fee by visiting DriverSeatRacing.com.  Race day entry fee is $125 and it's free to become a member.  Please note: Racing fuel will not be offered at Bronson Speedway.  For trucks that need tires or extra practice time before the pit gates open, please contact Jim today at Driver Seat Racing to make a reservation.  The track will also hold open test and tune on Friday March 28th from 5:30 until 9 pm.