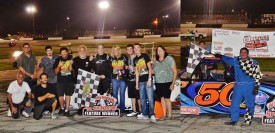 Provided by Desoto Speedway
On a night that saw a lot of bent sheet metal, flaring tempers – and even flying fists between a pair of longtime rivals – it was Nick Neri who found himself holding the trophy after
Saturday
night's Turner Tree and Landscape with Sunoco Southern Racing Fuels 50-lap Super Late Model feature at Desoto Speedway
Joe Boyd grabbed the lead from polesitter Michael Atwell at the drop of the green flag. As Boyd and Atwell ran nose-to-tail around the three-eighths mile oval for the first 25 laps the action was tight in the battle for third through sixth between Chris Fontaine, Icebreaker 100 winner Jeff Scofield and Jesse Dutilly.
On lap 25 Dutilly and Scofield made contact in turn four, with Dutilly losing several spots in the exchange. The caution flew two laps later for Dylan Martin's spin.
As Boyd continued to pace the field Dutilly was slowly working his way back up toward the lead pack. He was back in the top five in just a span of five laps and passed Scofield on the outside for fourth just before Dylan Bigley's spin brought out the yellow on lap 44.
Fontaine and Scofield got by Atwell on the restart. Fontaine would briefly take the lead from Boyd on a lap 47 restart, but Boyd returned the favor and reassumed the top spot a lap later.
With Boyd starting to pull away a three-way battle for third ensued between Scofield, Dutilly and Nick Neri. Scofield and Dutilly made contact in turn one, allowing Neri to slide underneath both cars and into third.
Heading into turn three Dutilly would make hard contact with the wall. On the front stretch after the accident a fight ensued between Dutilly and Scofield, drawing a wild reaction from the packed house in attendance.
On the restart Fontaine and Boyd battled side-by-side for the lead for three laps. The duo got together going into turn one on lap 62, sending Boyd into the wall and Fontaine to the pits with a flat tire. Boyd was allowed to resume the race in the lead – despite heavy damage to the rear of his car.
On the restart Boyd couldn't keep his damaged car in the lead, handing the lead to Neri. On the next restart Atwell got the lead and was pulling away when the caution flew again on lap 64.
Atwell appeared to spin his tires on the restart, causing a huge crash that sent Tyler Scofield hard into the front stretch wall and nearly on to his roof heading into turn one.
Dylan Bigley would take advantage of the situation and vault past Neri to the lead on a restart with 13 laps to go. Bigley appeared to be on his way to the victory before he and Scott Walters made contact coming to the white flag, forcing Bigley into a spin.
Bigley was allowed to keep his spot and had to fight off Neri and Atwell in a green-white-checker finish. On the first attempt, Bigley and Neri made contact in turn two, sending both cars into the wall – and Bigley out of contention for the win.
On the final restart, Neri got the jump on Atwell and Nick Hernandez and cruised to the victory.
"This is amazing," Neri said in the winner's circle after completing a series of celebratory donuts in front of the stunned crowd. "It got a little rough and tumble out there in the last practice and we had to piece the car back together for qualifying. It worked out for us because we were able to keep our nose clean."
Hernandez finished second and was followed by Atwell's battered car in third. Dylan Bigley rallied back to fourth, while Anthony Cataldi rounded out the top five.
The Joey Coulter Florida Pro Truck Series was also on hand to kick off their 2015 season with a 50-lap feature event. Outside polesitter Steve Darvalics grabbed the lead from the start and was leading a three-truck breakaway with J.R. Garcia and Bradenton's Danny Anderson in tow when the caution flew for an accident involving Taylor Hosford and Derek Pugh.
Three laps after the restart Anderson used a slight "bump-and-run" to get by Darvalics for the lead. On lap 18 defending series champion Becca Monopoli got by Darvalics for second and was reeling in the leader when the caution flew two laps later for a spin involving Scott Hogan and Bill Vandevender, who were fighting for fourth just behind Darvalics.
After the restart Monopoli kept pressure on Anderson and was making a pass for the lead when the yellow flew again 16 laps from the finish. Anderson, who was fighting a loose truck over the second half of the race, held Monopoli at bay over the final laps and drove on to the victory. Monopoli, Darvalics, Rodney Haddock and Vandevender rounded out the top five.
In the 25-lap Mini Stock feature, Cameron Cruse went from fifth to first by the end of the first lap and had nearly a full straightaway lead when Laura Mammina's blown engine brought the caution out at the halfway point of the race.
On the restart Cruse and Ronnie Robinson battled for the lead and Robinson would grab the lead after Cruse slipped high in the fourth turn with 10 laps to go. Jessica Ostrovskis followed Robinson and was making a bid for the lead when the caution flew for Kristen Milthaler's blown engine with four laps to go.
Robinson held off a challenge from both Ostrovskis and Cruse on the final restart and went on to win for the second week in a row. Ostrovskis and Cruse finished second and third.
In other action
Saturday
night, Carl Thompson won his second consecutive 25-lap Bomber feature; and Cody Benoit held off Donny Funk to win the 25-lap LKQ Pick Your Part Pure Stock feature.
Winged Sprint Cars and Sportsman highlight
next Saturday
night's action at Desoto Speedway March 21st also
Street Stock, Pure Stock, Modified Mini
3-14- 2015
DESOTO SPEEDWAY RACE RESULTS
Super Late Models
1. 17 Nick Neri Palmetto…
2. 4 Nick Hernandez Palmetto
3. 51 Michael Atwell Naples
4. 128 Dylan Bigley Naples
5. 00 Anthony Calaldi
6. 21 Gene Anderson Lakeland
7. 13 Scott Walters Naples
8. 75 Tommy Kelly Myakka City
9. 07 Tyler Scofield Plant City
10. 7 Dylan Martin Lakeland
11. 5 Joe Boyd Riverview
12. 28 Billy Bigley Jr. Naples
13. 47 Chris Fontaine Lakeland D.Q.
14. 07 Jeff Scofield Plant City D.Q.
15. 30 Jesse Dutilly Sarasota D.Q.
Pro Trucks
1. 50 Danny Anderson Bradenton
2. 59x Becca Monopoli Lakeland
3. 41 Steve Darvalics Venice
4. 31 Rodney Haddock Hillard
5. 84 Bill Vandevender Ft. Myers
6. 51 Dylan Bigley Naples
7. 32 Jeff Firestone Venice
8. 9 Cody Jett Orange Park
9. 37 Michael Goddard Naples
10. 13x J. R. Garcia Plant City
11. 2D David Patterson North Port
12. 12 Scott Hogan Naples
13. 75 Robert St. John Arcadia
14. 09 Tommy Caveney Mulberry
15. 13 Taylor Hosford Madison Fl.
16. 3 Derek Pugh West Palm Beach
17. 28 Corey Bigley Naples
Bombers
1. 75 Carl Thompson Aburndale
2. 23 Kenny Gibson Venice
3. 57 Aaron Holmes Aburndale
4. 22x Randy Spicer New Port Richey
5. 77 James Dellea Port Charlotte
6. 39 Jerry Tetting
7. !9 Sheri Krom Sarasota
8. 24 Jeff Pacheco Port Charlotte
9. 34 Jody Gill Auburndale
Pure Stock
1. 98 Cody Benoit Buckingham
2. 29x Donny Funk Orlando
3. 8 Shane Leonard Cape Coral
4. Kyle Best
5. 26x Bryan Hillyer North Port
6. 36x James Widner Bradenton
7. 72 Roger Dufrense Bradenton
8.77 James Dellea 3rd. Port Charlotte
9. 24 Jeff Pacheco Port Charlotte
10. 44 Rick Hess Englewood
11. 110 Chris Hagens Bradenton
12. 57 Ben Kelly Venice
13. 80x Chad Cummings Palmetto D.Q.
Mini Stock
1. 05 Ronnie Robinson Bradenton
2. 91 Jessica Ostrovskis St. Pete
3. 91c Cameron Cruse Sarasota
4. 008 Ren Wright St. Pete
5. 67 Jimmie Best Myakka
6. 48 Roger Wright Pinellas Park
7.28 Eric Daniels Bradenton
8. 15 Jorden Miller Bradenton
9. 9 Josh Calvert North Port
10. 54 Ryan Thompson Jr. Palm Harbor
11. 99 Johnny Marra Cape Coral
12. 23 Jerry Groves Venice
13. 10. Kristen Milthaler North Port
14. 77 Laura Mamamina North Port
15. 13 Bryan Ferguson Ft. Myers
16. 56 Ryan Thompson Sr. Palm Harbor
17. 3 Sherry Best Myakka
1. 56 Eli Thompson Palm Harbor (rookie)