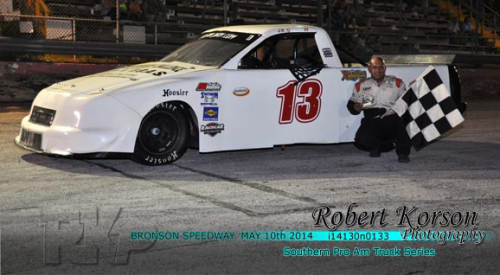 Bronson Speedway, May 10, 2014: Bronson Speedway's track announcer said it best, "race fans, get ready to see the state's best Pro Truck drivers…" OK, so not all were there, but four of the state's best Pro Truck drivers in JR Garcia, Mica Williams, Jessica Murphy and Steven King where there to show their support for the Series and Bronson's local oval race track. The Pro Truck Series considers Bronson's three-eighths-mile, high-bank asphalt oval track to be a hidden gem, and it is apparent that this small town race track is making every effort to support their drivers and traveling series. Many of Saturday night's drivers share the same opinion in that the track is fun to race on and more drivers should make the trip to show their support. Although the Pro Truck count was less than expected, the track and Series still delivered on the guaranteed payout while giving the teams a break on the number of race laps.
This was the second race of the newly formed Southern Pro Am Truck Series, and no one could be happier than Pro Truck driver JR Garcia. Garcia, of the number 13 Pro Truck sponsored by Ambassador Racing, started the night by driving the fastest qualifying time with a 14.844 lap time. Mica Williams, the previous feature race winner, and Jessica Murphy also ran impressive qualifying times that were .018 behind. The Pro Truck race was one of the highlights of the night as local race fans were able to experience the Series' Pro Trucks which share many characteristics of NASCAR's Camping World Truck Series.
JR Garcia, who is one of Florida's most experienced Pro Truck drivers and has a full time job teaching kids and adults how to race, won the 35 lap feature race in convincing fashion. Garcia started on the pole and led each lap from start to finish. Garcia did received some pressure from Series point's leader Mica Williams, who finished second in the number 84 Racecar Engineering sponsored Pro Truck.
In the post-race interview, we learned that Garcia and his family own and operate Ambassador Racing, a kart racing oval track in Wimauma, Florida. The tack holds state and national kart racing events, offers driving instruction for racing vehicles from go-karts to Pro Trucks, provides open racing every Tuesday and Friday night, and they provide a weekly racing summer camp for kids ages 5 and up. The summer camp uses the S.T.E.M. program to teach kids how racing uses science, technology, engineering and math. The racing summer camp is a great way to provide your child with real world life skills while having fun racing.
The Southern Pro Am Truck Series' next Pro Truck race event is scheduled for May 31, 2014 at Bronson Speedway. For more information or to reserve a Pro Truck to race, please visit SouthernProTrucks.com.