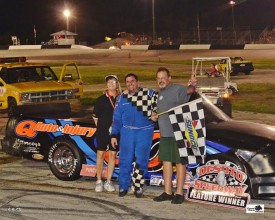 Not even the largest field of Pro Trucks in the state of Florida this season could slow down Bradenton's Danny Anderson on Saturday night at Desoto Speedway.
Anderson, who had already won a pair of Q Auto and Injury Attorneys Pro Truck features at Desoto earlier this season, took the lead at the halfway point of Saturday's 50-lap main event and survived a late-race duel with Chad Chastain through heavy traffic to take his third victory of the season.
Stuart Vandevender led the 26-truck field to the green and would lead a six-truck breakaway of Chad Chastain, Danny Anderson, Blake Haddock, J.R. Garcia and Becca Monopoli around the 3/8-mile oval. The lead pack was working through heavy traffic when the caution flew for a spin on lap 17.
Anderson got by Chastain on the restart and was battling Vandevender for the lead when the caution flew for Cody Martel's spin on lap 19. Chastain got back around Anderson on lap 22 and quickly closed Vandevender to battle for the lead.
Chastain dove under Vandevender going into the first turn two laps later and grabbed the top spot. Anderson would move to second on the same lap and was pressuring Chastain for the lead when the field stacked up in turn four. Vandevender came to a stop at the top of the track, bringing out the caution.
Anderson passed Chastain for the lead on the restart and appeared on his way to a comfortable victory until he caught a pack of lapped trucks five laps from the finish. That allowed Chastain to close directly on Anderson's rear bumper, but Anderson fought off a challenge from Chastain with two laps to go and went on to the win.
"I can't say enough about this truck," Anderson said in victory lane. "This truck was really hooked up tonight and it would go anywhere we wanted it to. Hat's off to Chad Chastain. He's probably the toughest competitor here.
Chastain, who's truck suffered a front suspension failure immediately after taking the checkered flag, finished second.
"That was some great racing out there tonight with some really fast trucks," Chastain said.
Haddock, Garcia and Monopoli rounded out the top five.
The J.D. Byrider Open Wheel Modifieds were also on hand for a 40-lap feature event. Outside polesitter L.J. Grimm grabbed the early lead, but D.J. Hoelzle was charging from his starting spot that was deep in the 10-car field. Grimm was stretching out his lead over Cameron Ray when the caution flew for Dalton Nelson's spin just five laps into the race.
Hoelzle started third on the restart and found himself on Grimm's rear bumper by the time the field got to the backstretch. He would grab the lead on another restart two laps later and held the top spot when the caution flew for another spin on lap 9.
Hoelzle got the jump on the restart and quickly checked out from the rest of the field. Ray got by Grimm for second at the race's 20-lap mark, but no one had anything for Hoelzle as he easily drove to his first feature win at Desoto Speedway this season.
Grimm held off Nick Hernandez and Cody Stickler in a three-way battle for third place in the closing laps.
In other action Saturday night, Randy Johnson passed Ren Wright Jr. for the lead with two laps to go and went on to win the 20-lap Mini Stock feature, but was later DQed for unsportsman like conduct. Roger Wright would end up the winner of the Mini Stocks, brothe Ren Wright Jr second and Ryan Walters third. Lee Davis needed just a handful of laps to come from deep in the field to the lead before going on to win the 25-lap Modified Mini feature; James Nanney passed Tyler Lau for the lead at the halfway point and successfully drove his way through lapped traffic late in the 30-lap Take Aim Gun Range Street Stock feature to earn the victory; and Carl Thompson held off Jeff Firestine to win the 15-lap Bomber feature.
The Turner Tree and Landscape Super Late Models, Pure Stocks, Sportsman, Bombers, Modified Mini and the Pro Challenge highlight next Saturday's racing action at Desoto Speedway.
6-06- 2015
DESOTO SPEEDWAY RACE RESULTS
Pro Trucks
1. 50 Danny Anderson Bradenton
2. 36 Chad Chastain Alva
3. 18Blake Haddock Hillard
4. 13 J. R. Garcia Wimauma
5. 59x Becca Monopoli Lakeland
6. 75 Tommy Kelly Myakka
7. 25Cody McDuffie Lakeland
8. 28 Corey Bigley Naples
9. 67 Jimmie Best Sarasota
10. 31 Rodney Haddock Hilliard
11. 92 Jeff Guilbault North Port
12. 51 Dylan Bigley Naples
13. 37 Michael Goddard Oviedo
14. 84 Bill Vandevender N.. Ft. Myers
15. 09 Tommy Caveney Mulberry
16. 99 Cody Martell Arcadia
17. 32 Dean Butram enice
18. 13h Taylor Hosford Madison
19. 26j Brian Hillyer North Port
20. 2 d David Patterson North Port
21. 2 Ronnie Brock Jr. Sebring
22. 36cRalph Chastain Alva
23. 36x Stuart Vandevender N. Ft. Myers
24. 43 Marina Petty Venice
25. 38 Jeremy Goddard Oveido
26. 75x Robert St. John Arcadia
27. 14. Sam Scott D.N.S.
28. 8 Sean Lemaster D.N.S.
Open Wheel Modified
1. 8 D. J. Hoelzle
2. 9 Cameron Ray
3. 25 L.J. Grimm
4. 37 Nick Hernandez
5. 99 Cody Stickler
6. 46 Doug Moff
7. 94 Dalton NelsonPinellas Park
8. 75 Bobby Blake Lake County
9. 60 Talon Craft St. Pete
!0. 45 Greg Krom Sarasota
Street Stock
1. 6 James Nanney Bradenton
2. 27 Tyler Lau Bradenton
3. 45 Mike Karrivan Bradenton
4. 11 Travis Barfield Myakka city
5. 11x Michael Rohut
6. 69 Keith Neff Bradenton
7. 57 Jim Brenner Sarasota
8. 40 Scott Finch
9. 52 Mike Roland Polk City
10. 93 Jeff Firestine Venice
11. 50 David Blanchard Bradenton
Modified Mini
1. 77 Lee Davis Lakeland
2. 72 Darin Ellis Myakka
3. 55 Tom Zimmerman Largo
4. 99 Dakota Hunt Auburndale
5. 67 Bo Davis Lakeland
6. 4 Jerrold Thompson Sarasota
7. 07 Travis Barfield Myakka
8. 68 Logan Allen
9. 3 Kevin Brock Avon Park
10. 17 Jimmie Wood Bradenton
11. 95 Ronnie Brock Jr. Sebring
12 32 Josh Carbone Bradenton
Bombers
1. 75 Carl Thompson Auburndale
2. 32 Jeff Firestine Venice
3. 57 Aaron Holmes Aburndale
4. 22 Randy Spicer New PORT Richey
5. 93 Bubba Thompson Sarasota
Mini Stock
1. 48 Roger Wright
2. 008 Ren Wright Jr. St .Pete
3. 07 Ryan Walters Clearwater
4. 15 Jordan Miller Parrish
5. 3 Sherry Best Myakka
6. 44 Shanna Clark Clearwater
7. 01 Kristen Milthaler North Port
8. 77 Laura Mammina North Port
9. 28 Eric Daniels Bradentin
10. 73 Randy Johnson Bradenton D.Q.
11. 22 Cameron Cruise Sarasota D.Q.
12. 67 Jimmie Best Myakka D.N.S.