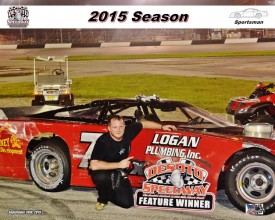 by Scott Lockwood
Steve Darvalics from Venice came from deep in the field to take 30-lap Sportsman feature, highlighting a night of racing action that saw several dramatic finishes  – and a school bus land on its side in the night's final event.
Rick Reed of Punta Gorda leads from pole, but Roger Welsh grabbed the lead as the field completed the second lap. As Welsh began pulling away Chris Narramore, Brandon Morris and Steve Darvalics all battled for the second spot, with Darvalics nudging ahead of Morris on lap 7.
Darvalics needed just a couple of laps to track down Welsh and grabbed the top spot from Welsh with Morris directly in tow on lap 11. Morris and Aaron Williamson, who moved to third on lap 15, couldn't catch Darvalics as the Venice driver used lapped cars to stretch his lead and eventually take the win.
"We got rained out a couple of weeks ago and we went in and did a lot of work on our brake system," Darvalics said. "We picked up a lot of time with good brakes under it. I knew it was going to be a battle for whoever got to the lead first. I probably made some stupid moves – like diving into the infield – but I knew I had to go before they did."
The Take Aim Gun Range Street Stocks were also on hand for a 30-lap feature. Jeff Firestine of Venice  grabbed the early lead from Tyler Lau and polesitter Ronnie Brock Jr. Lau needed just four laps to go from third to first after passing both Brock and Firestine on the same lap.
Lau quickly started pulling away from Firestine and new third-place runner Ander Jackson. The Bradenton driver held a comfortable lead over the last 26 laps and cruised the initial win over Firestine, who held off Jackson in a battle for second in the closing laps. Firestine's battle with Jackson for second was ultimately for the win after Lau was disqualified in post-race inspection.
"Unfortunately Tyler got DQ'ed, but a win is a win and I'll take it however I can get it," Firestine said.
In the 25-lap LKQ Pick Your Part Pure Stock feature, Duane Best went from his fourth starting spot directly to the lead by the time the field hit the backstretch on the opening lap. Darrin Ellis worked his way up to second place, but fell out of the race just past the halfway point with a flat tire.
Best was well on his way to the victory when he suddenly slowed heading down the backstretch. As the transmission failed on Best's car heading into turn three, Chad Cummings came from nearly a straightaway behind in second, passed Best coming out turn four and led just the final 100 yards of the race. Cummings' celebration was short-lived, though, as he was disqualified in post-race inspection for an illegal intake. That handed the win back to Best.
The School Bus Figure 8's closed out the night with a rough-and-tumble 20-lap event. Mike Gamache was looking to keep his perfect record intact and was battling with Shawn Senokossoff for the top spot when contact with a lapped bus sent Gamache flipping in the turn. After a delay to get Gamache's bus back on its wheels, Gamache and Senokossoff resumed their battle for the top spot. Gamache's bus began overheating in the final laps, allowing Senokossoff to pull away for the win.
In other action Saturday night, Ren Wright Jr. held off a race-long challenge from Cameron Cruse and Ronnie Robinson to win the 25-lap Mini Stock feature – Wright's first win of the 2015 season at Desoto; and Kenny Gibson won his second straight 25-lap Bomber feature.
Next week, the J.D. Byrider Open Wheel Modifieds return to Desoto Spedway. Street Stocks, Modified Mini Stocks, Mini Stocks, Bombers and the Enduro class will also be in action.
MARK YOUR CALENDERS FOR OCT 10TH TRIPLE CROWN #1
OCT 31ST HALLOWEEN MADNESS
9-26- 2015
DESOTO SPEEDWAY RACE RESULTS
Sportsman…
1. 79x Steve Darvalics Venice
2. 56 Brandon Morris Mulberry
.3. 13 Aaron Williamson Lakeland
4. 98 Roger Walsh
5. 9 Brooke Storer
6. 12 David Williamson Lakeland
7. 77 Chris Narramore Jr.
8. 4 Rick Reed Punta Gorda
9. 93 Jeff Firestine Venice
10. 45 Mike Karrivan
11 11 Travis Barfield Bradenton
12. 91 Ander Jackson Punta Gorda
13. 67 James Dubose Arcadia
Pure Stock
1. 3 Duane Best Myakka City
2. 18 Troy Theim
3. 57 Aaron Homes Aburndale
4. 75 Carl Thompson
5. 71 Darrin Ellis Myakka City
6. 7 Collen Whitesell
7. 63 Kyle Best Myakka City
8. 72 Roger Dufrense Bradenton
9. 80x Chad Cummings Palmetto D.Q.
Bombers
1. 23 Kenny Gibson Venice
2. 57 Aaron Holmes Auburndale
3. 75 Carl Thompson Auburndale
4. 22x Randy Spicer New Port Richey
5. 38z Zach Briggs Lakeland
6. 25 Bubba Healy
7. 7 Colleen Whitesell Bradenton
8. 39 Jeff Firestine Venice
9. 22 Ann Marie Ricardi Naples
10. 92 Fred Blake Venice
Street Stock
1. 93 Jeff Firestine Venice
2. 91 Ander Jackson Punta Gorda
3. 45 Mike Karrivan Bradenton
4. 33 Ronnie Brock Jr. Sebring
5. 11 Travis Barfield Myakka City
6. 40 Scott Finch Bradenton
7. 3 Jeff Dufrensne Bradenton
8. 72 Roger Dufresne Bradenton
9. 27 Tyler Lau Bradenton D.Q.
Mini Stock
1. 008 Ren Wright Jr St. Pete
2. 22 Cameron Cruse Sarasota
3. 05 Ronnie Robinson Bradenton
4. 91 Todd Morey
5. 99 Johnny Marra Cape Coral
6. 28 Eric Daniels Bradenton
7. 01 Christopher Mithaller North Port
8. 10 Kristen Mithaler North Port
9. 67 Jimmie Best Myakka
10. 9 Meagan Hirschy Port Charlotte
11. 37 Jarrett Reynold Punta Gorda
12. 3 Sherry Best Myakka
13. 77 Laura Mammina North Port D.N.S.
School Bus Figure 8's
1. 6 Shawn Senakossoff
2. O Mike Gamche
3. 4 Jame Volk
4. 01 Steve McCustor
5. 76 Amy Jones
6. 69 Jeff Firestine
7. 25 Jeremy Bates
8. 96 Tracy Webb
9. 14 Gator Volk
10. 31 Shawn Senakosta
11. 16 Wally Smith