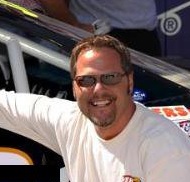 Bubba Raceway Park is happy to introduce Scott Mc Allister as the new General Manager at BRP!!! Scott comes from Racecar Engineering with many years of racing experience.
"This is a position that I thought I could only dream about having an opportunity to do and I jumped at the chance to be part of history at Florida's oldest dirt track" said Scott "I've been to hundreds of tracks and thousands of events, and I plan on using that experience to build on the success that Bubba and his staff have already begun.
Bubba Raceway Park has a proud history of providing some of the best racing entertainment in the region. I look forward to not only carrying on that tradition, but to make improvements that will make the facility one of the premier dirt tracks in the country for both race participants and fans alike!!!!"
Lisa Mamph will be staying on board to work with Scott in providing the best racing experience not only in Florida but accross the country. So please join us in welcoming Scott McAllister to the team at Bubba Raceway Park!!!!!!!