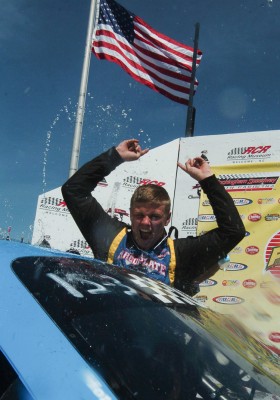 Rockingham, NC (04/15/13) –Fifteen year-old Brodie Kostecki won his first UARA event Saturday April 13th at Rockingham Speedway. The Australian driver started on the outside pole and grabbed the lead on lap 62. Kostecki is the fifth Australian to compete in the UARA-STARS, but first to win. He was also the first non-American winner at the Rockingham Speedway.
Sunoco Pole winner Clay Rogers had a strong run. For holding on to his first place position for the first 38 laps, Rogers was awarded Tilton's Most Laps Led. After giving up the lead to Ty Dillon, Rogers settled for a fifth place finish. Dillon led the field for about 23 laps but couldn't hold off UARA regulars, Kostecki, Ben Rhodes, and Ronnie Bassett, Jr. Dillon came home with a fourth place finish.
Rhodes had his best UARA finish with second place. Recovering from a vibration in practice caused by a damaged rear shock mount, Rhodes qualified 12th. He practiced patience and saved his equipment for the finish, which awarded him Holley Performer of the Race for gaining the most positions during the race.
During the first of two restarts, Devin Jones made a clean and smooth pass by Circle Wheel/ Extreme Trophies Rookie of the Race Tyler Edwards. Edwards missed a shift and Jones squeezed in the middle between him and Brandon Jones for position. This move nominated Devin Jones for Pigwire's Electrifying Move of the Race.
Rookie Brandon White won the FLUIDYNE Cool Under Pressure Award for his cautious judgment during a five-car pack. White was in the middle of a three-wide situation and pulled back to prevent a big caution.
Rookie David Garbo, Jr., who had been Rookie of the Race for the first two events of the season suffered from bad luck from the start of the day. During qualifying, Garbo, Jr. never completed a lap after he took the green. He brought this car down pit road due to a vibration and the team decided it was caused by a tire issue. Once the field took the track, Garbo was off and on pit road during the parade laps. For his misfortune, he was awarded ARBodies Hard Luck Award.
A handful of STARS made their season debut at Rockingham, including 2012 Most Improved Driver Cory Joyce. Joyce was making his way through the field and with 13 laps to go, he began to fall back. He made it all the way up to fifth place and was challenging for fourth when burned a piston caused him to slow.
Rockingham local driver Randy Benson had a strong run for his first race of the season. After qualifying 19th, he brought home a 13th place finish.
The first caution was brought out when Spencer Euler had a spin in turn two. He suffered from right rear damage, which caused him to end his day early. Darrell Wallace, Jr. seemed to be having a strong car until some smoke started coming from his car. After coming in to change a right side tire, his machine stopped on the front stretch, which brought out the final caution. Wallace would end his day with a broken left rear shock mount being the culprit.
During Friday's practice sessions, Rookie Chandler LeVan spun in turn four and Michael Leavine blew a motor. With both teams utilizing extra time before qualifying tech, they had both cars race ready. LeVan would continue to have complications and was down pit road a few time. Leavine brought home a solid twelfth place finish.
To find out more about the UARA-STARS, fans can 'like' them on Facebook, United Auto Racing Association, or follow them on twitter, @uarastarsseries.
Rockingham Results:
1. 40 Brodie Kostecki
2. 41 Ben Rhodes
3. 04 Ronnie Bassett, Jr.
4. 2 Ty Dillon
5. 54 Clay Rogers
6. 28 Travis Swaim
7. 33 Brandon Jones
8. 35 Devin Jones
9. 7 Tyler Edwards
10. 44 Dillon Bassett
11. 12 Garrett Campbell
12. 95 Michael Leavine
13. 02 Randy Benson
14. 4 Dylan Hall
15. 88 Garrett Jones
16. 99 Brandon White
17. 32 Trey Marcham
18. 6 Will Gallaher
19. 89 Bobby Reuse
20. 20 Cory Joyce
21. 76 Darrell Wallace, Jr.
22. 81 Chandler LeVan
23. 39 Spencer Euler
24. 8 David Garbo, Jr.