Brandon Morris Wins Brandon Ford Wheelman Series openers and series sets sites to Crisp Motorsports Park
Brandon Morris Facebook photo:
One of the best series in the State of Florida the Brandon Ford Wheelman Series got race number one of the year in the books on Saturday night at Auburndale Speedway.  Brandon Morris took the win in the series in a hard fought battle for the win. The Next Series race is at Crisp Motorsports Park on April 10TH.
Brandon In car video:
Series Points: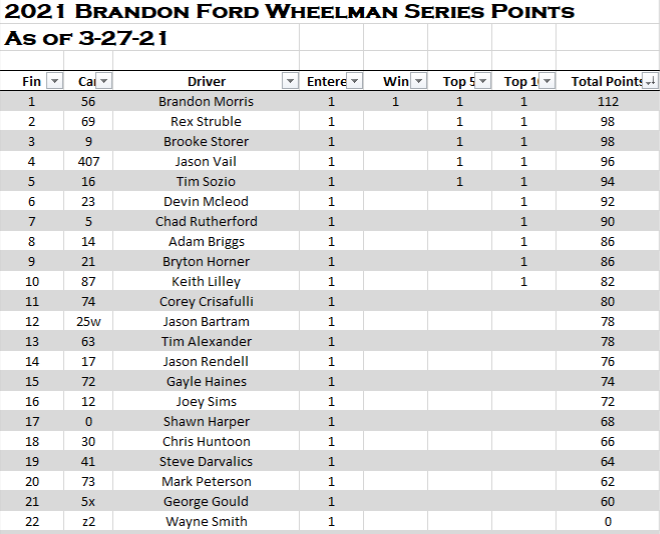 In car video of Brooke Storer:
Wheelman Sportsman Series
1. 56 Brandon Morris
2. 69 Rex Struble
3. 407 Jason Vail
4. 16 Tim Sozio
5. 9 Brooke Storer
6. 5 Chad Rutherford
7. 23 Devin McLeod
8. 14 Adam Briggs
9. 21 Bryton Horner
10. 87 Keith Lilley
11. 74 Corey Crisafulli
12. 25w Jason Bartram
13. 17 Jason Rendell
14. 72 Gayle Haines
15. 12 Joey Sims
16. 63 Tom Alexander
17. 00 Shawn Harper
18. 30 Chris Huntoon
19. 41 Steve Darvalics
20. 73 Mark Peterson
21. 5x George Gould
Z2 Wayne Smith–DQ
American Grading & Excavating Mini Cup Young Guns
1. 28 Carson Holt
2. 01 Hunter Harmon
3. 48 John Cummins III
4. 83 Bryer Chancey
5. 40 Colton Hubbard
American Grading & Excavating Mini Cup Masters
1. 55 Landon Ledford
2. 07 Aaron Ashley
3. 22 Kendall Wheeler
4. 1 Russell Bush
Q Auto & Injury Pro Trucks
1. 57 Brey Holmes
2. 59x Becca Monopoli
3. 92 Brennon Plethcer
4. 24 Chase King
5. 5k Kristin Clements
6. 31 Jacon Nicoletti
7. 22 Chuck Harrison II
8. Q Mason Love
9. 15 Peanut Waller
10. 69 William Kerns
11. 21 Daniel McLain
12. 00g Gavin Graham
13. 18 Dylan Brewer
Francisco Collision Pure Stocks
1. K9 George Gorham Jr
2. 2 Zach Briggs
3. 65 Brian Harbin
4. 97 Sam Cressman
5. 01 Jesse Hall
6. 87 Dean Decatur
7. 29 Bobby Mobley
8. 1m Coty Martin
9. 88w Wilson Martins Jr
10. 6x Taylor Abney
11. 8 Jaysson Healey
12. 23 David Williams
13. 38 Robert Bryant
14. 61 Bryan Napier
15. 1p Mike Pitts
16. 35 Edward Shultz
04 Jimmy McLeod—DQ
6 Brandon Duchscherer—DQ
03 Brandon Love—DNS
Francisco Collision Modified Mini Stocks
1. 2c Nick Cummins
2. 45 Mike Kerrivan
3. 8 Jason Stifle
4. 22 Kendall Wheeler
5 2 Jimmy Wood
American Grading & Excavating Scramblers
1. 5 Kelly Hahn
2. 77 Matt Miller
3. 1k Guy Kolmel
4. 95 Dustin Kirkland
5. 16k Kyle Knowles
6. 14 TJ Crews
7. 08 Dustin Miles
8. 47 John Sofield
9. 10k Guy Kolmel Sr
10. 117 Keith Spiker
6p Joe Pitchford—DNS
68 Bryan Neely—DNS