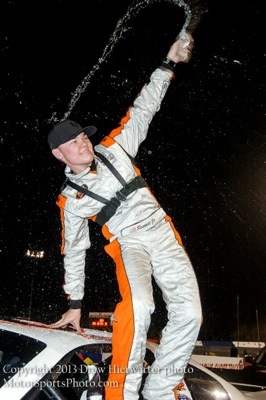 Hickory, NC (03/23/13) –After a calm season opener, the UARA-STARS drove an aggressive race at Hickory Motor Speedway on Saturday, March 23rd. The event included six cautions, numerous fiery tempers, and plenty of torn sheet metal.
Starting from the Sunoco Pole, Ronnie Bassett Jr. jumped out to the lead early on. He allowed many drivers, including second place finisher Garrett Campbell, to pass him as he saved his equipment. The two also raced side-by-side early in the race and met back up at the front for a lead battle during the final ten laps.
Bassett Jr. earned himself the Pigwire Electricfying Move of the Race since he gained two positions by racing three-wide with David Garbo Jr. and Lee Tissott coming out of turn three. Campbell won FLUIDYNE Cool Under Pressure Award by racing hard, but clean. Campbell led early in the race, fell back to preserve his tires, and then back to the front to earn his second place finish. Ben Rhodes, Garbo Jr., and Dillon Bassett completed the top five. Garbo Jr. made an impressive comeback with his fourth place finish after making contact during the first caution on the second lap. He was awarded Circle/Xtreme Trophies Rookie of the Race for finishing the highest out of seven rookies.
Rookie drivers like Garrett Jones, Chandler LeVan, and Tyler Edwards had strong runs, which gave them top-ten finishes. Holley Performer and Tilton's Most Laps Led Chanler LeVandrove his machine up from 21st to the lead within the first 20 laps. He flew by veteran competitors and performed flawless restarts while he was out front. As the race grew older, his Hooiser tires began to wear down but still managed to pull off a seventh place finish.
CJ Hulsey got turned around early in the race, which caused damage for him, Davide Amaduzzi, and Michael Leavine. Hulsey and Leavine were able to repair their damages, but Italian driver Amuduzzi ended his first UARA event early. Amaduzzi'a team mate, fellow Itilian had engine problems during practice early in the day and dropped out before qualifying.
Spencer Euler seemed to have his hands full with his machine. Euler spun twice and got caught up in a late race battle with Rookie Dylan Hall and Jake Engle.
Since the weather postponed races at tracks like Myrtle Beach Speedway and Greensville-Pickens, the UARA-STARS field grew by two cars throughout the day. Engle drove all the way from Myrtle Beach, and Kris Bowen drove from Greensville to give the STARS some outside competition. Bowen had a hard hit to the outside wall during the second half of the race. Brandon White, Will Gallaher, and Hall spun in the aftermath, but managed to have minor damage and continued to race.?
ARBodies
Hard Luck Award went to Reigning Champion Travis Swaim. Swaim had another quick lap during qualifying, giving him the outside pole position. During the event, he raced hard and had contact with Dillon Bassett causing a cut tire with only a few laps to go. Swaim held composure to the car and never lost control.
Fans were given quite a show during the entire race. While there were cautions early and late in the
race, the middle was equally eventful. Drivers from 7th place to 20th traveled around the track in a huge pack, bouncing off each other and raceing side-by-side. Last season Rookies Devin Jones and Brandon Jones were hungry for the win and drove hard to the front. Devin drove all the way to second position during the first half of the race.
The next event for the STARS will be Rockingham on April 13th with the NASCAR Camping World Trucks. Fans follow their favorite STARS and get all the latest information on the series by following them on Twitter, @uarastars, and "like" them on Facebook under the United Auto Racing Association. With cooperating technology, the series page on Facebook has all of their raceday updates.
?
UARA STARS 150 Results:
1. 04 Ronnie Bassett Jr.
2. 12 Garrett Campbell
3. 41 Ben Rhodes
4. 8 David Garbo, Jr.
5. 44 Dillon Bassett
6. 88 Garrett Jones
7. 81 Chandler LeVan
8. 35 Devin Jones
9. 7 Tyler Edwards
10. 33 Brandon Jones
11. 17 Travis Byrd
12. 99 Brandon White
13. 4 Dylan Hall
14. 71 Taylor Strickland
15. 1 Dillon Houser
16. 27 Lee Tissott
17. 28 Travis Swaim
18. 95 Michael Leavine
19. 40 Brodie Kostecki
20. 80 Kris Bowen
21. 6 Will Gallaher
22. 39 Spencer Euler
23. 2 Jake Engle
24. 77 CJ Hulsey
25. 31 Thomas Bean
26. 11 Davide Amaduzzi
27. 38 Max Papis DNQ