By Chuck Corder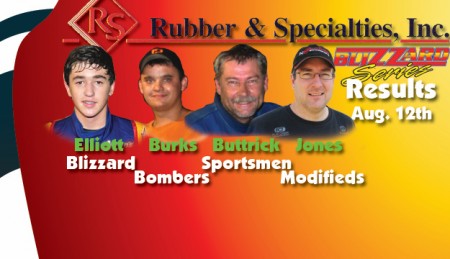 Chase Elliott added another chapter Friday at Five Flags Speedway.
The 15-year-old's storybook career got fatter thanks to fairytale ending at the Rubber and Specialties 100, the fourth Blizzard Series race of 2011.
Elliott, the son of NASCAR legend Bill Elliott, benefitted from lapped traffic to throttle pass Augie Grill with three laps complete. Despite Grill giving his No. 112 all he had, Elliott's No. 9 beat him across the line for the checkered flag.
After winning the Blizzard title last season, Friday marked the wunderkind's first trip to Victory Lane this season in Pensacola.
Pensacola's Johanna Long, a NASCAR trucks series rookie ran in the top 10 consistently all night. The reigning Snowball Derby queen, though, could never push her way inside the top five and finished a tough 11th.
"We haven't had things play out our way of late," said Elliott, who has experienced some growing pains on NASCAR's K&N Pro Series East circuit. "It's good to get things going our way."
There's no time like the present with just one Blizzard race left before the 44th annual Snowball Derby.
For the second consecutive Blizzard Series race, Elliott seemed destined to finish runner-up to Grill's win. But as the pair made broke away from the 23-car field, lapped cars became a serious issue.
"Those lapped cars didn't help out at all," said Grill, who maintained the Blizzard points lead. "I had to race like heck just to stay out in front that long."
Elliott used it to his advantage.
As the likes of Scott Carlson and Mike Garvey pushed hard to stay on the lead lap, Grill's comfortable lead on Elliott vanished.
"It worked out well," Elliott said with a Cheshire grin. "Augie's tough to beat down here I'm happy to come back and run well. "Coming back to the late models, it showed early on we needed a little work. Hopefully, we're back on the right track."
He certainly looks like he is after running down Grill.
Grill had the fast car in qualifying (16.765 seconds) and led more than 80 laps Friday after taking the lead from Elliott on Lap 15.
Grill, who had won back-to-back Blizzard Series races coming into Friday, was dominant early on.
He had his rivals all scratching their heads once again. That is until Elliott caught him.
All was not lost for Grill. His Grand American Race Cars moved their impressive streak of Blizzard victories to 10 thanks to Elliott.
Elliott shot to the lead with just two complete and maintained a healthy cushion until a huge crash with 14 laps complete collected close to 10 cars.
It did, however, deal a heartbreaking blow to another local driver.
Logan Boyett, a fixture in the pro late model series at Five Flags, was enjoying a terrific run in his Blizzard Series debut. Running in the top 10 at the time, Boyett was collected and his front end was smushed. He finished a disappointing 18th.
Grill got the better of Elliott on the restart, but the teenage phenom who drives like a seasoned veteran bided his time and got the grizzled Grill down the stretch.
"At the beginning of the year, no matter what car we ran, all we wanted to do was be consistent," Elliott said. "Obviously, we're here to win the race. It worked out well."
Rubber and Specialties 100 Results — 1. Chase Elliott, 2. Augie Grill, 3. Bubba Pollard, David Rogers, 5. Grant Enfinger, 6. Jeff Fultz, 7. Donnie Wilson, 8. D.J. VanderLey, 9. Scott Carlson, 10. Mike Garvey, 11. Johanna Long, 12. Kenzie Ruston, 13. Clay Alexander, 14. Allen Karnes, 15. Jerry Bohlman, 16. David Odell, 17. Junior Niedecken, 18. Logan Boyett, 19. Thomas Praytor, 20. T.J. Reaid, 21. Chase Oliver, 22. Jeremy Pate, 23. Jerry Artuso
Modifieds
It seemed like it was just a matter of time.
Running second from the opening green flag, Chris Cotto stalked race leader Todd Jones for more than a dozen laps midway through the Modifieds 35-lap feature Friday at Five Flags Speedway.
Cotto seemed destined to be out front. Instead, Jones extended his points lead with a wire-to-wire trip to Victory Lane.
"I tell you, if it wasn't for (car owner) Clay Mims and his wife and all them, everybody that helps me I wouldn't be here," said Jones, who notched his second career Modifieds win at Five Flags. "Cotto, what a great race. I've been trying for a long time to win. It's tough to win here."
Maybe no longer for the Pace driver, who battled Milton's Cotto from start to finish.
The old Santa Rosa County rivalry, which is legendary here in the Panhandle, is alive and well on the famed half-mile, asphalt oval, as well.
Cotto, who did finish as the runner-up, ran up to Jones' bumper midway through the race and wouldn't budge.
He had a couple peaks at the lead coming in and out of the turns, but Jones was stubborn.
With three laps left, though, Jones, inexplicably, pulled away from Cotto and put him in his rearview.
"Maybe I'm getting too fat for this, I'm plum-wore out," the always self-deprecating Cotto said. "I'm just tired, to be honest."
Jones started out front, but it was Mobile's Donald Crocker who had the fast time in qualifying. At 17.967 seconds, Crocker was the lone driver to crack the 18-second barrier. But he started eighth when he rolled the die.
Bubba Pollard, who has dominated the late model circuits this season, was a factor early on before finishing a tough seventh.
Modifieds 35-Lap Feature Results — 1. Todd Jones, 2. Chris Cott, 3. Gerald Wilkerson, 4. Jake Moore, 5. Korey Ruble, 6. Donald Crocker, 7. Bubba Pollard, 8. Bryce Dulabhan, 9. Nathan Davis, 10. Kevin Peel, 11. Jeremy Dickens, 12. Brandon Howell, 13. Nathan Ingersoll, 14. Jacob Permenter
Sportsmen
Steve Buttrick wasn't going to let a little old thing like being in someone else's car stop his winning ways.
Buttrick, who drove Johnny Greene's No. 31 on Friday, passed Stevie Mercer as the white flag came out and held on to accept the checkered a lap later.
"That's not too bad for the first try," Buttrick joked. "I'm just working the bugs out of it."
Mercer had a few bugs fly out at the end of 20-lap feature when he spun just a few yards away from the start-finish line. That paved the way from series points leader Brannon Fowler to take second and Randy Thompson to slide into third.
It marked the second time in as many races for the Sportsmen feature ended in a cloud of smoke.
Last month, Randy Thompson spun coming out of Turn 4 with the finish line in sight.
The aggressive driving pleased the crowd on that night.
This Friday was no different. Neither was the end result.
With the victory, Buttrick is closing in on 20 Sportsmen wins at Five Flags the last two years.
Sportsmen 20-Lap Feature Results — 1. Steve Buttrick, 2. Brannon Fowler, 3. Randy Thompson, 4. Jim Pokrant, 5. Chris Nielsen, 6. Tina Davidson, 7. Jimmy Goodwin, 8. Marty White, 9. Gary Robinson, 10. Justin Babb, 11. Stevie Mercer, 12. Daniel Fleming, 13. Wayne Burkett, 14. Mike Goraum, 15. Michael Couture, 16. Clayton Jernigan, 17. Scott Barbaric, 18. John Ward
Bombers
How about a checkered flag to celebrate your 19th birthday?
That's what Brandon Burks enjoyed Friday at Five Flags, holding off series points leader Gary Goodwin for his third win of the season.
Burks was the most surprised of any driver in Victory Lane on Friday after having engine troubles early on.
"I don't know what happened at the beginning race," Burks said. "I thought the motor was blowing up. I had to feather the throttle. Just to finish, I'm happy."
Burks got around Goodwin on Lap 10 and endured three cautions to win in style.
The perfect gift for any racer.
Bombers 20-Lap Feature Results — 1. Brandon Burks, 2. Gary Goodwin, 3. Kenny Williams, 4. Brian Lane, 5. Robert Balkum, 6. Dayton Sidner, 7. Leonard Craig Jr., 8. Sam Mellema, 9. Gary W. Burkett Sr., 10., Courtney Rodrigues, 11. Tracy Soles, 12. Kenny Bullard, 13. Hunter Ward, 14. James L. Beal III, 15. Brandin Sidner, 16. Michael Nelson