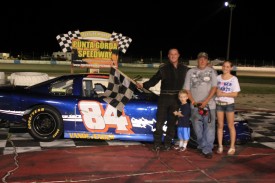 The weather was great and with a good crowd on hand the points battle have really been heating up the racing in some of the classes.
The Mini Stock were moved to the first feature of the night to give some of the drivers in the Pro 4 time to make the feature after several cars being towed to the pits. A great battle went on with Kyle Rice of Labelle, who lead the first half while closely being chased by Fred Harrison. On a restart, Harrison was able to get by Rice to take over the lead then it was Rice battling back. Fred Harrison would go onto win with Kyle Rice second, John Pummell Jr third and making her return back into racing to finish fourth was Michele Riley.
Outlaw Modifieds saw the 15 of Doug Hopper take over the lead on lap six and never look back. Finishing second would be the the 04 of Tom Myer and Mike Endell third.
Pro 4 were called to the track next and the points leader Ryan Collver was not able to make the call after an altercation in the heat race. Phil Ellis was able to barrow the 30 car of Linda Badalli since his car was also not able to be fixed in time. Dylan Bigley out of Naples dominated the entire race with Paul Richards Sr chasing him down until five to go Richards was sent to the rear for bringing out the caution. The last three laps were heated and fierce and and were the checkers flew it was Dylan Bigley in first, Phil Ellis second, Paul Richards third and some not so happy drivers took their hot tempers to the pits.
The always entertaining Cowboy Cadillacs did just that with James Dellia choosing to take up the rear again instead of his pole starting position. Brad Wegert in the 88 saw clean air for only eight laps cause that is how long it took Dellia of Port Charlotte to get to the front and it was smooth sailing from there for Dellia. Retuning driver Terry Price would battle to bring it home in second and a hard fighting Jeff Deeble would be third. Points leader Les Couch blew up all down the front stretch at the half way point retiring him to the pits.
This makes three in a row for Bill Vandevender in the Sportsman class and six over all wins out of the ten races. Three in a row is not and easy thing to accomplish since this class has some of the best driving talent around with bumper to bumper close as it gets racing. Donnie Ollie Jr out of Lehigh had a strong car and sat on the pole and looked to be the one to beat as he lead the first thirty laps. Vandevenderwas battling with the thirty five of Greg Krom for all those laps while James Dubose was trying to take it to the outside to pass them all. Lap twenty five Vandevender got around Krom while Timmy Lowe was patently waiting for someone to slip up and got by Dubose on the inside. Vandevender got by Ollie on lap twenty eight and Krom who is just one point behind Bill tried to go with him and got sent to the rear for contact with the 09 of Ollie. Five laps to go and Timmy Lowe was able to take over second from Ollie and "were did he come from" Gary McFall who seemed to have to retire for the night after a wreck on lap twenty two. Don't count me out, I'm on a mission to the front Gary McFall got past Ollie with five to go and finished third, Ollie fourth and Roger Welch rounded out the top five.
Road Warrior races you got to watch till the end, you never know who is going to cross the line first till the end. Randy Kile was running strong and leading what seemed to be a caution free race again but a caution came out just as the Eighty of Richard Nelson made the move to pass Kile with five to go. Nelson would have to restart outside Kile and when the green dropped Nelson took over the lead and it was Kile trying to get it back. The top five cars were nose to tail and it was a strong run by Nelson that brought it home in first with Kile second and Chris Scott third.
The final race of the night was the Fab 4 who saw a caution free race with Paul Richards Jr dominate from start to finish again to bring it home in first place. Aaron Hardgrove did a great job trying to chase the leader running second and finishing second while Zac Campilonga third.
Next weeks racing will be
Oct 22- Pro Trucks, Rookie Trucks, Road Warrior, TQ Midgets, Legends, Bandolero, Cowboy Cadillac
---
Punta Gorda Speedway
Results from   10-15-2011 
Sportsman
1. 84 Bill Vandevender   N. FT. Myers
2. 57 Timmy Lowe   Pinellas Park
3. 68 Gary McFall   Venice
4. 09 Donnie Ollie jr.   Lehigh Acres
5. 98 Roger Welch   St. Pete
6. 35 Greg Krom   Sarasota
7. 6   Greg Gorniak   Homestead
8. 67 James Dubose   Arcadia
9. 36 Stuart Vandevender Cape Coral
10. 14 Jerry Adkins           
Road Warrior
1. 80 Richard Nelson Venice
2. 14 Randy Kile   Lehigh
3. 97 Chris Scott Nokomis
4. 10 Jason Miller Lehigh Acres
5. 27 Derrick Horton   N. Ft. Myers
6. 1   Rick Reed   Arcadia
7. 97b Pete Bloodgood   Venice
8. 5   Jeremy Daring   Lehigh Acres
9. 8   Jeff Deeble   Port Charlotte
10. 22 Jeremy Daring   Lehigh Acres 
 
Mini Stock
1. 21 Fred Harrison   Polk City  
2. 7    Kyle Rice   Labelle
3. 86 John Pummell Jr.   Arcadia
4.19 Michele Riley   
 
Outlaw Modified
1. 15 Doug Hopper  
2. 04 Tom Myer
3. 26 Mike Endell
4. 7   Mel Braden
5. 93 Ricky Gervasi
6. 14 Dan Akand
7. 6   John Gula
8. 24 Don Peacock   
Pro 4
1. 28 Dylan Bigley   Naples
2. 30 Phil Ellis   Venice
3. 61 Paul Richards Sr.   Naples
4. 91 Jessica Ostrovskis   St. Pete
5. 32 Corey Bigley   Naples
6. 00 Dan Collver   N. Ft. Myers
7. 13 Justin Teston   Lehigh
8. 98 Cody Allen   Lehigh
9. 13W Chad Wittle
10. 27 Jeremy Perkins   N. Ft. Myers
11. 63 Kris Bridges   Venice
12. 04 Ryan Collver   N. Ft. Myers DNS 
Fab 4
1. 61 Paul Richards Jr.   Naples
2. 98 Aaron Hardgrove   Lehigh
3. 3   Zac Campilonga   Bradenton
4. 30 Linda Badali   Port Charlotte
5. 77 James Dallea Jr.   Port Charlotte
6. 63 Skyler Null   N. Ft. Myers
7. 13 Alex Testin   N. FT. Myers
8. 29 Phil Ellis Sr.   Venice    D. N. S. 
Cowboy Cadillacs
1. 77 James Dellea   Port Charlotte
2. 35 Terry Price   Punta Gorda
3. 8   Jeff Deeble   Port Charlotte
4. 30 Ken Badali   Port Charlotte
5. 4. Tony Harrelson
6. 88 Brad Wegert   Port Charlotte
7. 33 Les Couch   Punta Gorda
8. 18 Robert Wellms   Cape Coral D. N. S.