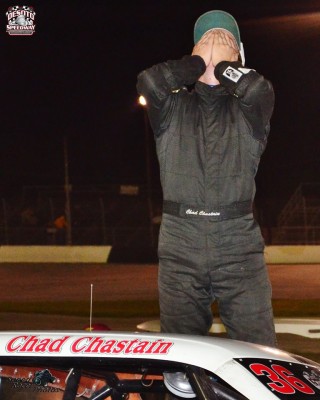 By SCOTT LOCKWOOD
Desoto Speedway
When it comes to Pro Truck racing at Desoto Speedway, Chad Chastain seems to have figured out the quick way around the three-eighths mile oval early this season.
In a near replay of last month's Pro Truck feature, Chastain grabbed the lead at around the halfway point of the 50-lap feature and drove on to his second straight win at the Bradenton raceway.
Outside polesitter Gerald Campbell grabbed the lead at the start and led a four-truck freight train around the track for the first 20 laps. Chastain moved past Darvalics for second on lap 16 and began stalking Campbell for the lead.
As the field completed the 22nd lap, Campbell and Chastain ran up on the back of a lapped car. Darvalics, running third at the time, made slight contact with Chastain coming off turn 2, causing Chastain to spin wildly down the back stretch. Race officials sent Darvalics to the rear of the field while Chastain was allowed to keep his spot in second.
On the restart, Campbell, Chastain and Bradenton's Danny Anderson battled for the lead. One lap later, Campbell lost control of his truck coming out of turn two. The spin also collected Anderson, whose truck was not badly damaged and was allowed to resume the race in second place.
Chastain began pulling away from Anderson and Bradenton's Dennis Coletti after the restart. As the top three trucks motored on,  Darvalics began quickly working his way back through the field and was up to fourth with 15 laps to go.
In the final stages of the race, Chastain steadily pulled away while Anderson, Coletti and Darvalics battled for second spot. With about 10 laps to go, Anderson's truck began smoking and that allowed Coletti and Darvalics to get by.
With three laps left, Chastain caught a slew of lapped traffic that allowed Coletti to close the gap, but Chastain went on to win. Darvalics was awarded second place after Coletti's truck failed post race inspection. Anderson, Tyler Lau and Nick Hernandez rounded out the top five.
In other action Saturday night, Ronnie Robinson came from the rear of the field to win the Mini Stock feature; Mike Endee won the 25-lap Outlaw Modified feature; Darren Bass won his third consecutive Dwarf Car feature.
Duane Best was awarded the win in Pure Stock feature after initial winner Logan Leonard was disqualified in post-race technical inspection. Chris Larson won the Mini Stock figure 8; Keith Sankula won the 25-lap Legends feature, and Jeff Firestine won the Modified Mini feature.
Desoto Speedway will host racing next weekend and will return to normal racing action on May 3.
DESOTO SPEEDWAY RACE RESULTS
Pro Trucks
1. 36 Chad Chastain Alva
2. 41 Steve Danalics Venice
3. 50 Danny Anderson Bradenton
4 1 Tyler Lau Bradenton
5. 37 Nick Hernandez Bradenton…
6. 28 Corey Bigley Naples
7. 14 Sam Scott Naples
8. 73 Rich Palmer Oldmirra
9. 09 Tommy Caveney Mulberry
10. 2x Gerald Campbell Sebring
11. 51 Phill Ellis Rotonda
12. 75 Robert St. John Arcadia
13.00 Whitney Poole Vero Beach
14. 21 Randy Leonard Lake Placid
15. 5x Richard Griffis West Palm
16. 5 Jeremy Daring Alva
17. 36x Derik Rose Ft.Myers
18. 18 Sean Lamaster Naples
19. 4 Dennis Coletti Bradenton D.Q.
20. 0 Dylan Bigley D.N.S.
Pure Stock
1. 3 Duane Best Parrish
2. 67 Jimmie Best Sarasota
3. 97 Chris Scott Nokomis
4. 80x Chad Cummings Palmetto
5. 26 Brian Hillyer North Port
6. 81 James Dellea 3rd. Port Charlotte
7. 63 Kyle Best Parrish
8. 2 Lonnie Retherford N.Ft. Myers
9. 44 Rick Hess Englewood
10. 75 Alan Burton Sarasota
11. 57 Logan Leonard Cape Coral D.Q.
Outlaw Modified
1. 26 Mike Endee
2. 04 Tom Meter
3. 80 Richard Nelson
4. 00 Billy Campbell
5. 22 Ric Mills
6. 5 Kevin Endee
7. 51 Mark Dalton D.N.S.
Legends
1. 19 Keith Sinkula Palm city
2. 8 Donavan Ponder Orlando
3. 7 Mike Verhaagh Fort Myers
4. 2D David Patterson Port Charlotte
5. 15 David Flail Bradenton
6. 00 Cameron McGee Weekiwachee
7. 22 Joel McGee Weekiwachee
Modified Mini
1. 32 Jeff Firestine Venice
2. 6 Dave Davis Bradenton
3. 45 Mike Kerrivan Myakka
4. 68 Logan Allen Lehigh
5. 9 Brooke Storer Zepperhills
6. 88 Travis Kirby Myakka City
7. 19 Cody Wilson Sarasota
Mini Stock
1. 05 Ronnie Robinson
2. 91 Jessica Ostrovskis St. Pete
3. 85 Mike Gamache Tarpon Springs
4. 98 Chris Larson Zephyrhills
5. 008 Ren Wright Jr. St. Pete
6. 48x Roger Wright Pineallas Park
7. 131 George Ingram Clearwater
8. 48 Dalton Nelson Pineallas Park
9. X66 Cody Riley St. Pete
10. 31 James Prochaska
11. 72 Frank Pelusio Clearwater
12. 01 Arron Widner
Mini Stock Figure 8
1.98 Chris Larson St. Pete
2. 48x Craig Pollett Pineallas Park
3. 85 Mike Gamache Tarpon Springs
4. 131 George Ingram Clearwater
5. 72 Frank Pelusio Clearwater
6. 31 James Prochaska
7. 008 Ren Wright Jr.St. Pete
8. 48 Dalton Nelson Pineallas Park
9. X66 Cody Riley St. Pete
Dwarf Cars
1. 25 Darren Bass
2.77 Larry Hubbard
3. 36 John Atherton
4. 33 Roger Richmond
5. 56 Larry Hubbard Jr.
6. 2 Jason Dunkin