Charges From Third Starting Spot to Claim Jersey Outlaw Classic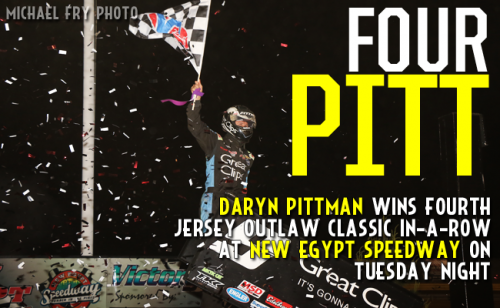 NEW EGYPT, N.J. – May 24, 2016 – It wasn't easy, but 2013 World of Outlaws Craftsman® Sprint Car Series champion Daryn Pittman managed to charge his way from the third starting position to claim his fourth Jersey Outlaw Classic win in-a-row on Tuesday night at New Egypt (N.J.) Speedway.
Pittman, who won this event in 2013, '14 and '15, secured his fourth win of the season and first since USA Raceway in Tucson, Ariz. on April 18.
"I've been really frustrated with myself with how many front-row starts I've had this year and as few wins," Pittman said. "I got up this morning and thought 'Man, third is where I want to start' – I just had that feeling this morning that if I start third I was going to win.
"Things went our way and we ended up starting third."
Pittman had to work around race-long leader Greg Hodnett, who had dominated the feature and the preliminary races up to that point. ↓ Read the rest of this entry…