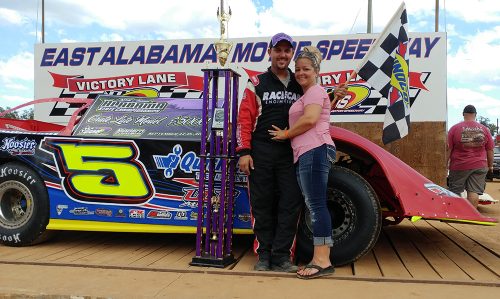 SAVANNAH, GA – With 15 wins in three different states already in his pocket for the 2016 season, Mark Whitener of Middleburg, FL will be looking to score his second Showdown In Savannah win of his career in the 19th Annual $10,000-to-win race at Oglethorpe Speedway Park on October 6. 7 and 8.
Whitener is one of the hottest Crate Late Model drivers in the country, having already won some of the biggest races in Georgia, Florida and Alabama during the 2016 season. He is fresh off winning the Alabama State Race on September 25 at East Alabama Motor Speedway in Phenix City, AL.
Also during the 2016 season, Whitener has won the Powell Memorial Race at Volusia Speedway Park in Barberville, FL, the Scott Thompson Memorial Race and the Donnie Tanner Memorial Race at East Bay Raceway Park in Tampa, FL, and three United Dirt Late Model Challenge Series Races.
With a 2016 win total of 15 and counting, Whitener considers this season and average year for him on paper, but on the other side of the page, this is a special season unlike the others that one can't find in the statistics.
"In the past, I've won a lot of races for other car owners, but this year, this is my and my family's race team," Whitener said. "We make our own decisions, we make all of the money, and we pay all of the bills. That makes winning even more satisfying." ↓ Read the rest of this entry…