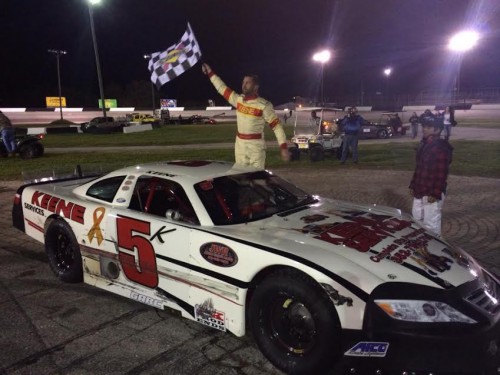 SCOTT LOCKWOOD - The last time Daniel Keene Jr. turned a wheel at Desoto Speedway six years ago, he found himself sitting in victory lane.
That layoff proved not to be a detriment to Keene, who led all 75 laps of Saturday night's Turner Tree & Landscape Super Late Model feature event at the three-eighths mile oval.
A 12-car inversion put Keene and Brian Blum on the front row, with fast qualifier Jesse Dutilly of Bradenton and Sarasota's Anthony Campi being forced to start 12th and 11th respectively. Keene jumped out to the lead on the start and began pulling away until the caution flew for Dusty Cornelius' spin on lap 10.
Dutilly moved up to seventh by the 15-lap mark. On a lap 22 restart, Dutilly was sixth with Campi directly behind in seventh. Campi and Dutilly were fighting side by side for fifth when a spin by Bradenton's Dennis Colletti brought out the yellow flag. ↓ Read the rest of this entry…