Scores First Full-Points Super DIRTcar Series Victory of the Season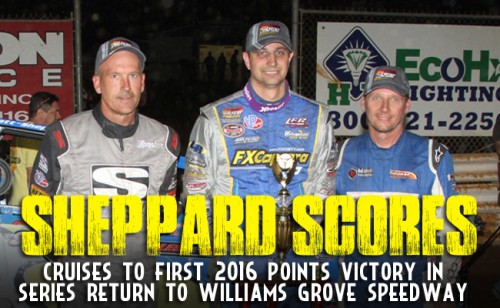 (By Mandee Pauch) MECHANICSBURG, Pa. – June 22, 2016 -Tim Fuller led early at Williams Grove Speedway on Wednesday night, but it was Matt Sheppard who battled to the lead and was dominant through much of the 100-lap Modified Mayhem at the Grove Super DIRTcar Series Big-Block Modifieds feature.
In the series' first return to the track in a decade, Sheppard became the sixth different winner in six Super DIRTcar features run at the track since 1989. The defending series champion was able to lead the last 47 circuits to score the Modified Mayhem $6,000 top prize.
"The track started locking down a little bit there early. I just tried to ride it out and drive it nice and straight," explained Sheppard in victory lane. "The guys in front started to get slower in the long runs and we maintained. I think that's what won us the race tonight. Once we got up front I just wanted to hit my marks and take it easy." ↓ Read the rest of this entry…