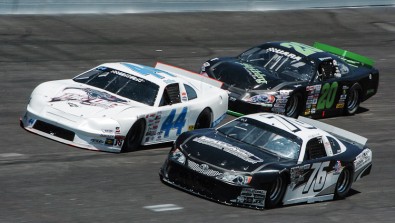 Hendersonville, NC (04/22/13) –United Auto Racing Association held another successful event at the Rock during the North Carolina Education Lottery Weekend. One of the new 'STARS' celebrated in victory lane, while other drivers gained confidence and jumped in the Championship Points standings.
During the first two races, fans saw dominance from winning sensation Ronnie Basset Jr.  Bassett Jr. battled with reigning UARA Champ Travis Swaim for the win at SNMP and then followed that up battling Garret Campbell at Hickory for the win. Swaim, currently fifth in points captured his first Sunoco Pole of the season at Hickory and had a second place finish. Swaim holds the UARA record for most poles in one season by any driver with 8 to his credit last year.  Dillon Bassett. fourth in points kicked off his sophomore season with two top-5 finishes and a tenth.
The event at Rockingham became a game changer for a couple of UARA's sophomores.  Brodie Kostecki captured his first UARA career win at the Rock and jumped into the ninth place position in Championship Points. During the first two events, his team has worked hard to put him in winning form, but the cards never fell right for him. After having a solid qualifying run and keeping calm during the race, the whole Arcoplate team celebrated in victory lane. The confidence gained from his win can motivate him to keep crawling up the points ladder.
Ben Rhodes jumped into the second place points position after his second place finish at the Rock. Rhodes' won a pole during his rookie season, but this was his best UARA finish. He has shown great strengths from his rookie season. His new Hawk-McCall Motorsports team has given him the equipment to run up front and is close to their first victory.
Six points behind Rhodes sets a UARA veteran Garrett Campbell. Never underestimate the abilities of Campbell and his team. They are known to be in the front and always up to the challenge to win.  Rookie Tyler Edwards sits in seventh on the point board. Brandon Jones and Devin Jones are also jumping up in the points standings. Both drivers have had solid performances and have finished in the top-10 for all three events. Brandon is currently sixth, with Devin in eighth in the points standings.  Tenth place in points is a three way tie between Rookies David Garbo Jr., Chandler Levan and Garrett Jones. Fellow Rookies Dylan Hall and Michael Leavine hold the thirteenth and fourteenth positions followed by Will Gallaher rounding out the top fifteen.
Several UARA alumni past and present will be at the Denny Hamlin Short Track Showdown this week at Richmond International Raceway. Ronnie Bassett Jr, Corey Lajoie, Jeremy Burns, Clint King, David Garbo Jr, Garrett Campbell, Alex Yontz, Scott Turlington, and Coleman Pressley were some that were on the April 16th practice list. Darrell Wallace Jr. will also be on board for the Shootout.  Ben Rhodes will be doing double time running both events in his Hawk-McCall prepared cars. Tony Stewart will also be running a Hawk-McCall car in the Shootout.  Brodie Kostecki has facebooked he will be in the K&N portion of the event.  We wish all the drivers and teams the best at RIR.  Travis Swaim will be running in the ARCA race at Salem, IN on April 28, 2013.
Fans can keep up with their favorite STARS by following them on Twitter, @uarastars, and "like" them on Facebook under the United Auto Racing Association. With cooperating technology, the series page on Facebook has all of their raceday updates.