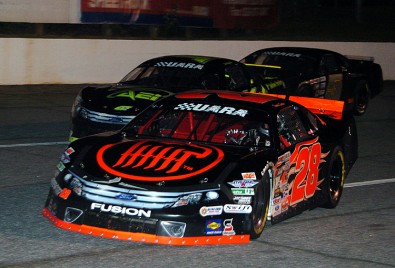 Hendersonville, NC –Falcon Racing's Travis Swaim was crowned the 2012 Champion at Rockingham Speedway during the season finale in November. Swaim will be the guest of honor at the 2012 UARA banquet that will be held on January 12, 2013 at the Crowne Plaza in Hickory NC.
"Every win, every Championship is special," says Swaim. "This championship means a lot because I get to celebrate it with a different group of guys including my crew chief Ronald and Jamie Skinner."
The driver from High Point, NC had an incredible season. Prior to the season finale, Swaim only finished out of the top -10 twice. Along with strong finishes, Swaim started eight of the 16 events on the Sunoco Pole, a season record for the UARA. His first pole came at the second race, Dillon.
"We've always been good at qualifying, but never had this kind of success," says the 2012 Champion. "My guys prepare the car really well in the shop, so we spend raceday practice tweaking a few things and not changing a whole lot."
After starting on the pole at Rockingham in the spring and finishing third, Swaim and his team knew that they were competitive and began striving for the Championship. With his first place starting positions, Swaim stayed up front and led 522 laps throughout the season.
"Looking back on how many laps we lead, I have some regrets that we didn't seal the deal," says Swaim. "But winning two out of the last four races kinda eases that pain."
Swaim won his first career UARA event at Lonesome Pine and his second at Tri-County. He also won Five Star Bodies 1st place award and Ford 1st place award at those events. Neither one of his wins came from leading the most laps, but strategized to lead the most important one. He was Ultra Cool Brake Fans and Racing Electronics runner-up twice and Swift's third place finisher three times. Swaim was also awarded by Circle Wheel and Tilton awards for his 4th place finish at Tri-County's first visit and 5th place finish at Kingsport.
During the last race at the Rock, Swaim began to overheat and lost his power steering only a few laps into the race. He and his team were awarded ARBodies Hard Luck because his team never gave up. They worked on that car and did the best they could to get Swaim back on the track.
As of now, Swaim plans to run another full season with the UARA-STARS in hopes for a back-to-back championship. The second Falcon Racing car that was showcased at Rockingham may potentially turn into a teammate for Swaim. Fans can keep up with Travis Swaim by following him, along with the other UARA-STARS on Twitter, @uarastars, and "like" them on Facebook under the United Auto Racing Association.