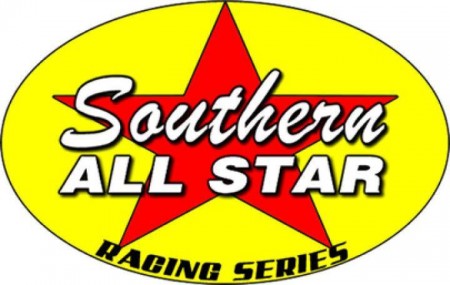 MARYVILLE, TN—The Southern All Star Dirt Racing Series will make it's first of four appearances this Saturday night May 3rd for the Annual NASCAR weekend at the Talladega Short Track in Eastaboga, AL., for a 40 lap $4,000 to win event along with a full racing program.
NASCAR weekend has always been a big weekend with the Southern All Stars as many of the drivers like to compete in the Friday night regular program that will pay Super Late Models $2,000 to win.
Saturday the Southern All Stars will compete in White Performance qualifying with the top four from group A & B locked in, then there will be 2 PPM Racing Products B Mains along with a 40 lap feature event.
Riley Hickman of Ooltewah, TN., is back on top of the series standings after three events and will be one of the favorites to take the win, as he will be joined by Harvest, AL., driver Dylan Ames, who is in his first year of competing with the series and currently is second in the points after a top five run at Smoky Mt last weekend.  Third place in points is no stranger to Talladega Short Track and that is Bo Shirley of Gadsden, AL., who is making a strong charge for the top spot in the points.  Fourth place is Josh Putnam of Florence, AL., who has worked his way into the top five in three and is also going to make a run at the championship and fifth is Chris Wilson of Crossville, TN., who also is current Cruise with the Champions/Dirt On Dirt Rookie of the Year leader, all of these drivers are expected to be in action at Talladega Short Track Saturday night.
Other drivers that are expected to be in action include Jason Hiett of Oxford, AL., who is sixth in series points Joe Armistead of Senoia, GA., who is eighth in points, Todd Morrow of East Ridge, TN., who is ninth in points, Lavon Sparks of Phenix City, AL., Williams Thomas of Phenix City, AL., Cale Finley of Athens, AL., Mark Gant of Savannah, TN., Ray Cook of Brasstown, NC., Brandon Kinzer of Allen, KY., Jake Knowles of Tyrone, GA., and Austin Kirkpatrick of Ocala, FL.,
Local drivers that will also be in action include Tim Roszell of Anniston, AL., Terry Smith of Anniston, AL., Ross Martin of Talladega, AL., Adam Martin of Talladega, AL., Tim Busha of Boaz, AL., plus many more.
Gates will open at 9am on Saturday so you can get your haulers parked early and then go and enjoy the ARCA and Nationwide events over at the Talladega Superspeedway for the day then pit will open at3 pm, with Southern All Star Registration and tech set for 3:30 pm till 5:30 pm, drivers meeting is set for 5:30 pm and hot laps will follow at 6:00 pm.
For more information on the Southern All Stars Dirt Racing Series can be obtained by calling General Manager Lynn Acklin at (256) 924-4546, lynn.acklin@sasdirt.com  or you can log on to the official series website at www.sasdirt.com . Also, LIKE the Southern All Stars Dirt Racing Series on Facebook or be a FOLLOWER on Twitter @SASDIRT.
TIRE RULES: Hoosier Only 1350, 1450, 1600, 21, 55, Lucas 03, 05, 06, 70.  Tires can be run anywhere.
NASCAR Southern All Star Night Payoff:1.$4,000; 2.$2,000; 3.$1000, 4.$750; 5.$650; 6.$550; 7.$525; 8.$500; 9.$450; 10.$425; 11.$420; 12.$415; 13.$410; 14.$405: 15.$400; 16.$400; 17.$400; 18.$400; 19.$400; 20.$400; 21.$400; 22.$400; 23.$400; 24.$400
Current Southern All Star Racing Series Top Ten Point Standings: 1.Riley Hickman 288; 2.Dylan Ames 240; 3.Bo Shirley 232; 4.Josh Putnam 232; 5.Chris Wilson 218; 6.Jason Hiett 190; 7.Billly Ogle Jr 178; 8.Joe Armistead 172; 9.Todd Morrow 170; 10.David Payne 170
Cruise With the Champions/DirtonDirt.com Rookie of the Year Point Standings: 1.Chris Wilson 76; 2.Dylan Ames 74; 3.Cale Finley 69; 4.Mark Gant 68
Southern All Star Racing Series 2014 Event Winners:
March 22-Riley Hickman-Boyd's Speedway
March 29-Joe Armistead-East Alabama Motor Speedway
April 26-Billy Ogle Jr-Smoky Mt Speedway
Upcoming Southern All Star Racing Series Events:
Sat May 3-Talladega Short Track-Eastaboga, AL-$4,000
Sat May 17-Waycross Motor Speedway-Waycross, GA-$4,000
2014 Southern All Stars Dirt Racing Series Sponsors:
*Hoosier Racing Tire "The Official Race Tire" of the Southern All Star Racing Series *Patriot Sports "The Official Merchandise Vendor" of the Southern All Star Racing Series *Sunoco Race Fuel "The Official Racing Fuel" of the Southern All Star Racing Series
2014 Southern All Star Racing Series Marketing Partners Include: AR Bodies, Brodix Cylinder Heads, Butlerbuilt Racing Seats,  Cruise with the Champions, DirtonDirt.com, H3 Performance Graphics, Integra Racing Shocks, , MSR Mafia Web Design and Service, PPM Racing Products, RockAuto.com, Schaeffer's Racing Oil by Ed Lowe, The Joie of Seating, WhitePerformance.com