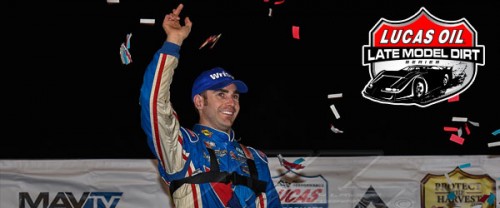 BRUNSWICK, GA (February 5, 2016) – Josh Richards held off a late race charge from Brandon Sheppard to win on the opening night of the Georgia Boot Super Bowl of Racing at Golden Isles Speedway on Friday Night. Richards led but all but one lap on his way to victory in the Lucas Oil Late Model Dirt Series event.
Sheppard; the 2015 LOLMDS Rookie of the Year; briefly took the lead from Richards with four laps to go, but Richards regained the top spot moments later and went on for his seventh career LOLMDS win. Sheppard crossed the line a car length and a half behind in second, followed by; last year's series champion; Jonathan Davenport, Jared Landers, and Chris Madden.
"We had a pretty decent car the whole race," said 28-year-old Richards. I was concerned about tire wear tonight; I felt like they were giving up towards the end. When we got into traffic, we were able to run the top around those guys in clean air and a clean track, which sure helped us, because those running behind me didn't have that advantage."
"When I saw Brandon get by me, I went into turn one, and I didn't want to get into him. His car drifted up and I was able to get back around him. Brandon is a great kid. We have been friends for a long-time. What a way to start the New Year with these Rocket XR1 cars finishing first and second."
"I would like to thank my dad, and all of my crew. I want thank Valvoline, Seubert Calf Ranches, Ace Metal Works, and Andy Durham Racing Engines. Thanksto Lucas Oil and the track crew for a great track."
Richards and Jared Landers started on the front row of the 50-lap main event. Richards took the lead at the start of the race with Landers running in second. Landers held the second-spot until lap 15 when Sheppard got around him.
With seven laps-to-go, a final caution set-up a shootout between the top three of Richards, Sheppard, and Davenport.
"Our car was really good all night! We moved to the top and that helped us," said Sheppard. "Josh drifted up just enough for me to get by him. When he saw me, he was able to get back to the bottom of the track. I want to thank everybody at Best Performance Motorsports for this opportunity. It was a good race for us and a good points night, and a great way to start the year!"
Davenport recovered from falling all the way to 12th place at one point during the race. "We are really good on the long runs. I hated to see that one caution when we got up to third. We went to the top and car took off and was super good."
Completing the top ten were Eddie Carrier Jr., Tim McCreadie, Darrell Lanigan, Brian Shirley, and Steve Francis.
In preliminary action, Jonathan Davenport set the overall Miller Welders Fast Time (Group A) amongst the 45 entrants, with a lap of 13.326 seconds. Jared Landers set the fastest time in Group B with a time of 15.399 seconds. Josh Richards, Brandon Sheppard, Jared Landers and Brian Shirley won their respective heat races. Randy Weaver and Mason Zeigler won their respective B-Mains.
For the latest breaking news concerning the Lucas Oil Late Model Dirt Series, including the latest series standings, 2016 tour schedule, driver information, and more visit the official website at: www.lucasdirt.com.
Lucas Oil Late Model Dirt Series
Race Summary
Friday, February 5, 2016
Georgia Boot Super Bowl of Racing
Golden Isles Speedway – Waynesville, GA
Miller Welders Fast Time Group A: Jonathan Davenport / 15.326 seconds
Miller Welders Fast Time Group B: Jared Landers / 15.399 seconds
Eibach Springs Heat Race #1 Finish (10 Laps, Top 4 Transfer): Josh Richards, Jonathan Davenport, Ivedent Lloyd, Jr., Tim McCreadie, Kenny PettyJohn, Gregg Satterlee, Scott Bloomquist, Mike Marlar, Ryan King, Steven Roberts, Chad Hollenbeck, Robert Baker-DNS
FK Rod Ends Heat Race #2 Finish (10 Laps, Top 4 Transfer): Brandon Sheppard, Steve Francis, Devin Moran, Darrell Lanigan, Randy Weaver, Austin Kirkpatrick, Donald Bradsher, Dustin Mitchell, Brian Ligon, Josh Rice, Kelly Guy
Simpson Performance Products Heat Race #3 Finish (10 Laps, Top 4 Transfer): Jared Landers, Chris Madden, Dennis Erb, Jr., Donald McIntosh, Don O'Neal, Kyle Bronson, Chase Junghans, Tyler Millwood, Allen Murray, Brian Connor, Cecil Eunice
QA1 Heat Race #4 Finish (10 Laps, Top 4 Transfer): Brian Shirley, Eddie Carrier, Jr., Jimmy Owens, Billy Moyer, Jr., Mason Zeigler, Mark Whitener, Dennis Franklin, Josh Langley, James Rice, Austin Theiss, Earl Pearson, Jr.
Fast Shafts B-Main #1 Finish (12 Laps, Top 3 Transfer): Randy Weaver, Kenny PettyJohn, Gregg Satterlee, Mike Marlar, Donald Bradsher, Austin Kirkpatrick, Steven Roberts, Chad Hollenbeck, Dustin Mitchell, Josh Rice, Scott Bloomquist, Brian Ligon, Kelly Guy, Ryan King, Robert Baker-DNS
Keyser MFG B-Main #2 Finish (12 Laps, Top 3 Transfer): Mason Zeigler, Don O'Neal, Mark Whitener, Chase Junghans, Kyle Bronson, Josh Langley, Dennis Franklin, Allen Murray, James Rice, Cecil Eunice, Tyler Millwood, Austin Theiss, Earl Pearson, Jr., Brian Connor-DNS
Feature Finish (50 Laps):
FINISH START CAR # DRIVER NAME HOMETOWN
1 1 1R Josh Richards Shinnston, WV
2 3 B5 Brandon Sheppard New Berlin, IL
3 5 6 Jonathan Davenport Mount Airy, NC
4 2 777 Jared Landers Batesville, AR
5 6 44 Chris Madden Gaffney, SC
6 8 28 Eddie Carrier, Jr. Salt Rock, WV
7 13 39 Tim McCreadie Watertown, NY
8 15 15L Darrell Lanigan Union, KY
9 4 3s Brian Shirley Chatham, IL
10 7 15F Steve Francis Ashland, KY
11 23 0 Scott Bloomquist Mooresburg, TN
12 11 99m Devin Moran Dresden, OH
13 10 28e Dennis Erb, Jr. Carpentersville, IL
14 12 20 Jimmy Owens Newport, TN
15 18 25Z Mason Zeigler Chalk Hill, PA
16 9 21L Ivedent Lloyd, Jr. Ocala, FL
17 19 38 Kenny PettyJohn Millsboro, DE
18 16 21jr Billy Moyer, Jr. Batesville, AR
19 24 1 Earl Pearson, Jr. Jacksonville, FL
20 20 5 Don O'Neal Martinsville, IN
21 17 116 Randy Weaver Crossville, TN
22 14 7 Donald McIntosh Dawsonville, GA
23 22 5W Mark Whitener Middleburg, FL
24 21 22 Gregg Satterlee Rochester Mills, PA
Race Statistics
Entrants: 45
Lap Leaders: Josh Richards (Laps 1 – 45); Brandon Sheppard (Lap 46); Josh Richards (Laps 47 – 50)
Cautions: Dennis Erb Jr. (Lap 4); Dennis Erb Jr. (Lap 6); Kenny PettyJohn (Lap 14); Randy Weaver (Lap 43)
Lucas Oil Late Model Dirt Series Provisionals: Scott Bloomquist, Earl Pearson Jr.
Lucas Oil Late Model Dirt Series Emergency Provisionals: n/a
Miller Welders Fast Time Provisionals: n/a
Golden Isles Speedway Track Provisional: n/a
Wrisco Feature Winner: Josh Richards
Optima Batteries Hard Charger of the Race: Scott Bloomquist (Started: 23rd; Finished: 11th; Advanced 12 Positions)
Midwest Sheet Metal Spoiler Challenge Point Leader: Jonathan Davenport
Allstar Power Move of the Race: Chris Madden
Sunoco Race for Gas Highest Finisher: Josh Richards
Hot Rod Processing Rookie of the Race: n/a
COMP Cams Engine Builder of the Race: Durham Race Engines
Ohlins Shocks Chassis Builder of the Race: Rocket Chassis
Outerwears Crew Chief of the Race: Randall Edwards (Brandon Sheppard)
Fastest Lap of the Race: Josh Richards (Lap #2 – 15.428 seconds)
Most Laps Led: Josh Richards (49 Laps)
PFC Brakes Tough Break Award: Gregg Satterlee
Time of Race: 30 minutes 31 seconds
Lucas Oil Championship Point Standings:
POS CAR # DRIVER NAME HOMETOWN POINTS
1 1R Josh Richards Shinnston, WV 250
2 B5 Brandon Sheppard New Berlin, IL 230
2 6 Jonathan Davenport Mount Airy, NC 230
4 777 Jared Landers Batesville, AR 220
5 44 Chris Madden Gaffney, SC 205
6 28 Eddie Carrier, Jr. Salt Rock, WV 200
7 39 Tim McCreadie Watertown, NY 195
8 15L Darrell Lanigan Union, KY 190
9 3s Brian Shirley Chatham, IL 185
10 15F Steve Francis Ashland, KY 180
11 0 Scott Bloomquist Mooresburg, TN 175
12 99m Devin Moran Dresden, OH 170
13 28e Dennis Erb, Jr. Carpentersville, IL 165
14 20 Jimmy Owens Newport, TN 160
15 25Z Mason Zeigler Chalk Hill, PA 155
16 21L Ivedent Lloyd, Jr. Ocala, FL 150
17 38 Kenny PettyJohn Millsboro, DE 145
18 21jr Billy Moyer, Jr. Batesville, AR 140
19 1 Earl Pearson, Jr. Jacksonville, FL 135
20 5 Don O'Neal Martinsville, IN 130
21 116 Randy Weaver Crossville, TN 125
21 7 Donald McIntosh Dawsonville, GA 125
21 5W Mark Whitener Middleburg, FL 125
21 22 Gregg Satterlee Rochester Mills, PA 125
25 18 Chase Junghans Manhattan, KS 120
25 157 Mike Marlar Winfield, TN 120
*Points are unofficial until Close of Business on the Tuesday following Race Day*