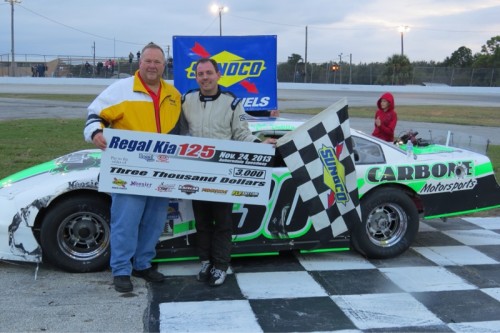 The FL United Promoters Series concluded the 2013 season on Sunday with series regular Jessie Dutilly taking a very popular win. Jessie and his team were racing with very heavy hearts after the passing of John Dutilly, Jessie dad on Thursday. The Carbone Motorsports driver and his crew decided to continue on and race, and it was with dad looking down on him as he picked up his first win of the season in the series biggest race of the year. The win came after an afternoon of tuff racing but Dutilly survived all challenges including a tap from second place challenger Randy Anderson on lap 123, Dutilly was given his spot back to set up the green white checkered. Dutilly beat Daniel Webster on the restart and hung on for the win, rounding out the top five were, Webster 2013 Champion, Jonathan Guy who came from his 24th place starting position after a driver change, Billy Bigley in fourth and Jessica Murphy with a strong showing all day in fifth.
For a complete replay of this event go to 
www.speed51.com
 who provided Trackside Live coverage on Saturday and Sunday.