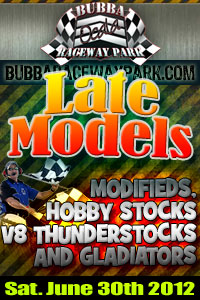 By- Jim Rouse, BRP Media – RaceCar Engineering Late Models, Scorpion Racing Products Modifieds, Hobby Stocks, 1-800-ASK GARY Thunderstocks, and Rent-N-Roll Gladiators race before Bubba Raceway Park takes a break on the 7th.
"The Magic Man" Mark Whitener has been left without competition it seems as he has dominated the past 2 races. Bo Allen has been giving chase but still lacks the hardware after a hard win. Other competitors like "Cheddar" Christian Augspurger, Richard Ferry, and Bryan Bernhardt have been trying their hardest to join Allen in the fight against Big Frog and the 58 team. And, never count out Ivedent Lloyd, Jr. if he is healthy and has a car. It will be tough to beat the best one at a time.
"The Killer" just ended it after running 2nd to David Reutimann and Rich Pratt had troubles. They have been the front runners while Dalton Lanich looks to join them as a feel-good story. Jim Passino, Garret Stewart, Jeff Mathews, Buzzie Reutimann, and Tyler Clem are top 15 competitors who have challenged for wins all year and could break into Coors Light Winner's Circle. Of course, Reutimann has a lot of experience and Mathews is "4-time."
"Sheriff" Trevor Gamble and "Ragin" Rodney Wright have pulled away in this division and after the events 2 weeks ago we have a talking point on hand. Both are over it and will move on. Mike Stalnaker, Brian Shea, and Mark Maresca complete a top 5 of drivers with completely different agendas but all 3 want 1 thing- a win! It's a tough division and wins are scarce.
8 winners in 15 features and no repeat winners since Mike Stalnaker in October (a 4-peat, no less)! Brian Mullins, winless, leads Jason Gamble and Jonathan Appleby who are both part of those 8. As these 3 pull away Justin Durbin, Brandon Elwood, and Shane Nichols battle for the last 2 top 5 spots and only Nichols has won in 2012! Throw in Chad Scranton, a 5-timer, Mark Trexler, Mike Tovet, Eddie Kilbury, Jr., and Grady Christian and you know that anything is possible in the most competitive division at Bubba Raceway Park.
"Terrific" Tony LaPorta and Steve Johnson are trying to hold on up front while the Youth Movement is fighting for a title. "Rockin" Reid Christensen and Brandon Haseleu are that youth and are very strong. Age vs. youth is really measured by Billy Holmes and Randy Harless; the teammates in equal cars have both been quick but Holmes has been more consistent than the older Harless. Who will be the next Gladiator winner?
Bubba's Pit Stop opens at 1, pits at 4, grandstands at 5, and racing starts at 7. For more information check out www.bubbaracewaypark.com or call the Speedway at 352-622-9400!