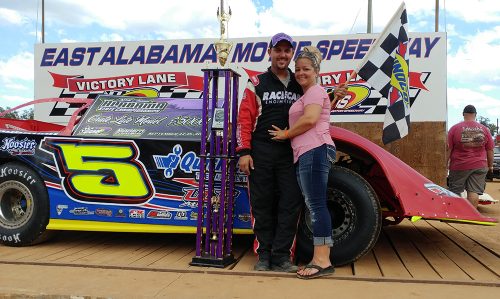 SAVANNAH, GA – With 15 wins in three different states already in his pocket for the 2016 season, Mark Whitener of Middleburg, FL will be looking to score his second Showdown In Savannah win of his career in the 19th Annual $10,000-to-win race at Oglethorpe Speedway Park on October 6. 7 and 8.
Whitener is one of the hottest Crate Late Model drivers in the country, having already won some of the biggest races in Georgia, Florida and Alabama during the 2016 season. He is fresh off winning the Alabama State Race on September 25 at East Alabama Motor Speedway in Phenix City, AL.
Also during the 2016 season, Whitener has won the Powell Memorial Race at Volusia Speedway Park in Barberville, FL, the Scott Thompson Memorial Race and the Donnie Tanner Memorial Race at East Bay Raceway Park in Tampa, FL, and three United Dirt Late Model Challenge Series Races.
With a 2016 win total of 15 and counting, Whitener considers this season and average year for him on paper, but on the other side of the page, this is a special season unlike the others that one can't find in the statistics.
"In the past, I've won a lot of races for other car owners, but this year, this is my and my family's race team," Whitener said. "We make our own decisions, we make all of the money, and we pay all of the bills. That makes winning even more satisfying."
There are still a lot of big races that pay big money left on Whitener's racing calendar in 2016, with the $10,000-to-win Showdown In Savannah looming big on the horizon. Whitener and his crew are well into preparations for the Oglethorpe Speedway Park event.
"I've won the Showdown a couple of years ago for another car owner, but I'd like to win it again with my own team," Whitener said. "We're taking the same car we won the Alabama State Race with last weekend. We're taking the car completely apart and checking everything for cracks, and anything that might break. We want to make sure everything is ready to go."
Drivers are expected from Georgia, Florida, the Carolinas, Alabama, and Tennessee. Along with Whitener, leading the Crate Late Model entries for the Showdown In Savannah will be World of Outlaw hot shoe Brandon Overton of Anderson, SC, who will be driving for former Showdown winning car owner Bobby Kay who had Tuck Trentham driving for that win.
The defending Showdown In Savannah winner Cecil Eunice of Blackshear, GA will return to defend his title. Also entered is the Fastrak Crate Late Model Racing Series point leader and East Coast Rumble Champion Cla Knight of North Augusta, SC, Robert Diekemper of Bloomingdale, GA, and Travis Pennington of Stapleton, GA.
Along with the Crate Late Models, the Super Stocks and the Super 4s will be in action for the 19th Annual Showdown In Savannah with each Division competing in a 50-lap $5,000-to-win main event. The Mini Stocks and Pure Stocks will each compete for 20 Laps and $1,500-to-win in their respective main events. The Amateur 4 Division will also be in action with a 10-lap main event each night.
The Showdown In Savannah gives race fans an opportunity to see big track racing on a dirt surface, as Oglethorpe Speedway Park is the last standing half-mile dirt track in South Georgia and North Florida. There have other dirt tracks in each area that have been half-mile in length, but they have either reduced in length or closed. Only OSP has stood the test of time as a half-mile race track.
The on track action begins on Thursday night, October 6 with an Open Practice Session. Gates open at 5:30 p.m. with practice from 6:30 p.m. to 9:30 p.m. Pit passes are $20 for adults, $10 for children 12 and under, and Grandstand admission will be $5.
Friday night, October 7 will feature Qualifying and Heat Races as preliminary events for the big show. The Mini Stocks and Pure Stocks will run Heat and Feature Races on Friday night. Gates open at 5 p.m. with Hot Laps and Qualifying for Crate Late Models and Super Stocks will be at 6:15 p.m. Racing action is scheduled for 7:30 p.m.
Pit passes on Friday night will be $30 for Adults and $15 for children 12 and under. General Admission Grandstand tickets will be $15 for Adults, $13 for Seniors and Military, and $5 for children 12 and under.
Saturday night, October 8 will see B-Main races and the big money feature events. Gates open at 4:30 p.m., with Hot Laps at 6:20 p.m. and Racing scheduled for 7:30 p.m. Pit passes are $40 for Adults and $20 for Children 12 and younger. The Grandstand ticket prices are $20 for Adults, $18 for Seniors and Military, and $5 for children 12 and under.
Oglethorpe Speedway Park is located Northwest of Savannah, GA at 200 Jesup Road, Pooler, GA 31322, or three miles east of I-95 at Exit 102 on U.S. Highway 80. For more information call 912-964-8200, or visit them online at www.ospracing.net. You can also like their Facebook page at Oglethorpe Speedway Park.