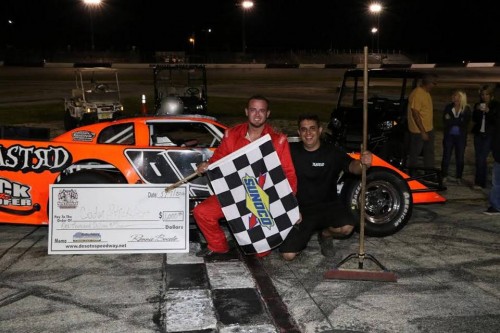 Cody Stickler has made Desoto Speedway his personal playground in J.D. Byrider Open Wheel Modified action so far in 2016.
No one could touch Stickler in Saturday night's Auburndale-Desoto Modified twin 50-lap doubleheader. The Pinellas County driver set fast time in qualifying and led every lap on his way to dominant wins in both feature races.
Sticker got the wholeshot from the outside pole in the first 50-lap race to take the lead from Josh Todd at the start. In the first couple of laps, Doug Moff was caught in two separate spins and was eliminated when he hit the wall coming out of turn two in the second incident.
Stickler and Todd pulled away from third place Brad Bowman on the restart and were comfortably ahead of the rest of the pack when Chad Rutherford spun just in front of the leaders in turn three to bring out the yellow just before the halfway point.
On the restart Bowman and Brandon Thompson spent several laps battling side-by-side for the third spot, with Thompson getting the upper hand for the spot on lap 36. Two laps later, Eric Rudd tagged Nick Hernandez heading
into turn one, bringing out the final caution of the event.  Stickler easily held off Todd the rest of the way and drove on to the victory. Thompson finished third.
A roll of the dice inverted the top two cars for the second 50-lap feature, putting Todd on the pole and Stickler on the outside of the front row. In a replay of the start of the first race, Stickler jumped into the lead at the green flag and never looked back on his way to completing the sweep – and third win in three ADMO series races.  Todd finished second, with Thompson rounding out the podium.
Fifteen cars took the green flag for the 40-lap Take Aim Gun Range Street Stock feature. Danny Caylor passed early leader Bobby Huffstutler for the top spot on the third lap and was joined at the front of the field two laps later by Eric Purcell.  The caution came out for an accident involving Jeff Firestine and Bobby Diestler as the field completed the sixth lap. After the restart Caylor needed about 10 laps to pull out to a straightaway lead over Purcell and looked to have the race under control at that point.  But Purcell had other ideas as his car came to life in the second half of
the race. Purcell started chewing away at Caylor's lead and got to within about five car lengths in the closing laps. Caylor worked his way around lapped traffic and held off Purcell for the victory. Todd Brown finsihed third.
In other action Saturday night, Sherry Best held off cousin Jimmie Best to win her first career LKQ Pick-Your-Part Pure Stock feature; Ren Wright Jr. took the win in the 25-lap Mini Stock feature; Mike Mike Endee won the
Outlaw Modified feature; and Lee Davis won the 25-lap Pep Boys Speed Shop Modified Mini Stock feature.
Desoto Speedway is closed next weekend and will return to action on May 21 with the Sunoco Challenge Super Series Late Models, DART Pro Trucks, Street Stocks, Modified Minis, TQ Midgets, Mini Stocks and Bombers.
05-07-2016
DESOTO SPEEDWAY
RACE RESULTS
Open Wheel Modified # 1 50 laps
1. 99 Cody Stickler
2. 7 Josh Todd
3. 54 Brandon Thompson
4. 2 Brad Bowman
5. 75 Bobby Blake
6. 71 L. B. Skaggs
7. 12 Eric Rudd
8. 5 Chad Rutherferd
9. 37 Nick Hernandez
10. 38 Robert Glover
11. V1 Terry Vaughn
12. 46 Doug Moff
Open Wheel Modified # 2 50 laps
1. 99 Cody Stickler
2. 7 Josh Todd
3. 54 Brandon Thompson
4. 2 Brad Bowman
5. 46 Doug Moff
6. 75 Bobby Blake
7. 71 L. B. Skaggs
8. 12 Eric Rudd
9. 5 Chad Butterfield
10. 37 Nick Hernandez D.N.S.
11. V1 Terry Vaughn D.N.S.
12. 38 Robert Glover D.NN.S.
Outlaw Modified
1. 26 Mike Endee North Port
2.12 Gene Capps Cape Coral
3. 99 Rick Chapman Vero Beach
4. 22 David Poteat Sebring
5. 5 Kevin Endee North Port
6. 00 Robert Campbell Sebring
Street Stock
1. 7 Danny Caylor Lehigh
2. 99 Eric Purcell
3. 23 Todd Brown Bushnell
4. 74 Bobby Huffstutler Bradenton
5. 11 Travis Barfield Myakka City
6. 4p Donnie Powers
7. 48 Matt McCreery St. Pete
8. 01 Bobby Diestler Inverness
9. 93 Mike Kerrivan Lehigh
10. 40 Scott Finch Bradenton
11. 75 Garrett Thompson Bradenton
12. 27 Chris Oliver
13. 63 Kyle Best Myakka
14. 88 Jamie Castleberry Lehigh
15. 10 Jeff Firestine Venice
16. 12 Jimmy Frazier D.N.S.
Pure Stock
1. 3 Sherry Best Myakka
2. 67 Jimmie Best Sarasota
3. 7 Blaine Baer Port Charlotte
4. 48 Dora Thorne
5. 38 Jeff Gustafson
6. 12 Doug Radley Bradenton
7. 72 Roger Dufrense Bradenton
Modified Mini
1. 77 Lee Davis
2. 68 Logan Allen
3. 06 Ray Miller Tampa
4. 81 Travis Kirby Myakka
5. 17 Brad Blanton
6. 45 Jeff Firestine Venice
7. 2 Jimmy Wood Myakka
8. 72 Darren Ellis Myakka
9. 6 Dave Davis Bradenton
Mini Stock
1. 008 Ren Wright Jr. St. Pete
2. 99 Johnny Marra Cape Coral
3. 01 Christopher Milthaler North Port
4. 37w Todd Wozniak Bradenton
5. 77 Laura Mammina North Port
6. 37 Jerry Groves Venice
7. 05 Ronnie Robinson
8. 10 Kristen Milthaler North Port
9. 67 Zachary Stultz D.N.S.
10. 48 Roger Wright D.N.S.