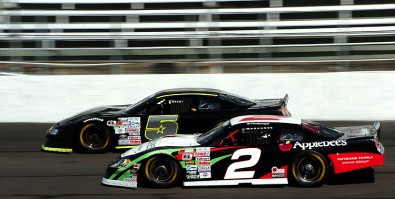 Hendersonville, NC (11/19/12) –While many fans and contenders were focused on the Championship battle, there was a four-way battle for the final tenth place position in the 2012 Championship points.  Roger Powell and Ronnie Bassett Jr. were in a dead tie coming into the "Classic 3 Championship" weekend. With Ronnie's four-win season and Powell's seven top-10 finishes, including his win at Newport, this gave both drivers a total of 789 Championship points for the 2012 season. Both drivers decided to sit out during the season finale giving Tim George Jr. and William Gallaher the opportunity to battle it out for that final top ten spot.
George Jr. and Gallaher were so close in points, that the pressure of their race finish would determine the final top ten points position. Taking the position by only five championship points, George Jr.'s top-10 finish for the race at Rockingham locked him into that final top ten position.
Like a few others, Tim George Jr. has pulled double duty this season while racing with the UARA-STARS, he has also ran a full, competitive season with the NASCAR Camping World Truck Series. During the second visit to Newport Speedway, George Jr. had one of his Truck races on the same night as an UARA race, Ronnie Bassett Jr. stepped in and brought Team Dillon Racing their win of the season. George had four top ten finishes with his best finish being at Rockingham in the spring where he brought home an impressive 4th place finish.  George won the Joe Gibbs Driven award one time during the season.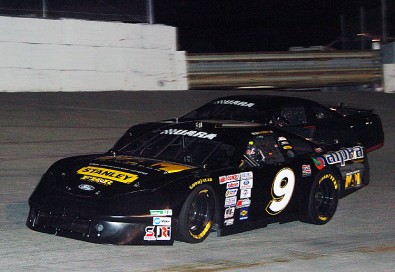 In front of George Jr. Ben Rhodes held his ninth place position with comfort. He earned a total of 1004 Championship points throughout his rookie season. Rhodes brought Fat Head Racing eight top-10 and four top-5 finishes for the 2012 racing season. He also had won his first career UARA Sunoco Pole in May at Kingsport Speedway. Rhodes collected two Rookie of the Race awards, along with three Tilton, two WP Racing Shock and one Ultra Cool award throughout the season. He had a 2nd, 3rd, 4th and 5th place finish but that win evaded him. Rhodes has high hopes of changing that stat for 2013.
Rhodes announced in October that his 2013 racing season will include joining Hawk-McCall Motorsports. As of now, Rhodes is scheduled to compete a full season with the UARA-STARS, with a couple NASCAR Whelen All-American series' events.
Gallaher, who came home 11th in the overall points just a mere 5 points behind George has also announced plans for his 2013 Racing season as he will continue with Eddie Sharp Racing. Their plans are still in the works and they are still deciding if they will be running a full season or competing 75% of the events.
Fans can keep up the STARS during the off season by following them on Twitter, @uarastars, and "like" them on Facebook under the United Auto Racing Association.