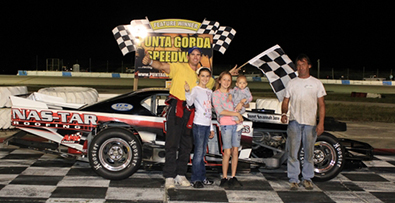 The mom's of some drivers were on hand tonight with petitions to save the Punta Gorda Speedway. They walked through the pits and met everyone that came through the front gates and it looked as if everyone was eager to sign on the dotted line. This is more than just a racetrack, owner Kevin Wilimas brought the track back to something everyone is proud of, clean, safe and fun for the entire family. Punta Gorda Speedway has loyal fans, drivers, crews and employees that call the speedway their home track and are all behind keeping Kevin and Terry Williams as the owners.
The night started off with T.Q. Midgets for twenty five laps were Rob Kohler was on a roll and led the first ten laps Mike Belusar of Punta Gorda was right on his bumper and made the pass to take over the lead and went onto win the feature, Young Chris Gimmler got by Kohler with five to go to finish second and Kohler held on for third.
The Dwarf cars lined up and battled for twenty five laps that saw the 4 car of Andy Pryor of Bonita Springs lead start to finish. The 77 of Larry Hubbard Jr gave it his all chasing Pryor but would come up short and finish second while John Atherson of Cape Coral was third.
Seventeen Road Warriors signed in to race but four cars broke in the heat race and thirteen drivers took the green. Phl Ellis lead the first lap and got shuffled back when Richard Nelson of Port Charlotte got by him and led every lap to the checkers. A great battle went on behind Richards for the next two spots as drivers put on a heck of show. Chris Scott, Jereny Daring, Jason Miller and Chris Loney all battled for the second spot as they put on one heck of a show for the fans. When the checkers came out it was Chris Loney of Naples that made it to the line in second and Jason Miller was third.
Legends came out and David Patterson of Port Charlotte won the feature and David Flail of Bradenton was second.
Were was the full moon when the Pro 4 came out to run their thirty five lap feature that was also for double points. Dan Collver jumped out to the early lead with Paul Richards Jr and Jessica Ostrovskis battled for second. While Collver was in the lead, it appeard that Richards had tapped him going down the back stretch sending Collver into the back wall and into the pits for the night on lap seven. Tempers were flared and they tried to take each other out for the night, double points are a lot especially when the points race is so close. Richards made the pass on the restart of Lap eight and never looked back while Jess was running in second and eleven year old Johnny Marra finished third.
Road Warriors had seventeen cars show up but after some mishaps in the heat races thirteen took the green. Phil Ellis was score first on the first lap but had to battle a strong Richard Nelson who got by on lap two. Nelson seemed to have it wrapped up as he was cruising in first while cars were fighting for position and no one was giving up. Jason Miller battle his way from the rear to second by lap eight while Chris Scott and Jeremy Daring were fighting for third. Chris Loney found some extra horsepower and with ten to go found himself in second and battling Richards for the lead. When the checkers flew it was Nelson who hung on for first, Chris Loney second and Jason Miller third.
The Open Wheels ran thirty five laps and it was Roger Blevins that sat on the pole with Eric Rudd of Naples was outside. Fast Qualifier L.B. Skaggs started outside Steve Arnold second row back. It was Rudd and Blevins that battled for the first ten laps with Rudd on the outside as L.B. Skaggs was catching them. The first caution came out on lap ten after the 19 of Arnold hit the back stretch wall pretty good and had to go into the pits with a flat. On the restart, it was Skaggs that got by Rudd and thats all there was, as Skaggs went on to win the featured race. Scott McDaniel of Cape Coral had made his way up to second as he battled with Rudd. With five to go it was Steve Arnold that made his way back up to second after having to pit and start in the rear. Arnold kept digging and got by McDaniel with five to go but ran out of time to catch Skaggs. Steve Arnold of Cape Coral was second, Scott McDaniel was third and Eric Rudd hung on to fourth.
The last race of the night was an exciting one, that saw twelve Street Stock come out for twenty five laps and the fans stayed till the end. Bobby Fischer of Naples, the points leader sat on the pole, while a familiar face was back at it after last years bad crash, Ander Jackson of Punta Gorda who started in the rear. Fischer had the bugs worked out as he jumped out to the lead and while the cars behind him were swapping paint for position. Jim Brenner ran in second for three laps till Jimmy Meiser won over the spot while Ryan Pancoast and Richard Nelson were right on his bumper. The caution came out on lap eleven for the twenty nine of Bobby Mobley who skimmed the front stretch wall trying to battle with Jackson for position and got a flat tire. On the restart it was Fischer and Pancoast on the front and Fisher gave Pancoast a run as he stayed in first till another caution on lap nineteen. Cars were lined back up and it was time to go, Pancoast got by Fischer and went on to win another feature. Fischer hung on to take second while Jackson hit the go button and made it up to third but on the last lap gave it to much and spun the tires which gave way to Nelson getting by for third at the finish.
Next week Jan 19th the Speedway will be closed but make plans now for
JAN 26TH – LATE MODEL SPORTSMAN – DOUBLE POINTS,
STREET STOCK -DOUBLE POINTS, 35 LAPS,
OPEN WHEEL MODIFIEDS DOUBLE POINTS
COWBOY CADILLACS -DOUBLE POINTS' 30 LAPS,
ROAD WARRIORS DOUBLE POINTS 35 LAPS,
PRO 4 REG POINTS
visit our web site to stay up to date at
PUNTA GORDA SPEEDWAY RESULTS
1/12/2013
Open Wheel Modified
1. 71 L. B. Sikaggs N. Ft. Myers
2. 19 Steve Arnold Cape Coral
3. 17 Scott McDaniel Cape Coral
4. 12 Eric Rudd Naples
5. 1 Roger Blevins
6. 98 Johnny Allen Lehigh
7. 2r John Rogers Naples
8. 67 James Dubose Arcadia
9. V1 Terry Vaughn Arcadia
Street Stock
1. -47 Ryan Pancoast N. Ft. Myers
2. 2 Bobby Fischer Naples
3. 80 Richard Nelson Port Charlotte
4. 91 Ander Jackson Punta Gorda
5. 29 Bobby Mobley Auburndale
6. 88 Jimmy Meiser Cape coral
7. 57David Bowman Bradenton
8. 46 Jerrald Cook Winter Haven
9. 77 James Dellea Jr. Port Charlotte
10 8 Dan Scott Naples
11. 33 Jim Middendorf Naples
12. 9 Shane Poling Punta gorda
13. 38Jeff Gustofson N. Ft. Myers
Road Warriors
1. 80 Richard Nelson Port Charlotte
2. 33 Chris Loney Naples
3. 10 Jason Miller Lehigh Acres
4. 97 Chris Scott Nokomis
5. 5 Jeremy Daring Lehigh Acres
6. 8 Shane Leonard N. Ft. Myers
7. 29b Bobby Mobley Auburndale
8. 77 James Dellea 3 rd . Port Charlotte
9. 13 Justin Teston Lehigh
10. 29 Phil Ellis Englewood
11. 44 Rick Hess Englewood
12. 11 Ellis Hadden
13. 43 Roy Healey
14. 1 Rick Reed Punta Gorda D.N.S.
15. 31 Brandon Kolz Ft. Myers D.N.S.
16. 18 Logan Leonard Cape Coral D.N.S.
17. Ai Jesse Gargus D.N.S.
Legends
1. 2d David Patterson Port Charlotte
2. Dave Flail Bradenton
Pro 4
1. 61 Paul Richards Jr. Naples
2. 91 Jessica Ostrovskis St. Pete
3. 99 Johnny Marra Cape Coral
4. 87 Skyler Null Fort Myers
5. 00 Dan Collver N. Ft. Myers
6. 04 Ryan Collver Ft. Myers
7. 13 Alex Teston Lehigh
8. 56 Stephen Babcock Punta Gorda D.Q.
Dwarfs
1. 4 Andy Pryor Bonita Springs
2. 77 Larry Hubbard 3 rd . Cape Coral
3. 56 John Otherton Cape Coral
4. 75 Ray Counts Sissonville W.V.
5. 08 Rob Kohler Naples
6. 2 James Wright Lehigh Acres
T.Q. Midgets
1. .63 Mike Belusar Punta Gorda
2. 51 Chris Gimmler Palm Beach Garden
3. 30 Rob Kohler Naples
4. 7 Jamie Barnam Brooksville
5. 11 Jimmy Wilkens 3 rd . Fort Pierce
6. 17 Mark Gimmler Palm Beach Gardens