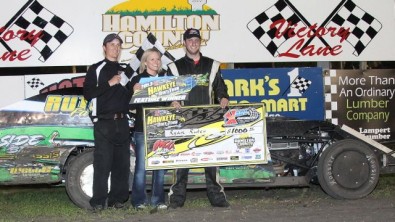 WEBSTER CITY, Iowa (June 6) – Ryan Ruter came up big at another big time IMCA Xtreme Mo­tor Sports Modified event Thursday night at Hamilton County Speedway.
Ruter reeled in Richie Gustin on the 11th circuit and led to the finish of the Karl Performance Haw­keye Dirt Tour presented by XSAN main event at Webster City.
The win, Ruter's tour career first, paid $1,000.
Gustin started from the pole, led the first 10 laps and weaved through traffic with Ruter, pulling alongside but never able to complete the pass, before finishing second, four car lengths off the pace.
Scott Olson, Mark Elliott and Jon Snyder completed the top five. The only caution of the night came on lap eight when Zach Less got too close to the wall. 
Ruter was already on the ballot for the Fast Shafts All-Star Invitational, having won the Charlie Hart Memorial at I-35 Speedway on Sunday.
Brian Harris was the Deery Brothers Summer Series feature winner at Webster City. Both series had been postponed from June 4 because of inclement weather.
Devin Smith topped the IMCA Sunoco Hobby Stocks and Doug Smith was the Karl Chevrolet North­ern SportMod winner.
Another midweek doubleheader is next for Deery Series and Karl Performance Hawkeye Dirt Tour drivers on Tuesday, June 11 at Cedar County Raceway in Tipton.
Feature Results
Hawkeye Dirt Tour – 1. Ryan Ruter, Kanawha; 2. Richie Gustin, Gilman; 3. Scott Olson, Blairsburg; 4. Mark Elliott, Webster City; 5. Jon Snyder, Ames; 6. Jimmy Gustin, Marshalltown; 7. Adam Larson, Ames; 8. Jesse Sobbing, Glenwood; 9. Jay Noteboom, Hinton; 10. Mike Van Gen­deren, Newton; 11. Mark Schulte, Delhi; 12. Todd Shute, Des Moines; 13. Greg Elliott, Webster City; 14. Tim Czarneski, Denmark, Wis.; 15. Tyler Prochaska, Iowa Falls; 16. Ronn Lauritzen, Jesup; 17. Travis Hatcher, Honey Creek; 18. David Brown, Kellogg; 19. Jeff Waterman, Quincy, Ill.; 20. Tony Cox, Boone; 21. Casey Greubel, Lacona; 22. Kyle Brown, Kellogg; 23. Cayden Carter, Oskaloosa; 24. Zach Less, Hopkinton; 25. Tim Murty, Tama.
Heat winners were Czarneski, Snyder and Van Genderen.
Hobby Stocks – 1. Devin Smith, Lake City; 2. Randy Embrey, Granger; 3. Ty Griffith, Webster City; 4. Cory Roe, Webster City; 5. Bill Bonnett, Knoxville; 6. Cody Nielsen, Fort Dodge; 7. Craig Graham, Webster City; 8. Daniel Ayers, Webster City; 9. Ben Bruck, Pleasant Hill; 10. Myles Michehl, Fort Dodge.
Northern SportMods – 1. Doug Smith, Rockwell City; 2. Matthew Lettow, Roland; 3. Carter VanDen­Berg, Oskaloosa; 4. Nick Roberts, Des Moines; 5. Aaron Benson, Clear Lake; 6. Chase Ellingson, Williams; 7. Kyle Germundson, Mason City; 8. Brandon Toftee, Webster City; 9. Joel Rust, Grundy Center; 10. Matt Northrop, Stanhope; 11. Bob Sutherland, Blairsburg; 12. Rick Fasse, Urbandale; 13. Matthew Webb, Des Moines; 14. Levi Chipp, Latimer; 15. Rocky Caudle, Webster City; 16. Cody Knecht, Whittemore; 17. Jerid Ratzke, Williams; 18. Coty Albers, Wells­burg; 19. Shawn Albers, Wellsburg; 20. Brandon Leeman, Roland; 21. Gerald Curry, LuVerne; 22. Mike Hay, Grimes; 23. Ben Kates, Tonganoxie, Kan.; 24. Jack Housley, Des Moines.