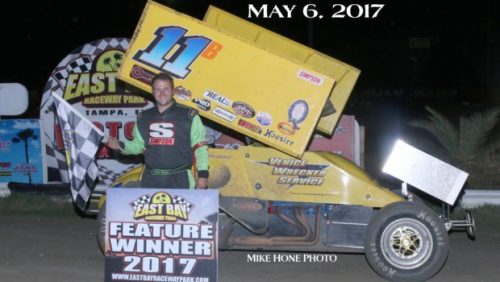 GIBSONTON — At East Bay Raceway it was Brian Morgan in the Hobby Stocks, Doug Horton in the Late Models, Rhett Wilson in the V8 Warriors, Greg Pae in the Outlaw Fours and Billy Bridges in the Q Auto & Injury Attorneys Sprints.
In the first feature of the night it was the Hobby Stocks 15-lap feature as Brian Morgan won his third feature of the year in his third race of the 2017 season. Finishing in the second spot was Tim Powers and finishing third was Jim Baker.
In the Late Models 30-lap feature it was Doug Horton picking up his second win of the year with Josh Peacock finishing in the second spot while Jack Nosbisch, Jr. was third.
In the V8-Warriors 15-lap feature it Rhett Wilson picking up his second win in a row with a hard charging George Handy finishing second while Jason Burnside finished third.
In the Outlaw Fours 15-lap feature it was the defending Champion Greg Pae picking up his first win of the year over Brian Barse who finished second and Bob Fleming wound up third.
In the final feature of the night it was the Q Auto & Injury Attorneys 15-lap race with rookie Billy Bridges picking up his very first win in his eighth attempt. He was followed by Keith Butler finishing second with Guy Bos third.
Action continues next Saturday May 13th it will be the Late Model Sportsman, Gagel's Open Wheel Modifieds, 4 Cylinder Bombers, V8 Warriors and Micro Sprints. For information, visit eastbayracewaypark.com or call 813-677-7223.
EAST BAY RACEWAY
Saturday's results
Hobby Stocks (15-lap feature)
1. 9 Brian Morgan
2. 26 Tim Powers
3. 69x Jim Baker
4. 71 Rich Livernois, Jr.
5. 75r Jason Russell
6. 57 Buddy Beckum
7. 9t Randy Tyler
8. 51 Allen Bailey
Late Models (30-lap feature)
1. 11 Doug Horton
2. 21p Josh Peacock
3. 12 Jack Nosbisch, Jr.
4. 311 Kenny Monahan
5. 9 Jimmy Waldrop
6. 25 Gary Foxworth
7. 13h Andrew Hopkins
8. 11M Megan Meyer
9. 95 Steve Mathis, Jr.
10. 03 Phillip Cobb
11. 141 Steve Brendle
12. 87 John Norris
13. 13 Thomas Burnside
V8 Warriors (15-lap feature)
1. 17 Rhett Wilson
2. 105 George Handy
3. 12j Jason Burnside
4. 27 Jeff Rodgers
5. 6 Jon Basquin
6. 93r Marco Reyes
7. 10 Juston Meeks
8. 09 Jessica Robbins
9. 15 Bill Whitney
10. 2 Kalen Maynard
11. 12 Nick Brown
12. 36 David Parr
13. 23 Gary Lucas
Outlaw Fours (15-lap feature)
1. 65 Greg Pae
2. 5 Brian Barse
3. 88 Bob Fleming
4. 17 Mark Nagle
5. 15 Billy Dukes, Jr.
6. 7 Nick Hebrank
7. 19 Jake Hampton
8. 53 Brandon Yates
9. 96 Robert Lilly
10. Stephen Hohlbaugh (DNS)
11 32 Billy Evans (DQ)
Q Auto & Injury Attorneys Sprints (15-lap feature)
1. 11b Billy Bridges
2. 19 Keith Butler
3. 3k Guy Bos
4. 9 Billy Boyd, Jr.
5. 55 Kurt Taylor
6. 21 Justin Webster
7. 12 David Kelley
8. 02 Gene Lasker
9. 11 Andy Kelley
10. 07 Clint Reynolds
11. 96 Nikole Voisey
12. 44a Mike Steinruck
13. 1* Tim George
14. 3t Johnnie Alexander