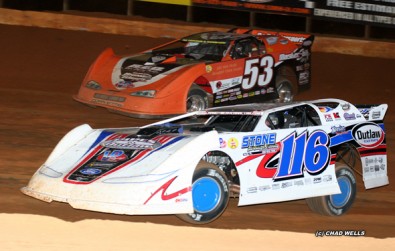 HUNTSVILLE, AL (November 25, 2012)—Randy Weaver almost put the perfect exclamation point on what was a great 2012 season.
"Almost" – meaning Weaver led 97 of the 100 laps before cutting down a right rear tire in the series' final event on November 18th at Cherokee Speedway during the Southern All Stars-sanctioned 22nd Annual Blue/Grey 100. Weaver's season still ended with him claiming his third series championship in just four seasons (2009, 2010 and now 2012).
Weaver's Championship triumph included six series victories including wins on May 26 at Whynot Motorsports (MS) Park ($3,500); May 27 at Magnolia Motor (MS) Speedway ($5,000); June 23 at Talladega Short (AL) Track ($4,700); July 28 at Talladega Short (AL) Track ($3,500); October 6 at Talladega Short (AL) Track ($3,500) and November 17 at Cleveland (TN) Speedway ($5,000). Weaver's six series victories added to his total of nine personal victories with three coming at Boyd's (GA) Speedway on January 28; Crossville (TN) on July 7 and the $7,000 Alabama State Race at East Alabama Motor Speedway on October 14.
Weaver raced in 15 of the 16 scheduled events. In addition to Weaver's wins, he accumulated seven top-five finishes and 12 top-ten finishes. Weaver drove the Outlaw Race Products sponsored Cornett Racing Engines powered GRT Race Car to the Championship this season. Weaver is tied with Ronnie Johnson for three series championships and behind Clint Smith for all-time Championships at four.
Mike Weeks of Friendsville, TN claimed the Cruise with the Champions Rookie of the Year title in 2012. Mike attended 15 of the 16 races on the schedule and also claimed the runner-up slot in the final championship point standings. Mike claimed one top-five finish on October 27th at Toccoa (GA) Speedway along with five top-ten finishes throughout the season. Weeks' top-five finishes came at Smoky Mountain Speedway (twice), Cleveland Speedway (twice) and Weeks drove the Weeks Race Cars and Fabrications, Outlaw Race Products and JT Kerr Racing Equipment sponsored, Vic Hill Racing Engines powered Weeks Race Car to the Rookie of the Year title.
Weaver and Weeks along with the other drivers in the top-ten in Championship points will be honored on Saturday Night January 12th at the Bearden Banquet Hall in Knoxville, TN during the annual Awards Banquet.
2012 Southern All Stars Dirt Racing Series event winners:
# 1-April 7-Jimmy Owens-Newport, TN (Cleveland Speedway)
# 2-April 14-Vic Hill-Mosheim, TN (Smoky Mountain Speedway)
# 3-May 5-William Thomas-Phenix City, AL (Talladega Short Track)
# 4-May 12-Skip Arp-Georgetown, TN (Cleveland Speedway)
# 5-May 26-Randy Weaver-Crossville, TN (Whynot Motorsports Park)
# 6-May 27-Randy Weaver-Crossville, TN (Magnolia Motor Speedway)
# 7-June 16-Vic Hill-Mosheim, TN (Smoky Mountain Speedway)
# 8-June 23-Randy Weaver-Crossville, TN (Talladega Short Track)
# 9-July 28-Randy Weaver-Crossville, TN (Talladega Short Track)
# 10-August 18-Billy Ogle Jr.-Knoxville, TN (Cleveland Speedway)
# 11-September 15-Billy Ogle Jr.-Knoxville, TN (Cleveland Speedway)
# 12-September 22-Billy Ogle Jr.-Knoxville, TN (Smoky Mountain Speedway)
# 13-October 6-Randy Weaver-Crossville, TN (Talladega Short Track)
# 14-October 27-David Payne-Murphy, NC (Toccoa Speedway)
# 15-November 17-Randy Weaver-Crossville, TN (Cleveland Speedway)
# 16-November 18-Mike Marlar-Winfield, TN (Cherokee Speedway)
Final 2012 Southern All Stars Dirt Racing Series Points:
1. Randy Weaver-1,318 (Crossville, TN)
2. Mike Weeks-1,094 (Friendsville, TN)
3. Shan Smith-818 (Dade City, FL)
4. Billy Ogle Jr.-756 (Knoxville, TN)
5. Skip Arp-606 (Georgetown, TN)
6. Riley Hickman-590 (Chattanooga, TN)
7. Jake Knowles-548 (Tyrone, GA)
8. William Thomas-500 (Phenix City, AL)
9. Mark Vineyard-454 (Powell, TN)
10. Jason Hiett-452 (Oxford, AL)