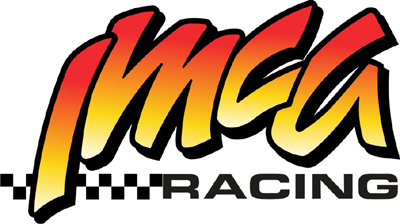 LAS VEGAS, Nev. (Nov. 10) – Jeremy Payne outslugged a field of heavy hitters to become the first driver to win the top-paying event for IMCA Modifieds a third time.
Payne earned $7,777 for his Saturday night win at Las Vegas Motor Speedway's Duel In the Desert. The new 2013 Fast Shafts All-Star Invitational ballot qualifier had also cashed in at the 2005 and 2006 races.
"It's awesome that this is my third one," said Payne, who made the field by winning his Friday qualifier. "It's been such a long time since I won the last time. I had some bad luck here lately."
"It was a great race and my car was perfect," he added, with a plug for car owner and teammate Johnny Saathoff. "The car worked really good on the bottom in hot laps so I just stuck with that."
John Hansen was the runner-up. Two-time Duel winner David Murray Jr., two-time defending race winner Terry Phillips and Jeff Taylor rounded out the top five.
Steve Hayes was the IMCA SportMod feature winner. The 15th annual Duel set an overall car count record of 308, with 253 Modifieds coming from 22 states and three Canadian provinces and 55 SportMods traveling from 11 states.
Jason Noll started from the Modified pole position flanked by Jay Noteboom. After running three-wide with Noll and Noteboom in the opening turn, Taylor grabbed the lead with an inside pass before the field recorded the first of its 40 laps.
Cars were already running four-wide before Scott Drake spun with a right rear flat on lap three and brought out what proved to be the only caution of the race.
Taylor kept a firm grip on the lead following the restart while Noteboom ran the middle groove and Ricky Alvarado used every inch of the cushion. After catching the high-flying Alvarado, Payne slipped by Noteboom for second and took over the lead on lap eight.
Alvarado's fast start ended with mechanical issues on lap 11 and he retired to the infield. Payne ran the bottom while the battle for second raged, Noteboom working the high lane just behind Taylor.
A five-way tussle for the second spot developed as David Murray Jr., Hansen and Tyson Turnbull entered the mix.
Ten laps later, Payne continued to cruise along as Hansen and Taylor duked it out over second. Hansen tried the middle and high grooves but could only watch as Payne scored his career third Duel In The Desert victory.
2011 runner-up Dominic Ursetta was also the victim of an early flat but got back on the track to salvage a 15th place finish. Matt Gilbertson was sick and did not race on Friday, then started last and won his last-chance feature on Saturday to make the main event. He finished 23rd.
Tim Ward was the IMCA Young Guns feature winner after starting last while Lawrence O'Conner became the latest Canadian driver to win the Legends race.
Hayes was the surprise winner of the 25-lap IMCA SportMod feature.
Matt Mueller started from the pole and led the first 23 laps until second-running Tyler Frye made contact in turn one and Mueller spun. Frye was black-flagged from the event and Hayes, running in third place, became the new leader and eventual winner.
Aaron Benson, Mueller, Dean Abbey and Tony Rost would complete the top five.
Feature Results
Modifieds – 1. Jeremy Payne, Nixa, Mo.; 2. John Hansen, Brush, Colo.; 3. David Murray Jr., Oberlin, Kan..; 4. Terry Phillips, Springfield, Mo.; 5. Jeff Taylor, Cave City, Ark.; 6. Jay Noteboom, Hinton, Iowa; 7. Jason Noll, Peoria, Ariz.; 8. Matt Brack, Mead, Colo.; 9. Tyson Turnbull, Estevan, Sask.; 10. Luke Wanninger, Minburn, Iowa; 11. Jeremy Mills, Garner, Iowa; 12. Brad Pounds, Bakersfield, Calif.; 13. Johnny Saathoff, Beatrice, Neb.; 14. Ryan Ruter, Kanawha, Iowa; 15. Dominic Ursetta, Arvada, Colo.; 16. Darin Duffy, Hazleton, Iowa; 17. Brandon Blochlinger, Concordia, Kan.; 18. Paul Stone, Winton, Calif.; 19. Travis Peery, Yreka, Calif.; 20. Kellen Chadwick, Oakley, Calif.; 21. Troy Cordes, Dunkerton, Iowa; 22. Jacob Murray, Hartford, Iowa;  23. Matt Gilbertson, Watson, Minn.; 24. Jeff Streeter, Chowchilla, Calif.; 25. Alex Stanford, Chowchilla, Calif.; 26. Milo Veloz Jr., Colona, Ill.; 27. Ricky Alvarado, Delta, Colo.; 28. Scott Drake, Joplin, Mo.
SportMods – 1. Steve Hayes, Eastland, Texas; 2. Aaron Benson, Clear Lake, Iowa; 3. Matt Mueller, Stamford, Texas; 4. Dean Abbey, Waco, Texas; 5. Tony Rost, Utica, Neb.; 6. Ben Kates, Tonganoxie, Kan.; 7. Ryan Larimer, Merced, Calif.; 8. Brandon Tenski, Farmington, N.M.; 9. John Piker, Bakersfield, Calif.; 10. Keith Brown, Pittsburg, Calif.; 11. Ryan Henley, Aztec, N.M.; 12. Jordan Lathram, Hobbs, N.M.; 13. John Reid, Loving, N.M.; 14. Brian Carey, Aztec, N.M.; 15. Tyler Frye, Belleville, Kan.; 16. Jerry Hinton, Adel, Iowa; 17. Nick Roberts, Des Moines, Iowa; 18. Cody Brown, Chowchilla, Calif.; 19. Blain Petersen, Essex, Iowa; 20. Nick Spainhoward, Bakersfield, Calif.