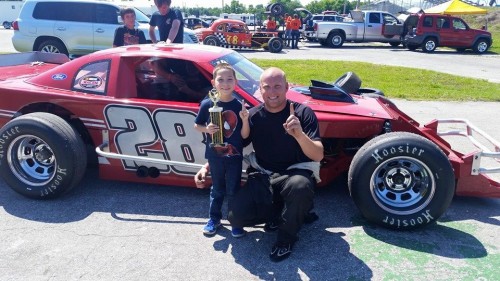 Orlando SpeedWorld returned with stock car racing action for the first time in 2015 with a special Sunday afternoon program that a nice crowd of sun-drenched fans enjoyed on a beautiful day for racing.
The E-Modifieds were among the classes competing on the day and it was Roger Benton of Chuluota who grabbed the early lead in their 25-lap feature.  Benton held on for 11 laps but could not hold off Brandon Thomson of St. Cloud who grabbed the top spot and raced to victory driving Donnie Lewis' Ford-powered machine.  It was the first career Modified-type feature victory for Thomson who has numerous wins in Legend Cars at SpeedWorld and began racing here several years ago as a youngster in the Bandoleros. Benton held on to take second followed by John Hodge, Jon Compagnone, Gino Tumminello and Steve Thornbrugh.
George Gorham, Jr. led all the way to take the win in the Sportsman feature driving his Baseline Golf Course/Parker Line Striping special.  A late caution for a spin by Glen Rhodes gave the field one last shot at Gorham but the Lakeland driver held strong to take the win over Sean Bass, Timmy Todd, Jr., Rhodes, Gino Tumminello and Richard Fiore, Jr.
V-8 Strictly Stock heat wins went to Richard Fiore, Jr. and Aaron Overman and it was Fiore who led the first two laps of the feature before being passed by Kevin Ledford.  Ledford was looking strong until Keith Wylie spun to bring the
out the yellow flag with three laps to go. Ledford was up to the task after the restart and went on to score his first-ever win trailed by Fiore, Wes Railing, Jr., Overman, Red Ledford, Wylie and Crash Tyner. After winning the second heat race, Zachary Curtis of Palm Bay jumped out to an early lead in the feature for the Four-Cylinder Strictly Stocks and led all the way to claim the victory in his Saturn.  Although he brought out a caution flag on lap 16 when he stalled on the track with a flat tire, Shane Sutorus made it back out for the restart then drove back to a second place finish ahead of first heat winner John Gross, Eric Hodge, Bob Rondinone, Kendra Gregory, Thomas Holland and Troy Gregory.
Although the Strictly Stock classes had not been scheduled to run for a purse, just trophies only, a number of sponsors and fans donated cash in the amount of $410 so that the top three finishers received a payout including $100 to
win.  Among the sponsors were Clean Cut Tree Service of Melbourne, Raceway.Biz of Melbourne, All Auto Salvage of Titusville, Rex Engineering of Titusville, Ocean Water & Breakers Irrigation System Repairs of Orlando, E&H Car Crushing of Bithlo, Atlantic Moving Solutions of Cocoa and Kids Only Day Care out of Gorham, NH.
A pair of Classic Race Car features were held with Cory Lane topping the first event in his 1985 Tour-Type Modified over Tobi Smith, Ron Hess, Terry Maraman, Larry Larivee and Billy Belflower.  The second feature was won by Doug
Cheesboro (driving an in-line six-cylinder Modified coupe owned by racing veteran and cancer survivor Wayne Ashton) over Matt Jarrett, Ricky Taylor, Ron Hess and Steve Miller.
E-Mods
1. #289 Brandon Thompson
2. #14 Roger Benton
3. #00 John Hodge
4. #5 Jogn Campagnone
5. #35 Gino Tumminello
6. #7 Steven Thornbrugh
Sportsman
1. #03 George Gorham Jr.
2. #291 Sean Bass
3. #25 Timmy Todd Jr
4. #49 Glen Rhodes
5. #60 Gino Tumminello
V6 Classic Cars
1. #78 Doug C.
2. #97 Matt Jarrett
3. #04 Ricky Taylor
4. #34 Ron Hess
5. #0 Steve Miller
V8 Classic Cars
1. #78 Corey Lane
2. #44 Toby Smith
3. #34 Ron Hess
4. ?#?7B? Terry M.
5. #711 Larry Larivee
Strictly Stock 6/8cyl
1. #67 Kevin Ledford
2. #7 Richard Fiore Jr
3. #3 Wes Railing
4. #03 Aaron Overman
5. #6 R. Ledford
6. #100 Keith Wylie
8. #181 Crash Tyner
Strictly Stock 4cyl
1. #63 Zach Curtis
2. #3 Shane Sutorus
3. #97 John Gross
4. #00 Eric Hodge
5. #23 Kendra Gregory
6. #99 Bub R.
7. #2 Thomas Holland