By- Jim Rouse, Bubba Raceway Park Media
4-13-12 – The RaceCar Engineering Late Models ran the Mike Peters Open while Buddy's Home Furnishings Limited Late Models, Barfield Law Group Mini Stocks, and Rent-N-Roll Gladiators battled as well.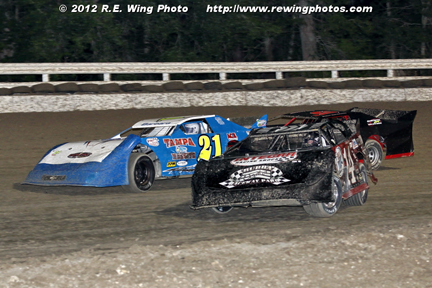 Limited Late Models saw Cory Howard spin on lap 8 as JO Nobles, Eddie Gainey, and Bubba Clem run 1-2-3. With 2 to go CJ Waldron spun which caused the restart that derailed JO Nobles Sunday drive. The rear end of the 18 broke giving Gainey the lead. Gainey held on over Adam Higginbotham, Clem, David Showers, and JO Nobles.
Mini Stocks fought a hard 3 caution race led by Buddy Pope, Nick Kerr, and Travis Staats. Staats tried but fell back and left the 75 and 81 to battle. Kerr couldn't quite clear Pope though he was faster out of 2. Pope beat Kerr, Staats, Luke Sadler, and Charlie Staats to go 3-for-3 in 2012.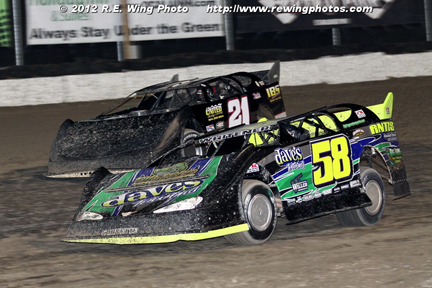 The Mike Peters Open. Ivedent Lloyd, Jr. took fast time with the only sub-16.0 lap. He also took the win. As Lloyd
lapped up to 11th in the 7 caution race Jeff Mathews and Mark Whitener battled for P2. Whitener won the battle by a bit as Mathews took 3rd. Jack Nosbisch finished 4th and John Koller completed the top 5.
Gladiators had a 3-way fight between Steve Johnson, Steve Cox, and Tony LaPorta. Johnson led the final 12 by holding LaPorta back. Cox was 3rd over Randy Harless and Jordan McMillon.
Tomorrow is the Mike Peters Open part 2 along with more from the Buddy's Limited Late Models, 1-800-ASK GARY Thunderstocks, Hobby Stocks, and a spectator race! For more information you can check out www.bubbaracewaypark.com or call the Speedway hotline!
RaceCar Engineering Late Models and the Buddy's Home Furnishings/Sunoco United Dirt Late Model Challenge Series in the Mike Peters Open
Bubba Raceway Park Results (4/13)
1- 21 Ivedent Lloyd, Jr.
2- 58 Mark Whitener
3- 33 Jeff Mathews
4- 01 Jack Nosbisch
5- 1* John Koller
6- 35 Christian Augspurger
7- 2F Jason Fitzgerald
8- 47 Tyler Ivey
9- 46P Darrell Padgett
10- 71 Bo Allen
11- 17 Richard Ferry
12- 02 Keith Nosbisch
13- 3R Ryan VanSickle
14- 2 Brandon DeWitt
15- B69 Bryan Bernhardt
16- 311 Kenny Monohan
17- 45 Bobby Richardson
18- 24 Jason Burke
19- 0 Rich Pratt
20- 82 Nelson Sweeney
21- 72P Len Parrish
22- 3K Kyle VanSickle
Buddy's Home Furnishings Limited Late Models
1- 8 Eddie Gainey
2- 20 Adam Higginbotham
3- 14 Bubba Clem
4- 18 David Showers
5- 18JO JO Nobles
6- 10X David Ponton
7- 2 Caleb McGillivray
8- 5C Christian McGillivray
9- 21W CJ Waldron
10- 21G Forrest Gough
11- 4H Cory Howard
12- 66 Ricky Land
13- 27M Miles Cox
14- 01M Kevin Mills
Barfield Law Group Mini Stocks
1- 81 Buddy Pope
2- 75 Nick Kerr
3- 1AR Travis Staats
4- 63 Luke Sadler
5- 9AR Charlie Staats
6- 26 Kris Prouty
7- 1K Kyle Kruse
8- 30 Reid Christensen
Rent-N-Roll Gladiators
1- 81 Steve Johnson
2- 3T Tony LaPorta
3- P38 Steve Cox
4- 12 Randy Harless
5- 68 Jordan McMillon
6- 98 Jerry Taylor
7- 3H Brandon Haseleu
8- 83 Kody Fisher
9- 19 Trevor Allday
10- XX AJ Jernigan
11- 30 Reid Christensen