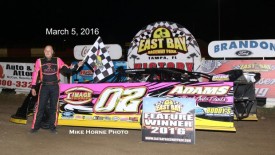 GIBSONTON — At East Bay Raceway on opening night it was Tim Gay winning the Q Auto & Injury Attorneys Street Stocks, Ed Hill in the Limited Late Models, Michael Hart in the V8 Warriors, Keith Nosbisch in the Late Models and Dustin Cates in the Micro Sprints.
In the Q Auto & Injury Attorneys Street Stocks it was the defending Champion Tim Gay picking up the win over Collin Kruse and Buck Woodhouse.
In the Limited Late Models it was Ed Hill getting by Phillip Cobb with just a few laps to go with Forrest Gough coming in third.
In the V8 Warriors in his first race moving up from the Motorstats.com 4 Cylinder Bombers, Michael Hart picked up the win with Roy Woodhouse second and Justin Meeks third.
In the 30-lap Late Model feature Keith Nosbisch holding off hard charging Doug Horton who finished second with Bryan Bernhardt third.
In the Micro Sprints Dustin Cates picked up the win holding off Dorsey Strickland and Matt Wedgewood third.
Action continues next Saturday March 12th with the Late Models returning. Along with them will be the East Bay Sprints, Gagel's Open Wheel Modifieds, Outlaw Fours, Mini Sprints and Florida Old Time Modifieds. .For information, visit eastbayracewaypark.com or call 813-677-7223.
EAST BAY RACEWAY
Saturday's results
Q Auto & Injury Attorneys Street Stocks (15-lap feature)
1. 90 Tim Gay
2. 92 Collin Kruse
3. 55 Buck Woodhouse
4. 58 Matt Bozeman
5. 28 Scott Gullett
6. 11 Greg King
7. 100 Ronnie Heard
8. 95jr Justin Rodgers
9. 13w Aaron Williamson
10. 51 Allen Bailey
11. 75 Billy Barstow (DNS)
Limited Late Models (15-lap feature)
1. 117 Ed Hill
2. 03 Phillip Cobb
3. 21 Forrest Gough
4. 27 John Bradley
5. 8s Mark Evans
6. 22 Billy Howard, Jr.
7. 7jr Jesse Brown
8. 985 Henry Burnside
9. 141 Steve Brendle
10. 13b Thomas Burnside
11. 515 Ronnie Burnette
V8 Warriors (15-lap feature)
1. 99m Michael Hart
2. 55r Roy Woodhouse
3. 10 Justin Meeks
4. 99r Randy Tyler
5. 15 Bill Whitney
6. 44 Wesley Livernois
7. 189 Mike Wilson (DNS)
8. 32 Raymond Vann (DQ)
9. 12j Jason Burnside (DQ)
Late Models (30-lap feature)
1. 02 Keith Nosbisch
2. 11 Doug Horton
3. b69 Bryan Bernhardt
4. 21p Josh Peacock
5. 11j Jamie Slatton
6. 311 Kenny Monahan
7. 12 Jack Nosbisch, Jr.
8. 69c Phillip Cobb
9. 6 Adam Boyd
10. 55 Brian Johnson
11. 309 Hurshell Bonner
Micro Sprints (15-lap feature)
1. 151 Dustin Cates
2. 21 Dorsey Strickland
3. 55 Matt Wedgewood
4. 17 Cliff Evans
5. 15 Bo Dailey
6. 28x Tony Orzano
7. 15m Mike Meyers
8. 3 Joe Bartow
9. 21jr Hunter Strickland
10. 23 Paul Seburn
11. 60 Wade Evans
12. 69x Jimmy Baker
13. 24xl Greg Beeman (DNS)