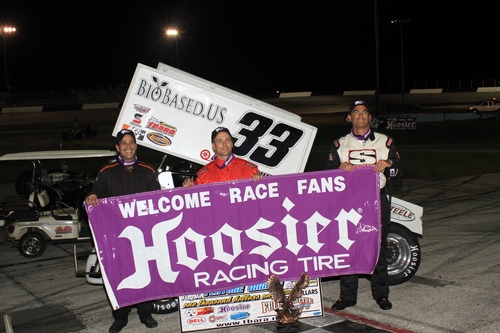 EAST MANATEE – Saturday night dozens of costumed kids were treated to autographs and free candy by the racers at the Full Throttle Speedway.  After the kids got their Halloween treats, and four kids bicycles were given away. the adults were treated to another night of exciting race action.
The evening began with Randy Johnson of Bradenton taking the 6-lap Pro 4 heat race by outracing Jessica Ostorovskis of St. Petersburg and Ronald Robinson of Bradenton.
In the 8-lap Champ Karts heat, Doug Schmidt grabbed the checkered flag while Ed Brillante finished second and Jason McGonnell finished in third.
In the first of two 6-lap heats in the Legends division, Mike Verhaagh led from start to finish to beat out second place finisher, Kyle Capobianco and third place finisher, Robby Lyons. The second heat race saw Joey Azzata lead all the way ahead of Keith Sankula and Joey Langis.
The first Sprint Cars heat had a long delay after Joey Aguilar's car caught on fire because of a fuel line rupture. Amazingly, Aguillar walked away even though he was covered in flames. Aguillar was airlifted to a nearby hospital where he was treated and released. He's expected to be racing again sometime next month.
The feature races began with Sherry Best of Myaka City winning the 15-lap Rookie 4 race. Zach Rodgers of Clearwater finished in second after
Best passed him on the first lap. Marina Petty of Venice finished in third.
Ed Brillante won the 25-lap Champ Karts feature after seizing the lead on the second lap. Doug Schmidt came in second and Jason McGonnell
was third.
The 25-lap Legends feature was won by Joey Azzata of Boca Raton. Keith Sankula of Palm City closely trailed Azzata for most of the race to finish in second place. Kyle Capobianco of Spring Hill came in third.  "(After the restart) we went down into turn 1 and there was no break after turn1," Azzata said.
The 30-lap Late Model Sportsman feature gave the race fans a really exciting finish. Aaron Williamson of Lakeland and Michael Atwell of Naples were side by side in the home stretch of the final lap. The cars touched just short of the finish line and right quarter panel of Williamson's car was sheared off. Williamson maintained control and managed to edge Atwell for the win. Clyde Coyle of Sarasota finished third.  "It was a little rough," Atwell acknowledged, "but it was a good race."
The 30-lap TBARA Sprint Cars feature was a survival of both the fastest and the fittest. The race began with a field of 18 cars taking the green and ended with a field of 11. The field was quickly whittled down after a four-car pileup on turn 2 of lap 3. On lap 10 David Steele of Tampa took the lead from Scotty Adema of Fort Myers and they stayed at 1-2 for the rest of the race. Matt Alfonso came in third.  "It was a good run for us," Steele said. "I want to thank my crew. Due to attrition, there weren't that many cars."  "It was our second time out," Adema said. "and  our second  place finish," Adema said. "There's no shame in finishing second to David."
The 25-lap Pro 4 feature had some spinouts, tapouts and caution flags before Ronald Robinson of Bradenton raced to victory ahead of Jesssica Ostrovskis of Bradenton and Kris Bridges of Venice.
"It's not the way I wanted to win," Robinson said. "There was a lot of beating and banging." Robinson would not be able to pass the tech inspection after the feature, giving the win over to Jessica Ostrovskis, Kris Bridges second and Sklyer Null third.
In the evening's final feature, James Widner of Myaka City edged Dalton Ellis, also of Myaka City, to win the 15-lap Junkyard Dogs race. James Shulko came in third.
The Full Throttle Speedway will be closed on Saturday, November 2nd, but will reopen with a full card of racing on Saturday, November 9th.
Turner Tree & Landscaping Super Late Model 100 Laps, Street Stock, Legends, Bandos, Mini Cups, Road Warriors, Pro 4, Rookie 4, Cowboy Cadillacs, Q Auto & Injury Attorney's JYD S. E. Champ Karts.
Visit the speedway's web site and stay up to date at www.fullthrottleracepark.com.
FULL THROTTLE SPEEDWAY RACE RESULTS
LATE MODEL SPORTSMAN
1. 13 Arron Williamson Lakeland
2. 51 Michael Atwell Naples
3. 17 Clyde Cole Sarasota
4. 73 Mark Peterson Sarasota
5. 12 David Williamson Lakeland
6. 98 Roger Welch St. Pete
7. 6 Greg Gorniak Homestead
8. 67 James Dubose Arcadia
9. 20 Dale Horne Boynton Beach
10. 47 Ryan Pancoast Ft. Myers
SPRINTS
1. 33 David Steele
2. 67 Scotty Adema
3. 9 Matt Alfonso
4. 3 Garrett Green
5. 51 Mark Gimmler
6. 23 Chris Gimmler
7. 85 Rex Hollinger
8. J1 Mike Tharp
9. 63 Terry Taylor
10. 39 Alan Randisi
11. 15 Jay Stutz
12. 22 Johnny Gilbertson
13. 44 Bill Pettijohn
14. 55 Tommy Nichols
15. 21 Jimmy Alvis Jr.
16. 31 Dude Teate
17. 16 Ben Fritz
18. 97 Grant Thormeie
19. 2 Larry Brazil Jr. D.N.S.
20. 11 Joey Aguilar D.N.S.
21. 84 Mickey Kempgens D.N.S.
22. 54 Jason Bradford D.N.S.
LEGENDS
LEGENDS
1. 29 Joey Azata Boca Raton
2. 19 Keith Sankula Palm City
3. 99 Kyle Capobianco Springhill
4. 7 Mike Verhaagh Fort Myers
5. 26 Joey Landis Coral Springs
6. 54 Tony Steinbuck Tamarac
7. 2D David Patterson Port Charlotte
8. 15 David Flail Bradenton
JUNK YARD DOGS
1. 5 James Widner Myakka City
2. 171 Dalton Ellis Myakka City
3. 72 Jason Shuko
4. 8 Josh Widner Myakka City
5. 71 Nick Ellis Parrish
6. 3 Aaron Widner Myakka City
7. Austin Lykins Parrish
PRO 4
1. 91 Jessica Ostrovskis St. Pete
2. 63 Kris Bridges Venice
3. 00 James Dellea III
4. 73 Randy Johnson Bradenton
5. 99 Johnny Marra Cape Coral
6. 05 Ronald Robinson Bradenton D.Q.
ROOKIE 4
1. 5 Sherry Best Myakka City
2.11 Zach Rogers Clearwater
3. 41 Marina Petty Venice
4. 67 Jimmie Best
5. 15 Kaylee Lombardi Venice
CHAMP KARTS
1. 63 Ed Brillhante
2. 8 Doug Schmidt
3.78 Jason McGonnell
4. 29 Ron Sanford
5. 66 David Harp
6. 67 Lee Davis
7. 02 Bo Calier
8. 43 Chris Hinnessy
9. 77 Phil Harp