By- Jim Rouse, BRP Media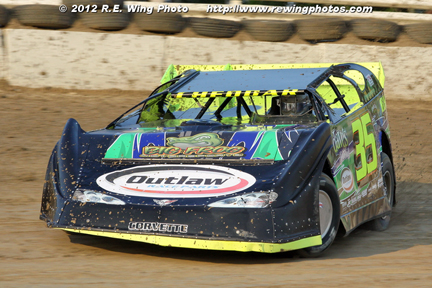 The RaceCar Engineering Late Models ended the first of 3 Points Sessions as did the Buddy's Home Furnishings Limited Late Models and 1-800-ASK GARY Thunderstocks. The Rent-N-Roll Gladiators also battled but with no points on the line.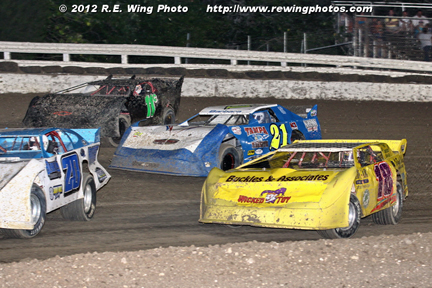 Limited Late Models started it off with a fantastic 16-lapper. On the start, however, Forrest Gough crossed it up and made contact with Kevin Mills. Both continued on but Tony Ponder, Ricky Land, and the McGillivrays found themselves tangled in turn 2. David Showers, Jr. led early but Adam Higginbotham took it at the line on lap 2. Just 3 laps later JO Nobles stole it seconds before Howard Osteen's #80 broke and brought the yellow back out. On lap 12 as the leaders attempted to maneuver around the lapped car of Cheyanne Cox, Eddie Gainey made contact with her and as they spun David Showers had to take evasive action. Blaise Hetznecker crossed the 17 up out of turn 4 and made heavy contact with the wall. He was okay but the accident set up a Green/White-Checkered. The 1 lap dash gave Adam Higginbotham the shot he needed but Nobles held on. Higginbotham did finish 2nd with Forrest Gough, Kevin Mills, and Eddie Gainey in tow.
Brian Mullins led lap 1 but Jason Gamble took over from there. "Sheriff" Chad Scranton stole it 2 laps later but the right rear went down on lap 4 as Nick Leconte spun out of turn 4. Gamble, Mullins, and Grady Christian would restart in the top 3. Augie Burtram spun in turn 2 on lap 8 as Christian passed Gamble for the lead. On lap 10 Terry Dunbar spun in turn 2 as Grady Christian spun in turn 4 from the lead! Christian got P1 back as the caution was deemed on Dunbar. A 1 lap dash was set up and "Shady" Grady held on for his first 1-800-ASK GARY Thunderstock feature win. Jason Gamble, Davey Kinsey, Brian Mullins, and Justin Durbin completed the top 5.
The RaceCar Engineering Late Models battled for 25 laps around the 1/3 mile Bubba Raceway Park and it started with Jack Nosbisch, Jr. out front. Mark Whitener, however, stole the lead halfway through lap 1. A debris caution came out on lap 2 setting Whitener up with Nosbisch and Richard Ferry in tow. Whitener caught lapped traffic on lap 6 and the next lap Nosbisch hit Whitener as he took the lead. As the 2 fought for P1 Bo Allen crept into the picture. Whitener began to reel Nosbisch in mainly in turn 1 but couldn't quite get an opportunity until lap 15 when he did it in turn 2. Just a lap later Bo Allen lost the left rear in a heartbreaker. The restart gave Nosbisch what he needed to have a shot at Whitener but under caution Nosbisch's right rear went down. The 2 Big Frog chassis would then restart 1-2 with Whitener over Christian Augspurger. Keith Nosbisch, Rich Pratt, and Richard Ferry. They would stay that way over the 9 lap green flag run as Whitener tied Ivedent Lloyd, Jr. on points with the win.
The Rent-N-Roll Gladiators were next with a 6 car 12 lap feature for all glory. Billy Holmes took an early lead and he never relinquished it. "Terrible" Tony LaPorta was 2nd with Casey Feaster, Randy Harless, and Steve Johnson.
The 1-800-ASK GARY Thunderstocks ran Feature #2 last to end a wonderful night of racing. "Big Frog" Augie Burtram was the early race leader but lost it on lap 8 when "Shady Grady" made the bold move after a 3 wide race with Burtram and Chad Scranton. Just 1 lap after John Thorpe slowed out of turn 4 and brought the yellow out with just 11 laps to go. On lap 10 Brandon Tillander spun the Appleby-Winne Racing #60 on the front straight and damaged the wall. Christian continued to hold the field off as Scranton, Jason Gamble, Burtram, and Alan Lane tried to earn their own glory with just 5 laps left. An intense battle ensued and on the final lap "Shady Grady" just lost it in turn 2 and Chad Scranton clipped him and sent the 36 around. Scranton held Jason Gamble off the final lap. Brian Mullins, Big Frog, and "Dairy Queen" Jonathan Appleby bounced back to complete the top 5.
Next week is the Powell Memorial, a special event for the entire Racing Community. Friday night will see the RaceCar Engineering Late Models and Buddy's Home Furnishings Limited Late Models alongside the Hobby Stocks and the Rent-N-Roll Gladiators. A $5000 to win event for the Late Models but more importantly you are forever remembered as a Powell Memorial champion.
Bubba Raceway Park Results (5/26)
RaceCar Engineering Late Models 1- 58 Mark Whitener 2- 35 Christian Augspurger 3- 02 Keith Nosbisch 4- 0 Rich Pratt 5- 17 Richard Ferry 6- 18 JO Nobles 7- B69 Bryan Bernhardt 8- 71 Bo Allen 9- 111 Andy Cobb 10- 70 Win Ingersoll 11- 01 Jack Nosbisch 12- 72P Len Parrish 13- 15 Cody Blair DNS- 41K John Kellum
Buddy's Home Furnishings Limited Late Models 1- 18JO JO Nobles 2- 20 Adam Higginbotham 3- 21G Forrest Gough 4- 01 Kevin Mills 5- 8 Eddie Gainey 6- 2X Caleb McGillivray 7- 15 Shane Koperda 8- 80H Howard O'Steen 9- 5C Christian McGillivray 10- 118 David Showers, Jr. 11- 81 Josh Hughes 12- 17 Blaise Hetznecker 13- 18 David Showers 14- 11C Cory Hupp 15- 20C Cheyanne Cox 16- 27M Miles Cox 17- 26 David Ponder 18- 66 Ricky Land DNS- 61 Thomas Scott
1-800-ASK GARY Thunderstocks Feature 1 1- 36 Grady Christian 2- 21 Jason Gamble 3- 1 Davey Kinsey 4- 28 Brian Mullins 5- 12 Justin Durbin 6- 114 John Thorpe 7- 05 Alan Lane 8- 15 Mike Valdes 9- 14 James Sullivan, III 10- 33 Donnie Dobbins 11- 09 William Edwards 12- 16 Brian Schrunk 13- 72 Terry Dunbar 14- 28E Brandon Elwood 15- 5W Eddie Kilbury 16- 2W Nick Leconte 17- 58 Augie Burtram 18- 84 Chris Fontaine 19- 31 Josh Sanford 20- 73 Brandon Tillander 21- 19 Brian Shea 22- 6 Tony Campbell 23- 27 Chad Scranton 24- 34 Mark Trexler
1-800-ASK GARY Thunderstock Feature 2 1- 27 Chad Scranton 2- 21 Jason Gamble 3- 28 Brian Mullins 4- 58 Augie Burtram 5- 69A Jonathan Appleby 6- 84 Chris Fontaine 7- 05 Alan Lane 8- 1 Davey Kinsey 9- 09 William Edwards 10- 72 Terry Dunbar 11- 31 Mike Tyre 12- 16 Brian Schrunk 13- 36 Grady Christian 14- 28E Brandon Elwood 15- 25 Cody Kinsey 16- 114 John Thorpe 17- 49 DJ Horiski 18- 5W Eddie Kilbury 19- 73 Brandon Tillander 20- 12 Justin Durbin 21- 15 Mike Valdes 22- 33 Donnie Dobbins 23- 34S John Smith DNS- 3 Scott Haas DNS- 6 Tony Campbell
Rent-N-Roll Gladiators 1- 26 Billy Holmes 2- 3T Tony LaPorta 3- 20 Casey Feaster 4- 12 Randy Harless 5- 81 Steve Johnson 6- 83 Kody Fisher