By Jack Smith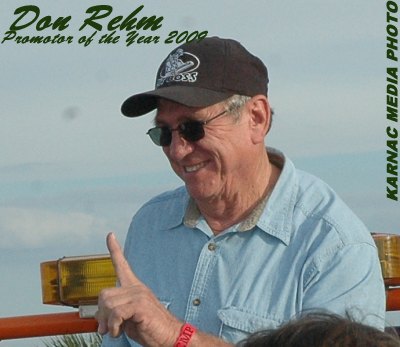 Each year KARNAC.com and Real Racing USA get together to acknowledge Florida's top promoter for the preceding year.  Sometimes this is quite a difficult decision as there are always several individuals who run a step above the crowd.
This year the decision was made very easily by the simply outstanding work of Don Rehm in bringing sprint car racing back to a prominent position in the short track mix of Florida racing.
Don Rehm not only continued to expand the asphalt side of the ledger, but with the creation and steady hand on the throttle of the Top Gun Sprint series, he has revitalized dirt sprint car racing for Florida fans and drivers.
KARNAC's Bill Green presented Don with the Promoter of the Year Award on April 17 at Citrus County Speedway.  The Checkered Flag Sprint Series was on hand with 18 wingless sprints burning up the asphalt 1/4 mile track.
LISTEN TO PRESENTATION AT CITRUS COUNTY

We wish Don Rehm all the success in 2010 as he continues to push the envelope and expand sprint car racing in Florida.
Related links: Checkered Flag Sprint Car Series
Top Gun Sprint Car Series